Sunday 30/4: København
The next item on Lynda's thoroughly prepared agenda was a trip to Roskilde to
Vikingeskibshallen
(The Viking Ship Museum). In the 1960s, the wreckage of five viking boats were found in the fjord near Roskilde and for the next 25 years they were carefully salvaged and reconstructed by a team of patient archaeologists. The five boats had been scuttled at the entry to one of the passages up the fjord, presumably as part of a defence against the invading Norse. The large military long-boat was the most impressive – capable of carrying 80 men at remarkable speeds.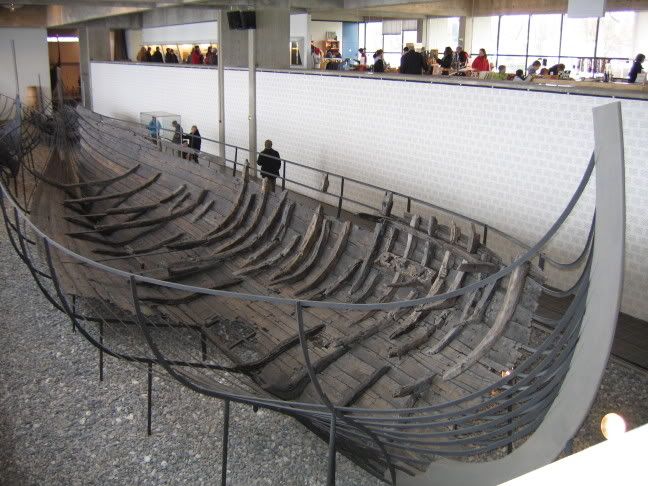 As well as the pieced together relics, the museum has built fully functioning replicas of each of the five boats and has also put together a nice range of camp viking costumes for tourists and the Scandinavian equivalent of medieval recreationists.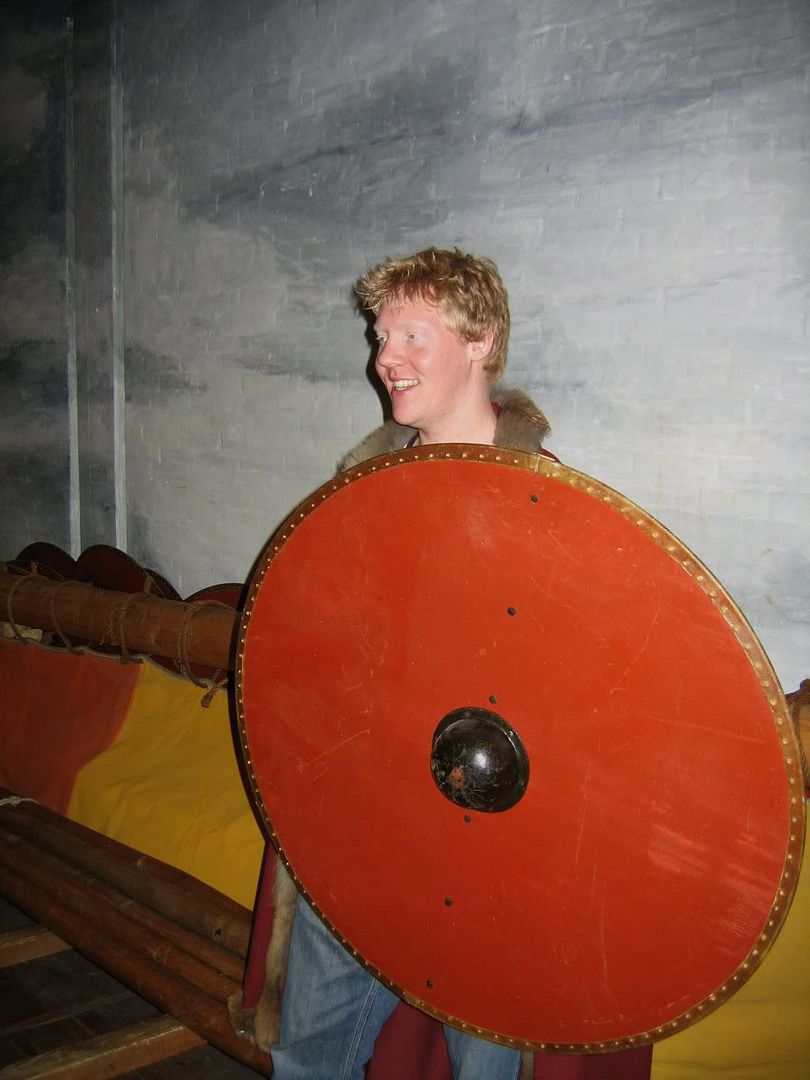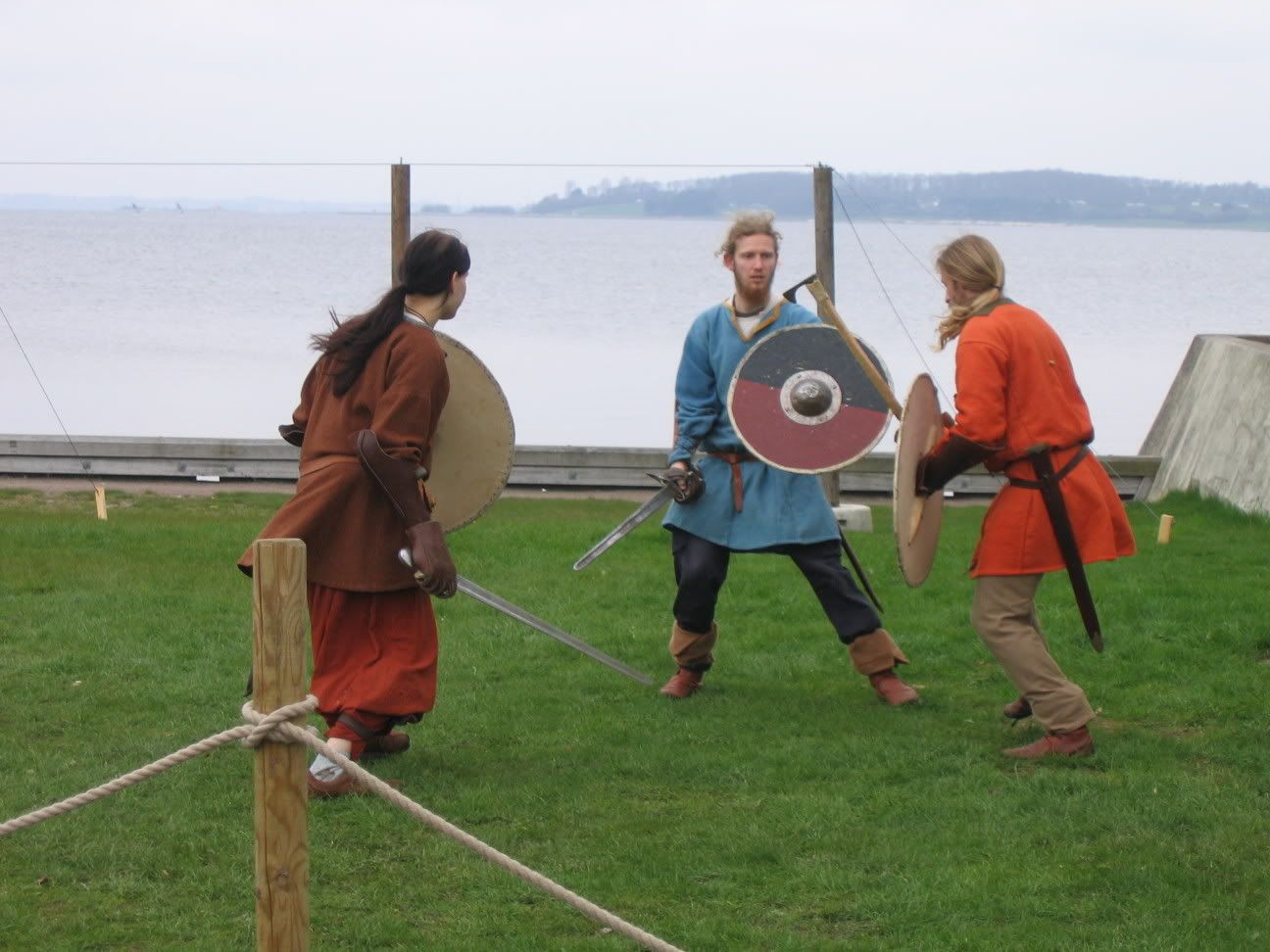 After missing our train back from Roskilde, we found ourselves running behind schedule for the football match that L and S had arranged for us to attend. This meant that dinner plans were hastily reformulated and we happily gorged ourselves on pizza and beer in an impressive display of speed-eating (even by Cindy!). L and S live within walking distance of the football ground, so we were treated to waves of singing fans hanging out of bars and marching down the streets (back pockets, bags and cartons bulging with beers) on our trip. The game was a top of the table match between the two København teams:
Brøndby
, the team from the working suburbs and
FC København
, the team of the bourgeoisie. Obviously we were backing FCK (the day for being friends of the workers wasn't until Monday). The stadium was packed with around 45,000 singing, flag-waving, flare-wielding fans and, while the game didn't always live up to the enthusiasm of the crowd, FCK got the draw they needed to almost certainly win the league.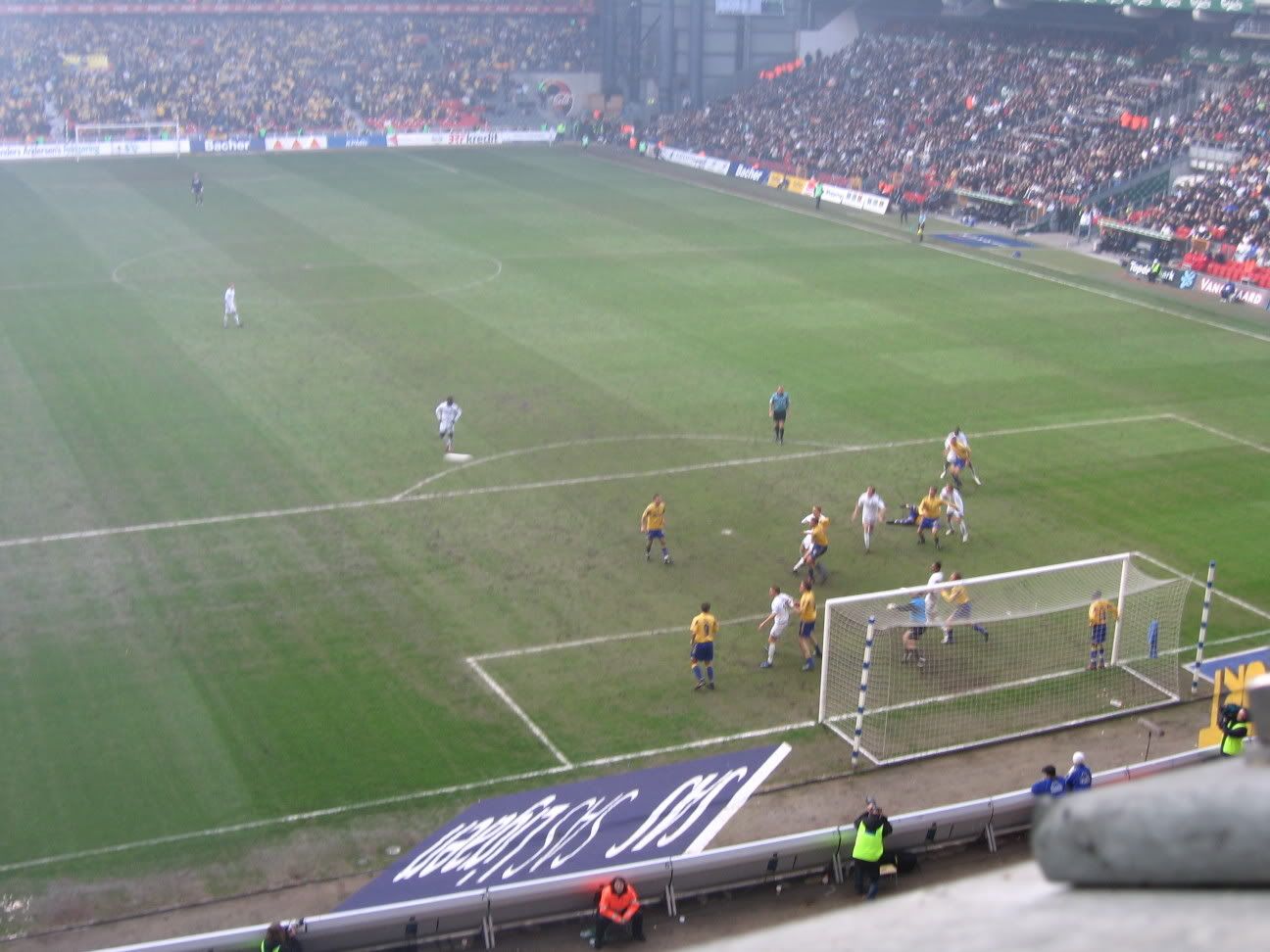 The crowd to the left of this picture were all frantically waving blue and white flags spelling out FCK – there was a drummer in amongst them somewhere and he had them chanting and singing from before we arrived until after we left.
We wandered around for a while afterwards trying to find somewhere to squeeze into for a drink, but the already well-lubricated FCK fans had filled up every place within walking distance of the ground, so we went home for our own post-match analysis. Okay, so we went home and watched MTV.