Saturday, May 6: Stockholm
Instead of eating muesli and yoghurt in the hostel kitchen for breakfast, we splurged at a nearby bakery. Toasted foccacia and salad, a buttery almond pastry, and lattes: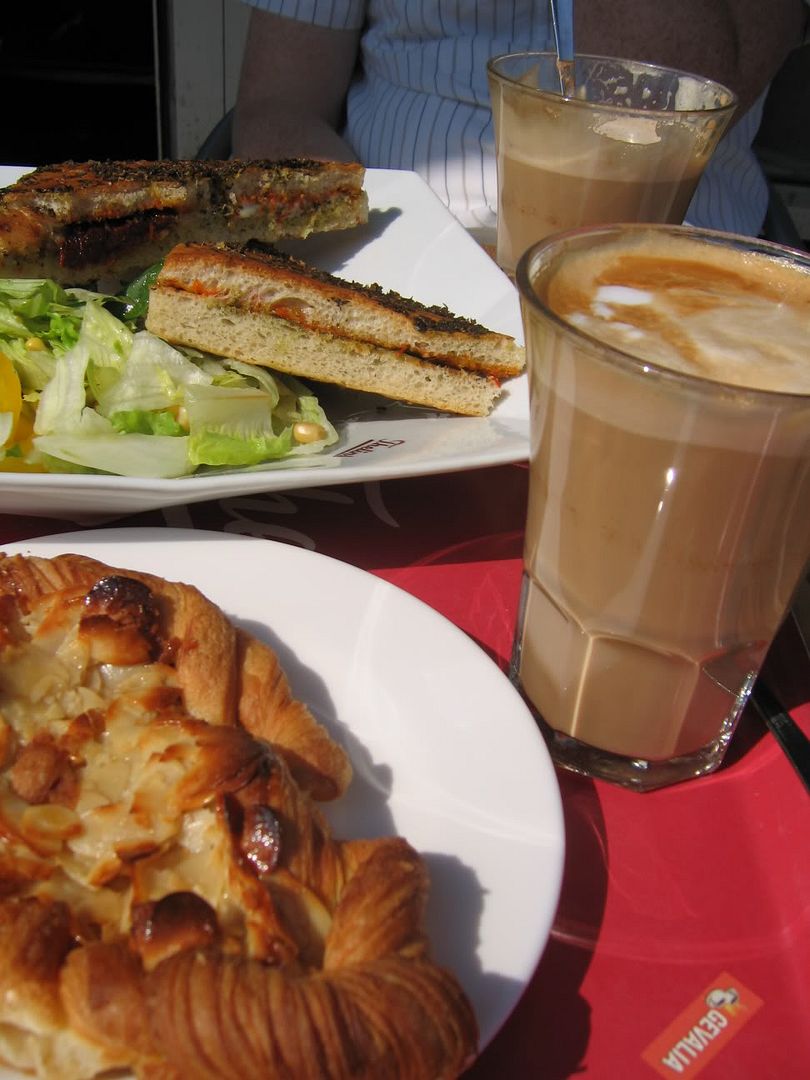 After breakfast we caught the tube to Slussen on the south bank. Michael had read that there it was the scene for trendy shopping: I was hoping for second hand clothes, Michael wanted indie record shops, and we were both planning on some good people watching. The vintage clothing was way out of my price range, although I did consider buying a 1950s two-piece suit for 450 kr ($80). CDs also turned out to be very expensive, with new releases typically priced at $30-40. But the people-watching didn't disappoint. In particular, Stockholm (and Copenhagen) appear to be populated by young, attractive and incredibly fit women pushing prams. It's really difficult to believe that some of those slim, designer-jean-clad hips have borne children. Maybe they're nannies?

The vegetarian cafe that Michael had planned on visiting for lunch was closed, and we were rather intimidated by the ubercool people and meaty menus at most of the cafes. Instead we shared a pretty good pizza at a low key takeaway restaurant a couple of blocks away.

After eating we slowly worked our way uphill to the cliffs that offer a view of the islands Gamla Stan, Skeppsholmen and Djurgarden.
We had a late-afternoon rest in the hostel, and then took the tube north to Odenplan for dinner at a Japanese restaurant, Kokyo. Michael ordered a faux-meat dish with a sweet and slightly spicy sauce:
I couldn't resist the tempura veges:
It really is best not to look at the colour of that absorbant paper.