Tuesday, May 9: Stockholm to Paris
On Tuesday morning we were packed and ready to leave the hostel half an hour before check out time. Unfortunately there were no bad American shows on TV, so we decided that we might as well head off to the airport. We lugged our backpacks to the central train station without too much fuss, and after a small amount of confusion paid 200kr each (~$40) to get a train to the airport. Our careful budgeting of our remaining Swedish cash had not allowed for such a pricey fare, so Michael pulled out the credit card to pay for the train. Consequently we had an abundance of Swedish currency to spend at the airport, and a couple of hours to spend it in. A lunch of roast vege sandwiches, beer and juice were the first purchases. Since alcohol is rather expensive in Sweden, the duty-free spirits cost roughly what they would in Australia anyway. Naturally I chose to spend on chocolate instead: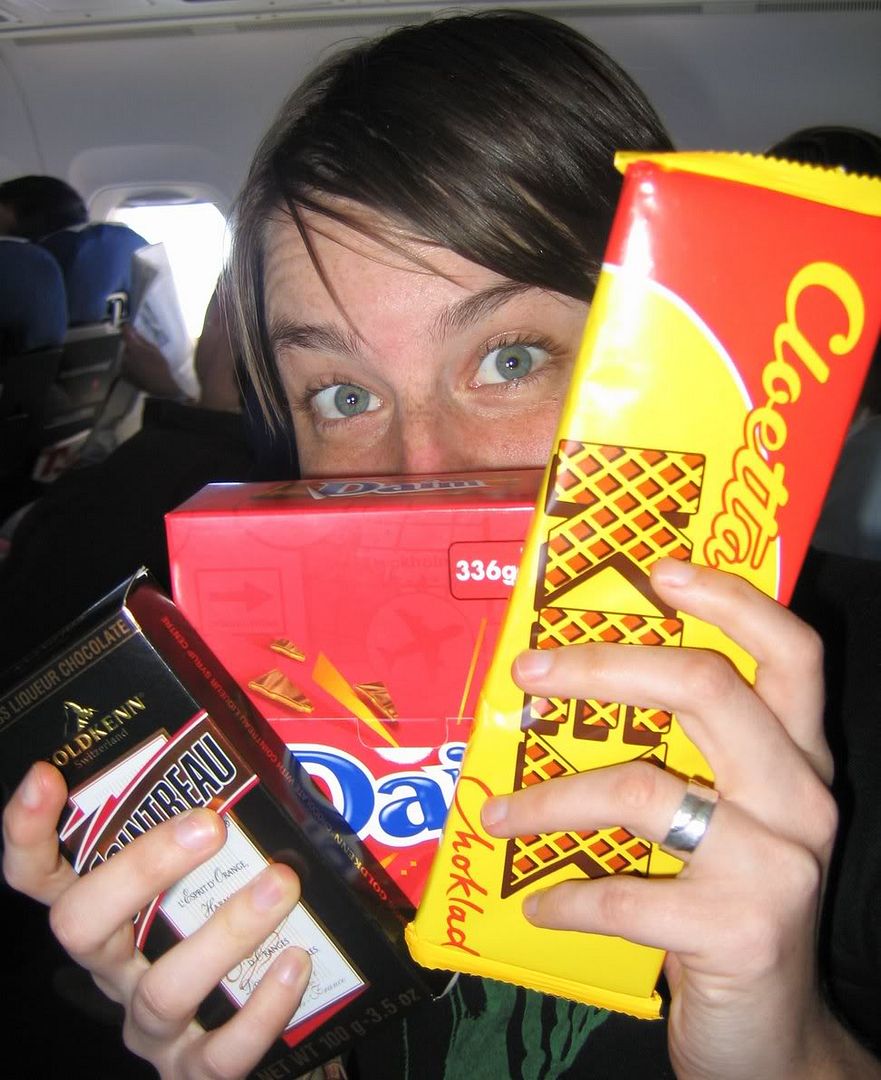 The one on the left is dark chocolate with cointreau. Enough said. The other two are ordinary sweets that can be found in the supermarket, but they are unique to Sweden (and maybe the surrounds). In the centre is a pack of Daim bars: crunchy sheets of caramel coated in chocolate, with a delicious burnt sugar taste. On the right is Kex (I think it's pronounced 'chex'), the Swedish equivalent of the KitKat. There are KitKats in Sweden, too, but this is the Dick Smith battler brand that Swedes prefer.
A magazine, coffee and snack later, we gave our remaining krona to the Röda Korset (Red Cross) and embarked on our flight to Paris. The flight and retrieval of our baggage went without a hitch, but we spent quite some time lugging our backpacks around, looking for the linking train. After a bit of backtracking we realised that we actually had to catch a shuttle bus to the train station. We got off the bus one stop too early, but still had trail of signs with a train symbol to follow. The trail went cold when we were close to the train station, and the station itself was incredibly confusing. We tried to operate three different types of self-service machines to buy tickets before being directed to a ticket office.
Here we had our first experience of what seems to be a typical Parisian practice: cutting queues. As we politely waited for an elderly lady with a large suitcase to pass through a narrow passageway, a young guy in a suit pushed past us and the lady, waltzing on to a ticket seller and ignoring a line of about 8 people. A fairly huffy exchange in French between the suit and one of the other ticket sellers ensued, with the suit reluctantly and unrepentantly taking a spot behind us in the queue. I was pleased to see that he didn't get away with it, but have since discovered that most people have much subtler (though still quite rude) ways of getting themselves two or three places ahead in a line.
The train took us further into the city, until we were faced with changing lines. We stood on the wrong platform for about 20 minutes before we got it right. By the time we arrived at the station closest to our accommodation, our packs were heavy on our backs and we were looking forward to a comfortable seat and a glass of water. I didn't pay much attention to the tree-lined walk, the Seine river flowing beside us, or Napoleon's Tomb rising up on our other side. I was just concentrating on putting one foot in front of the other. We found the apartment building, but were faced with a locked door with a security code and no record of the apartment number we were looking for. Twenty minutes later we were a short way down the street in a dirty driveway, looking very shifty. Michael had started up our laptop computer, logged into the unsecured wireless internet connection of a hotel across the street, and was sifting through emails, looking for some more information that might get us into the apartment. I was keeping an eye on the door of the building, and probably looking a little like I shouldn't be there. Thankfully there was some information, provided clearly and carefully in an email 10 weeks before, that neither of us had bothered to write down. We were in, almost three hours after our plane landed.
The apartment is a comfortable but small space being rented by my dad (Ian) and his wife (Anne) for the week. They're taking a trip around Europe on their long-service leave. I think they must be paying a lot in rent for this space and by co-ordinating with this part of their itinerary, we get a sofa bed with the view below for free!