Friday 26/5: London
Friday was intended to be 'Museum Day' – we were aiming to visit the Natural History Museum and, if we were still enthused, move on to The Science Museum afterwards. Things started with a stroll through Hyde Park, enjoying the waterfowl and the ongoing blustery conditions (check out the deckchairs in the third picture for some idea of the wind).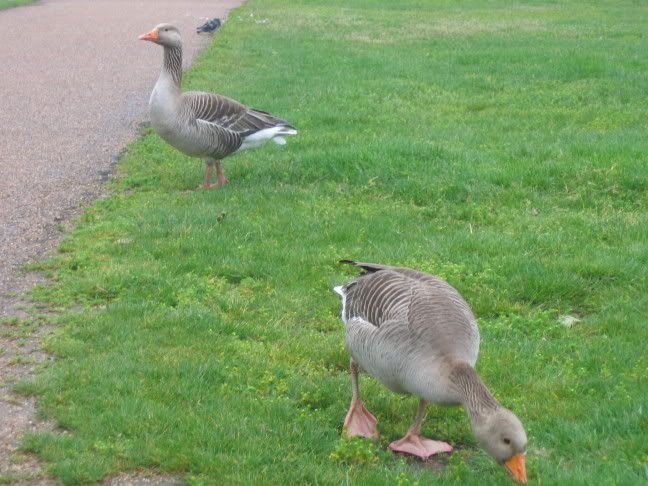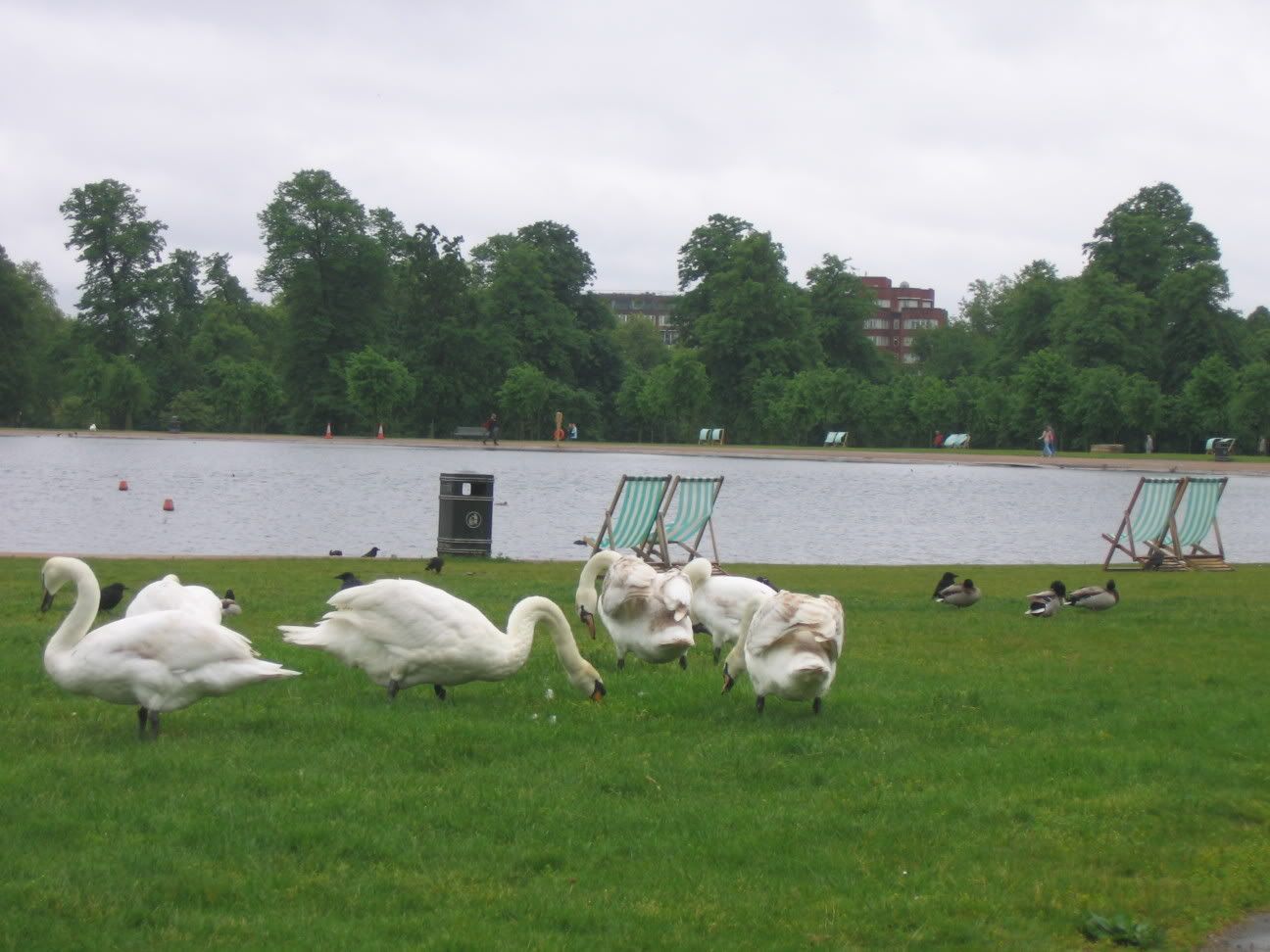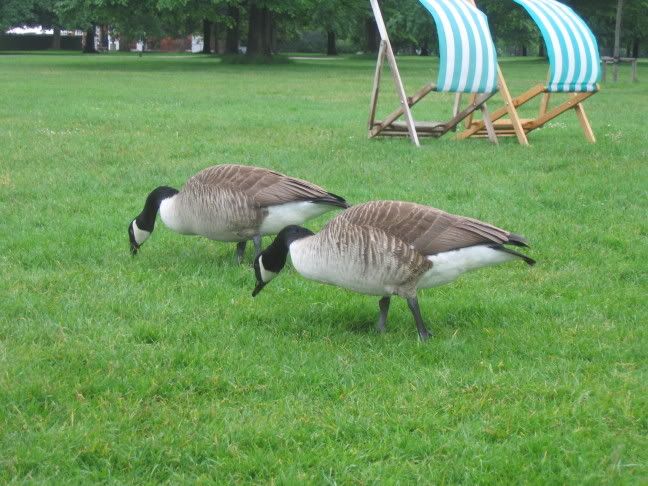 We eventually reached the
Natural History Museum
, housed in a rather grand old building just south of the park.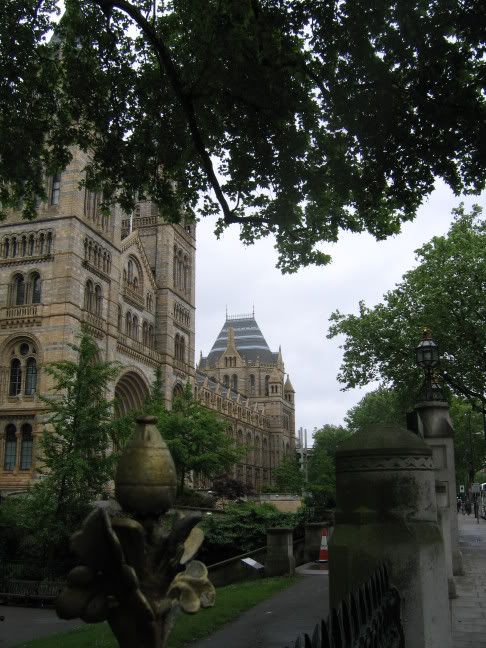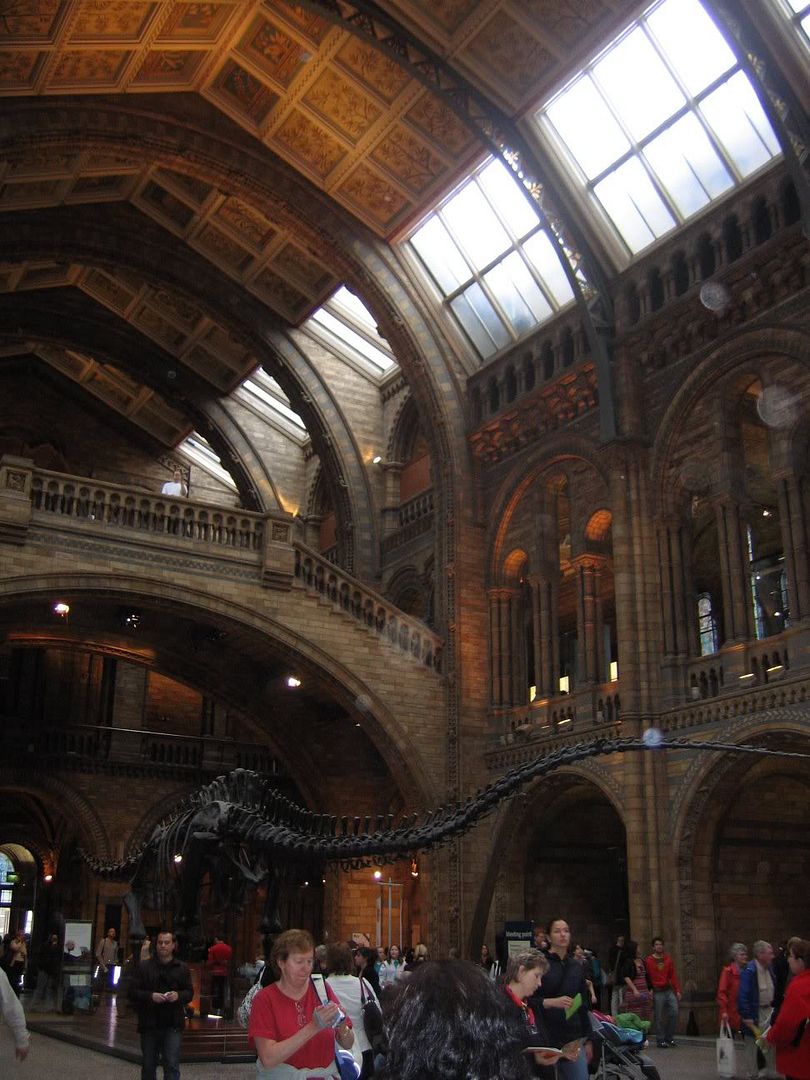 The museum housed a fairly impressive collection of fish, insects, reptiles, mammals and birds (as well as a geological section that we didn't explore). The whole thing was informing and well organised, but it all felt rather dated. Admirably, the museum is no longer in the market for animals to stuff and thus all the mammals looked rather faded (particularly the big cats). Additionally, the interactive and video displays all seemed to date from about 1992 – just before computers were widely used for these kinds of things. Regardless we had a lot of fun – I particularly enjoyed the fish (who knew that flying fish can fly for 400 metres?), reptiles and birds, although the centre of the action was clearly the blue whale.
The bird section was full of species that are now extinct and included a few displays that highlighted the kinds of practices that helped to kill them off. Like giant glass cases filled with dozens of stuffed hummingbirds. For example.
After fighting through the school groups and tourists, we decided against moving on to The Science Museum and instead went for a wander around Chelsea (with a highly-regarded chocolatier as our final goal).
Along the way we stumbled into a mini French district and had a crepey lunch.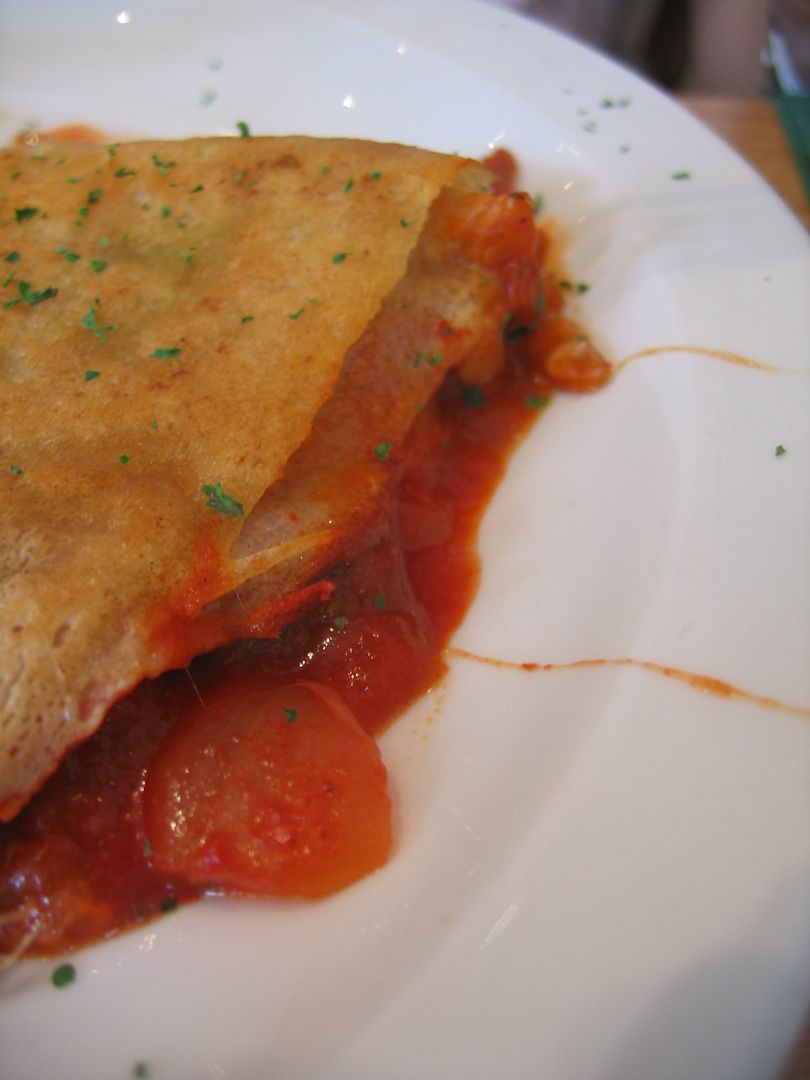 After browsing through the shops of Chelsea's King Street (not just browsing – Cindy bought a couple of pairs of socks that, when the currency conversion calculation was done, meant that she could never tease me about buying books again), we hit upon our main goal:
L'Artisan du Chocolat
. And here I think I'll let Cindy take over:
L'Artisan du Chocolat is a small and exclusive shop that we found in a 'best shopping in London' guide. I was determined to buy a small box that would allow me to sample a variety of the flavours on offer, regardless of the price. Michael actually persuaded me to buy the second-smallest selection of 20 chocolates!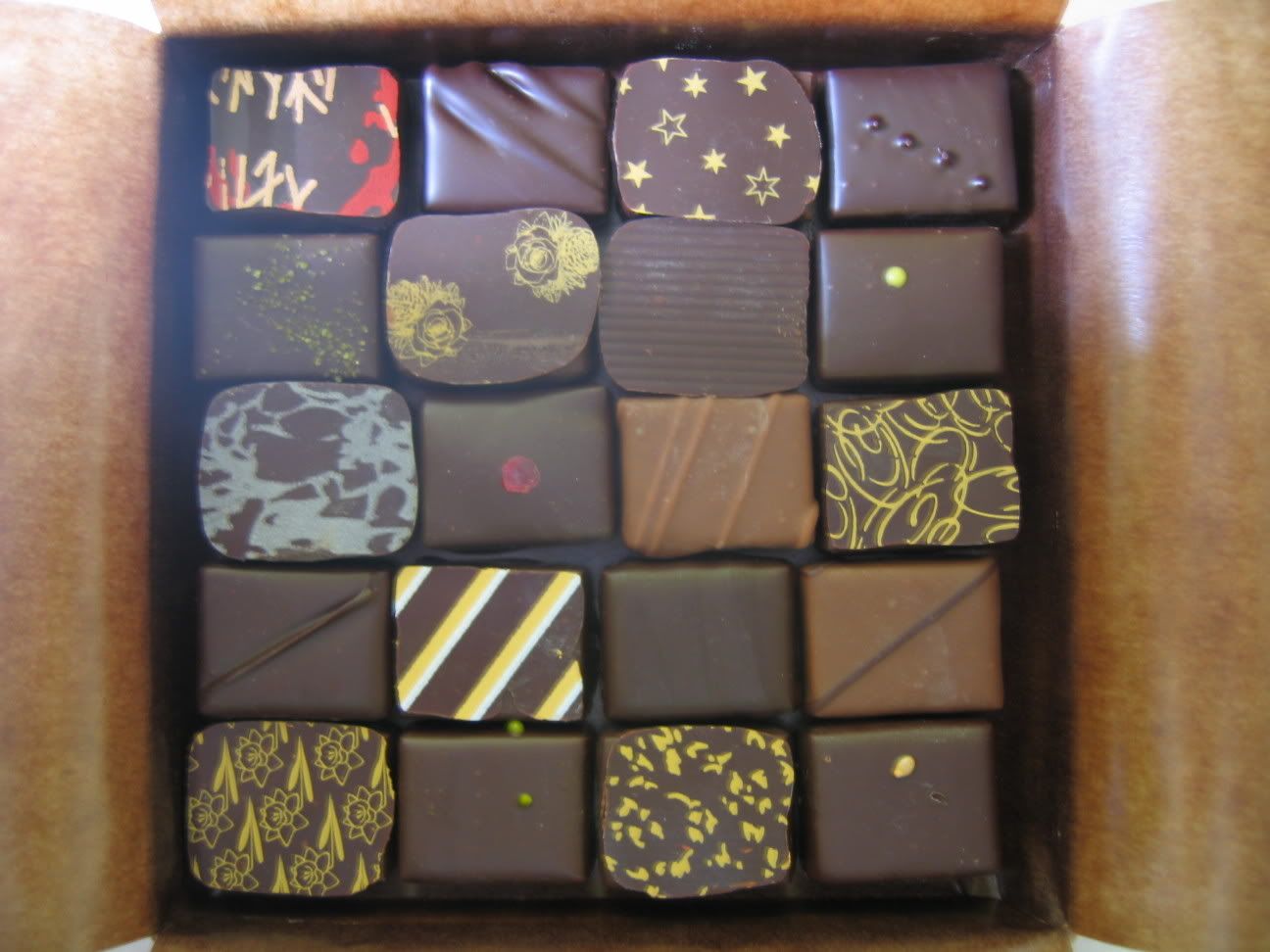 As well as selling dark chocolate by the region of origin, they have a range of unusual flavours including jasmine tea, pine, sesame, basil and lavender. The flavours are very subtle, and all are made of the most pure melt-in-the-mouth dark chocolate. They were so pretty and fragile and so carefully wrapped up that I insisted on carrying them levelly back to the hostel on the tube, then took about 10 photos to ensure that I had a record of them in perfect condition.

By the time we finished our walking and found our way back to the hostel there was just enough time for a quick rest before we headed off to dinner. The plan for the evening was to go to Drummond Street – my tourist map of London mentioned that this street was known for its vegetarian Indian restaurants. We'd done a brief scouting the day before and found about eight Indian shops, at least half of which were vegetarian specialists. We settled on Ravi Shankar as the best of these and squeezed into one of the few remaining tables. I chose the largest of the thalis on offer. Cindy and I discovered thalis in New York a couple of years ago – they're basically set meals made up of a starter or two, bread, rice, a range of curries and condiments and a dessert, all served on a large metal tray (in a number of smaller containers). They seem to mainly appear on the menus of vego Indian places. Because I'd gone for the primo option, I got a soup and pappadum to start: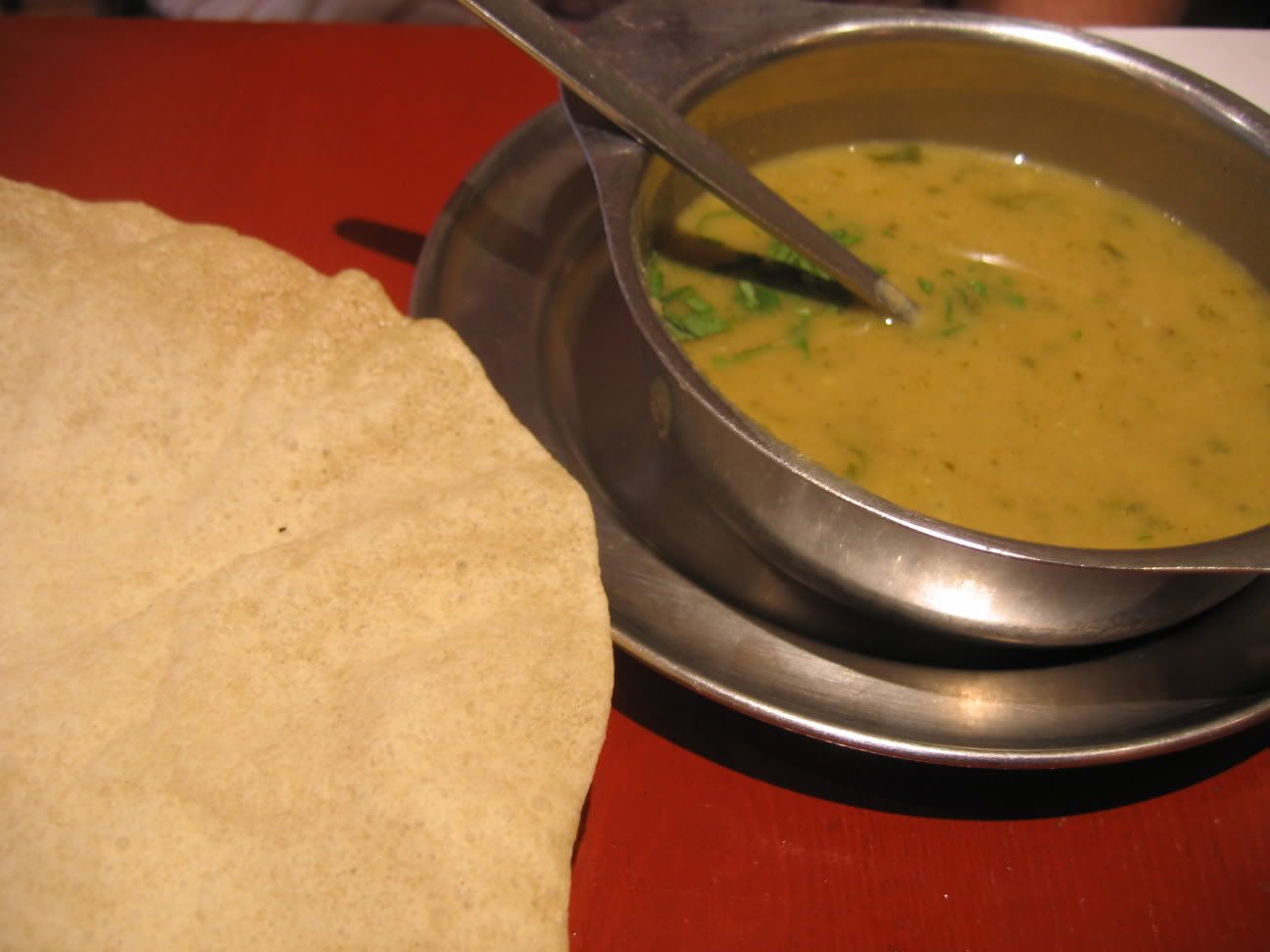 The soup had a scattering of lentils and coriander in it, but its main flavour was 'hot'. Lucky I'd ordered a large beer. The rest of my meal consisted of: rice, chapatti, four pakoras, a potato and pea curry (with a similar flavour to the soup), some sort of mixed vege curry (with corn prominent), aloo saag (spinach and cheese), channa masala (chickpeas), raita and gulab jaman (sweet balls of weird milkiness that somehow ends up a similar consistency to dougnuts). So much food. It was painful to stand up afterwards.
Cindy, sensibly, opted for the daily special: a biryani served with vegetable kofta, salad, raita and a rice puddingy dessert. The kofta sauce was quite spicy, but the biryani was exactly to Cindy's taste. I was so full I only sampled a smidgen of one of the kofta balls and can report that it was among the finer I've had.