Thursday, May 25: London
The plan on Thursday was simply to walk the streets of a few neighbourhoods that seemed interesting, and we began by taking the Tube further east to Aldgate. Here there is a large Bangladeshi and Muslim community, and consequently many tempting curry shops. Unfortunately we turned up about an hour too early and no-one was particularly interested in selling us said curry, so we continued walking north with rumbling stomachs.
We were walking towards Shoreditch and Hoxton, reputed to be trendy/alternative areas. Things looked promising when we encountered a couple of vintage clothing shops and a café advertising vegan-friendly lunches. We stopped at the café for a roast vege sandwich, muesli with yoghurt, and a couple of great fruit juices (it was all packaged take-to-the-office food, so we didn't bother with pics). However, the rest of the scene either hadn't rolled out of bed yet or had moved to the next London hotspot, as we didn't see much more of interest until we encountered the African neighbourhood. Strangely this was where we stumbled on a cute organic grocery with heaps of things that I'd love to fill the home pantry with. Given our luggage constraints, Michael settled for a meatless mini-salami and fruit juice while I grabbed some cherry and coconut bars for the long flight home.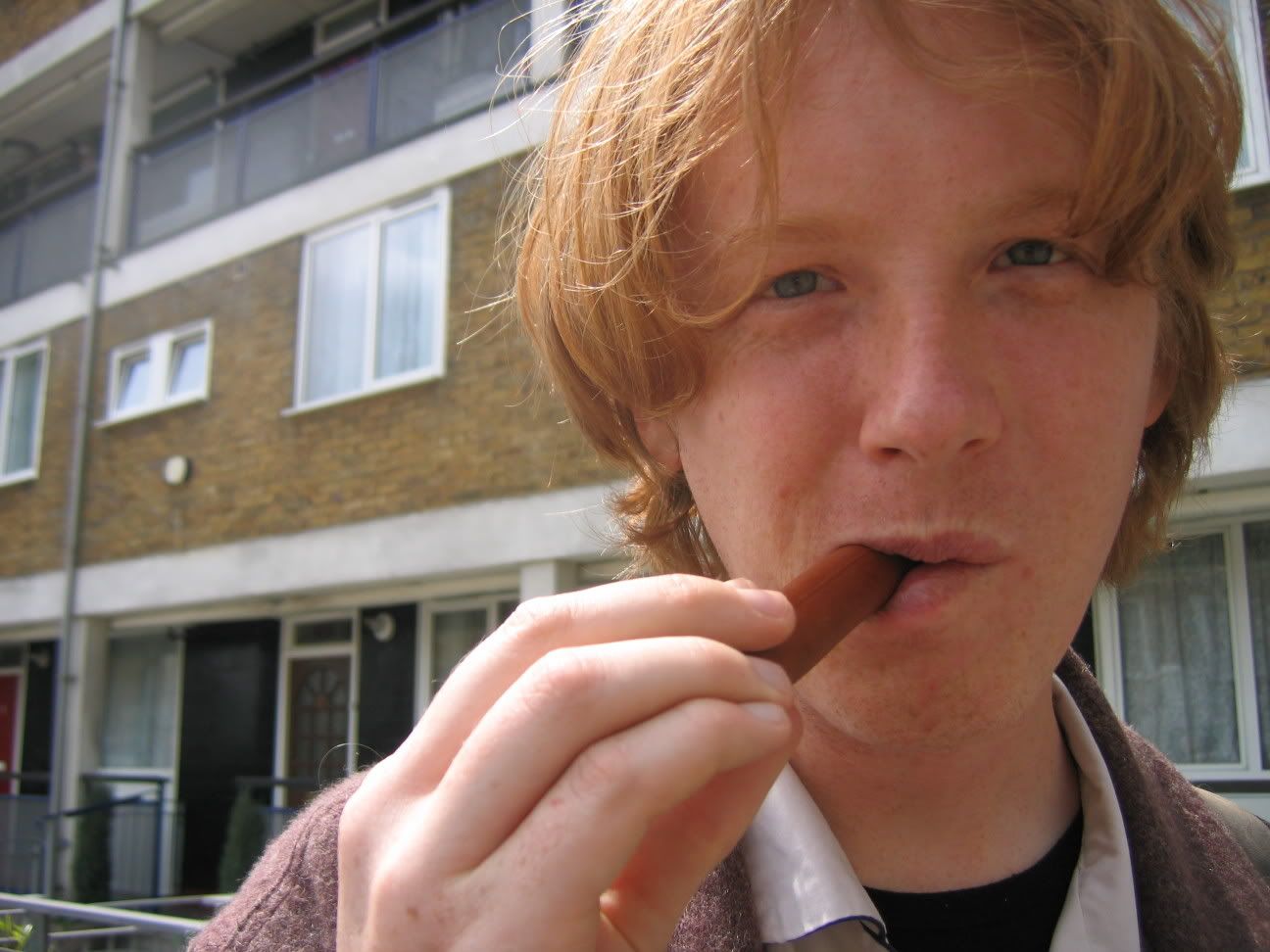 The mini-salami had reasonable flavour and texture, a very convincing smell, but wouldn't fool a butcher by a long shot.

We made a brief visit to the Covent Garden markets via the tube. It was all really touristy and we didn't stay long because what I was really after was at Camden Town:




This is the original Doc Martens shoe shop. I've been wearing my green Docs for 7 years: they're the most expensive pair of shoes I've ever bought, but probably the best value on a cost per hours worn basis. After finally dragging them through the snow, ice and slush at Grimsö, I thought I'd treat myself to a new pair right from the source. Check 'em out:




With my major London purchase successfully completed, we retired to a nearby pub for a pint and a snack: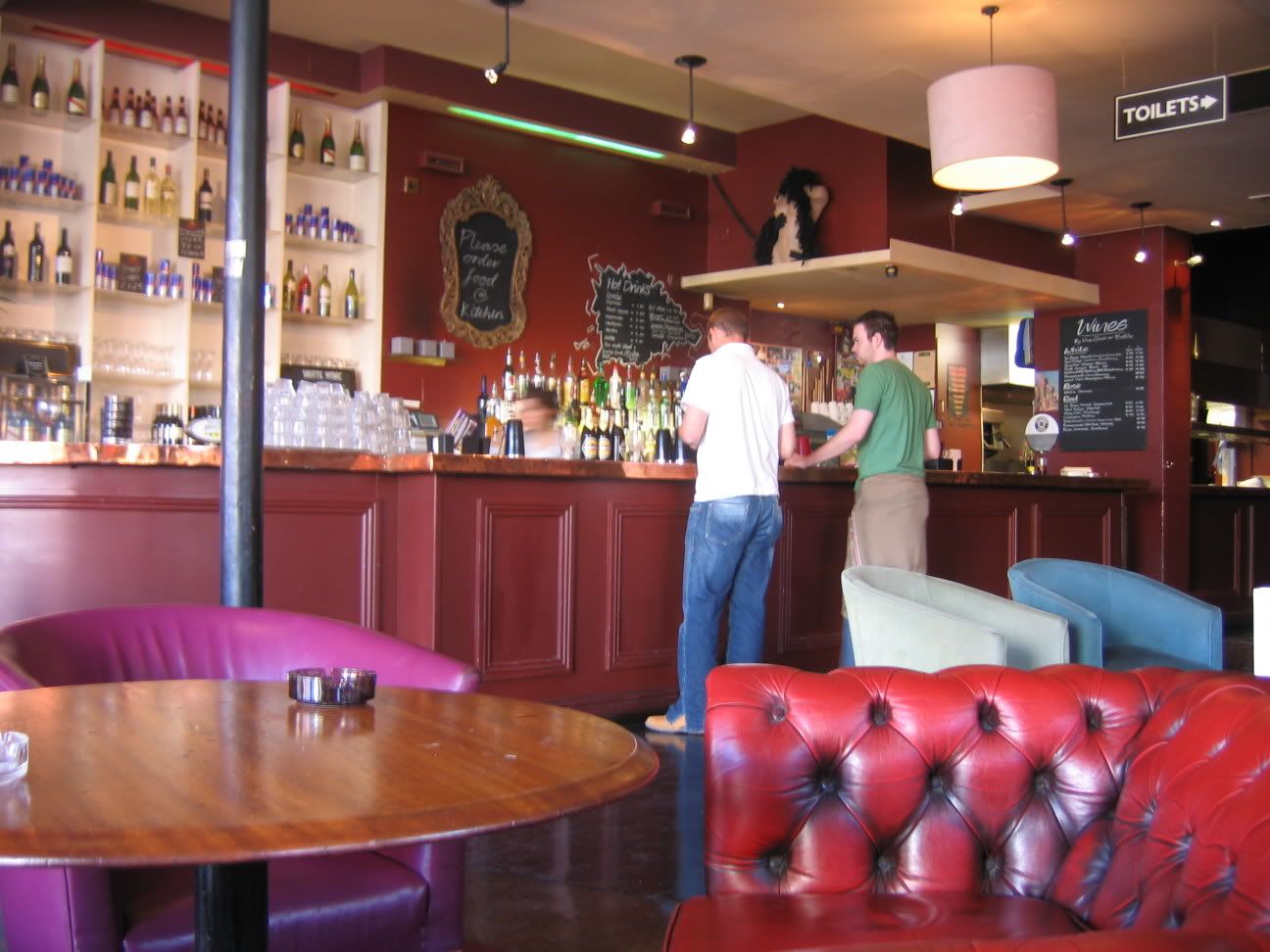 Next was yet another tube ride, further west to Hammersmith. Here is a fancy vegetarian restaurant called The Gate: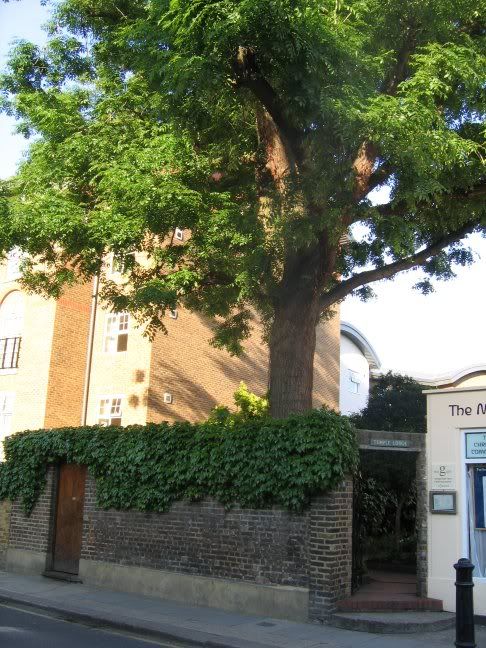 It was a light and airy space, modern and classy but still reasonably casual. The prices were fancy, and so was the food. We shared an entrée of pakora and each had a pear and raspberry juice: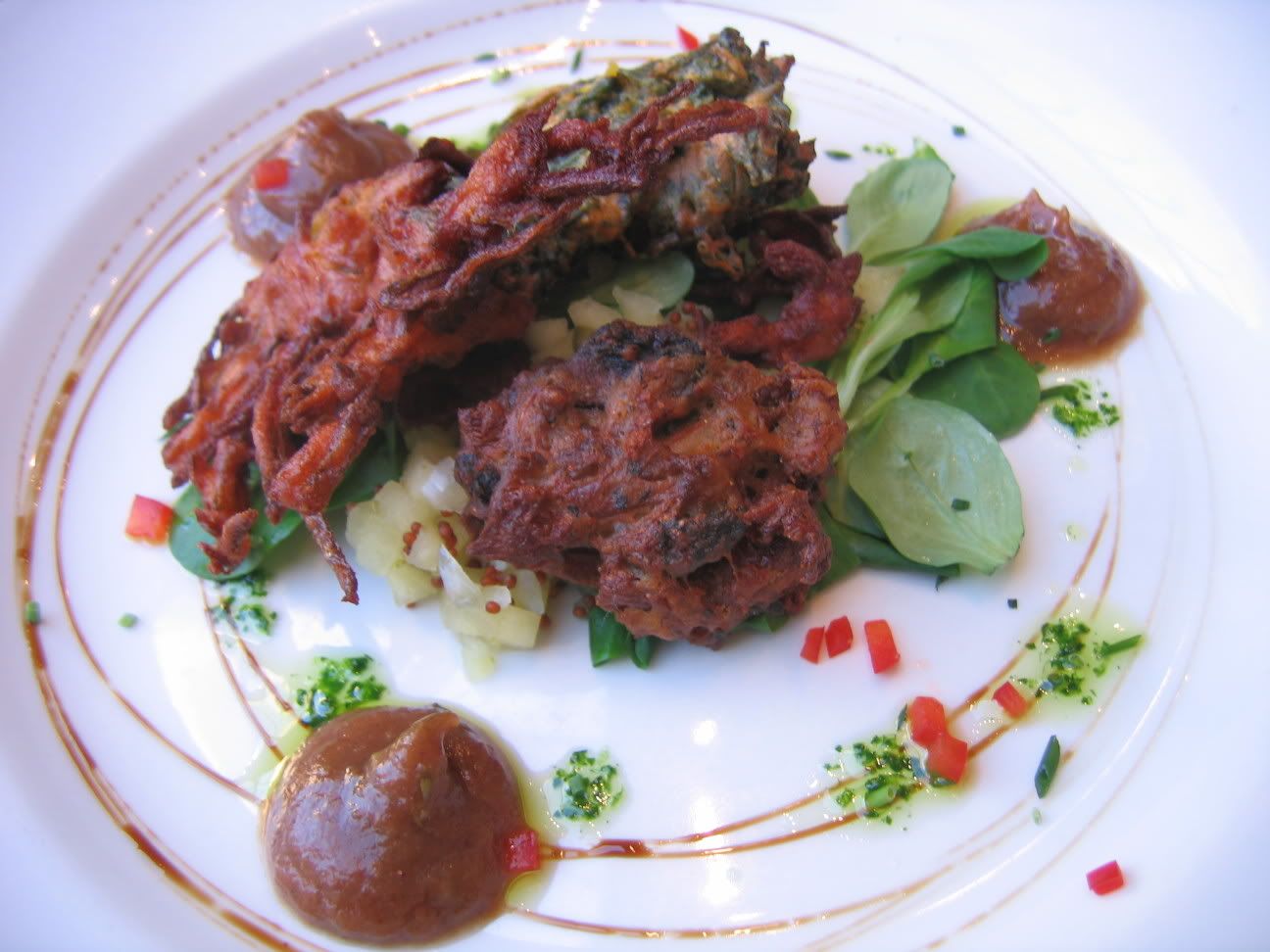 "Portobello & oyster mushrooms, spinach & julienne vegetables deep-fried in a chickpea batter, with an apple & green chili salsa & tamarind sauce."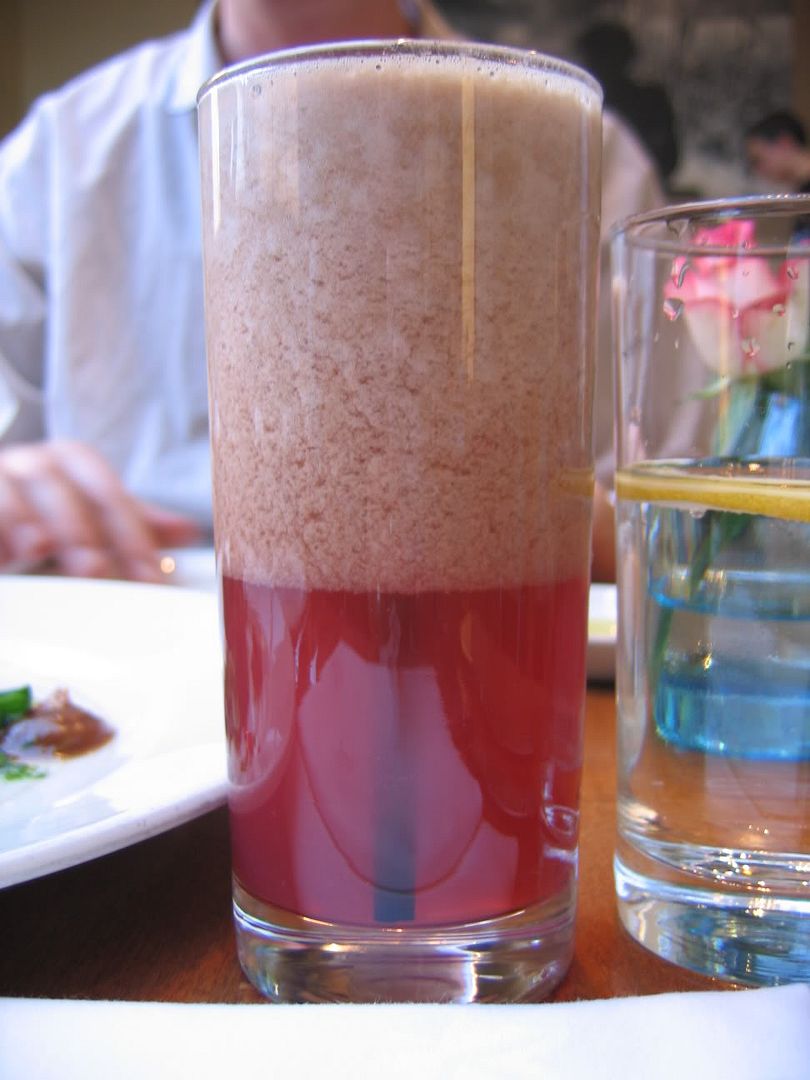 For the main course, Michael selected a aubergine teriyaki: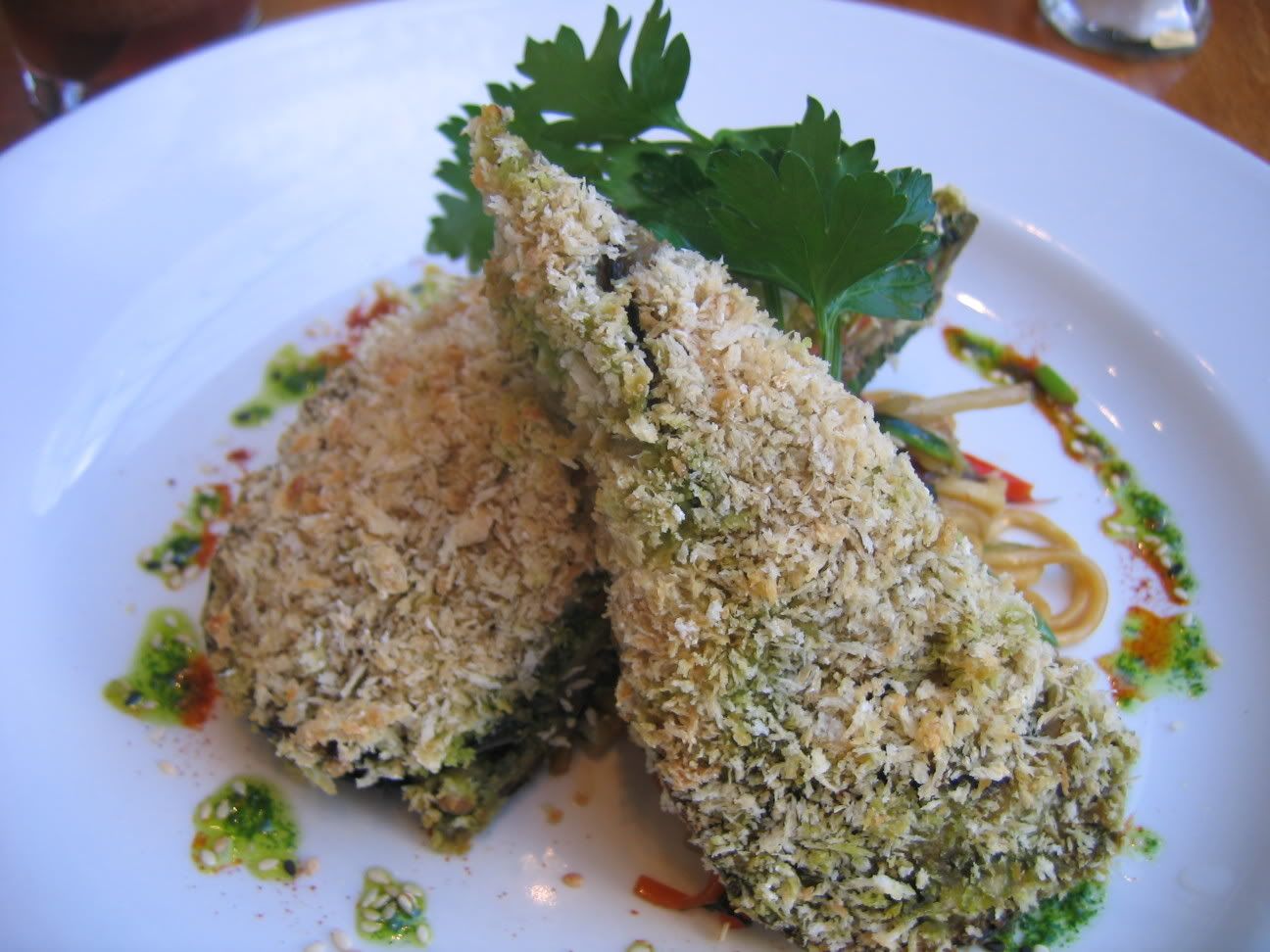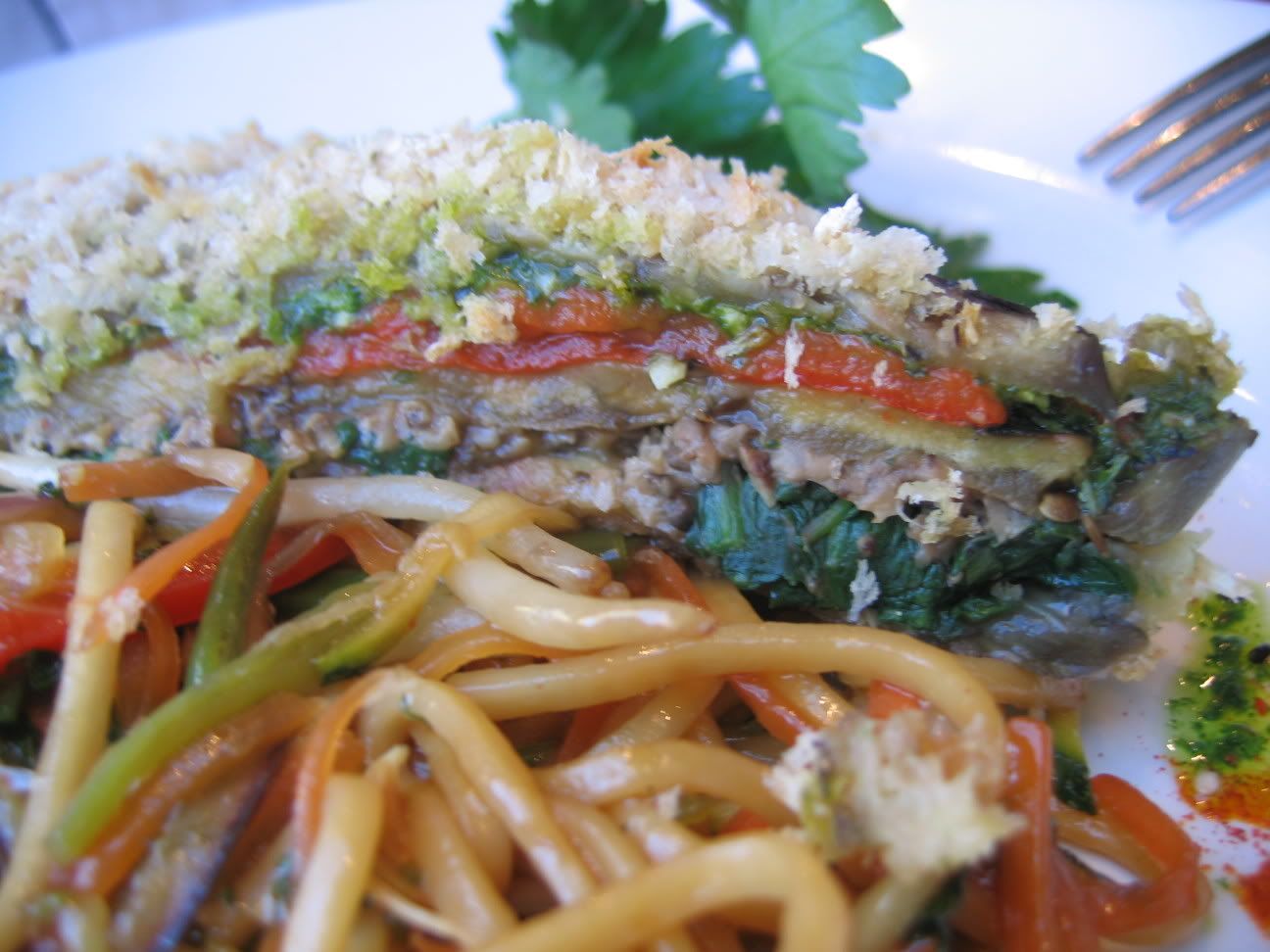 "Char-grilled aubergine layered with wasabi, shitake duxelle, roasted red peppers & spinach, coated with crispy breadcrumbs & served with stir-fried purple sprouting broccoli, wakami & noodles."

I had a chipotle-glazed aritchoke: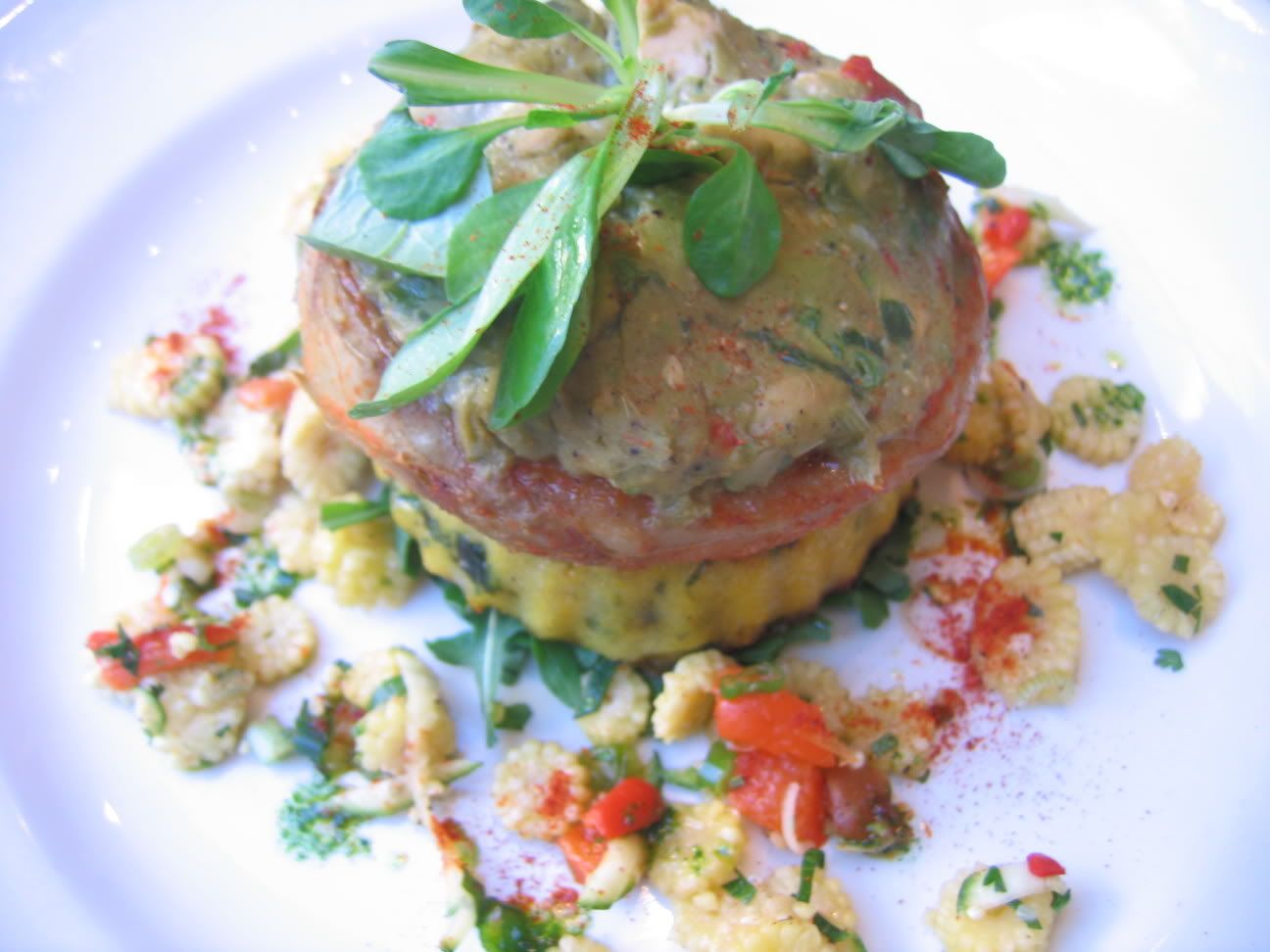 "Globe artichoke poached in a chilli & lime leaf stock, stuffed with avocado and feta cheese, served with spiced polenta & sweet corn salsa."

This was the best high-end meal we have ever eaten. I was particularly impressed that the menu didn't rely heavily on tofu or other soy meat substitutes, or on cheese. Instead each dish listed was a celebration of fresh vegetables, herbs and spices.

The waiter handed us the dessert menu and although I had actually considered skipping the sweetest course that night, there was one item I couldn't leave without sampling. The waiter returned and asked, "So have you decided to order the cheesecake?" Of course I had. He brought out dessert cutlery for two, initially presenting me with an oversized soup ladle instead of a spoon. Although he had clearly spotted my weakness, he had it the wrong way round: I'd much prefer the tiniest teaspoon, the better to stretch out and savour every mouthful.

I present to you the white chocolate and Bailey's cheesecake, served with dark chocolate sauce: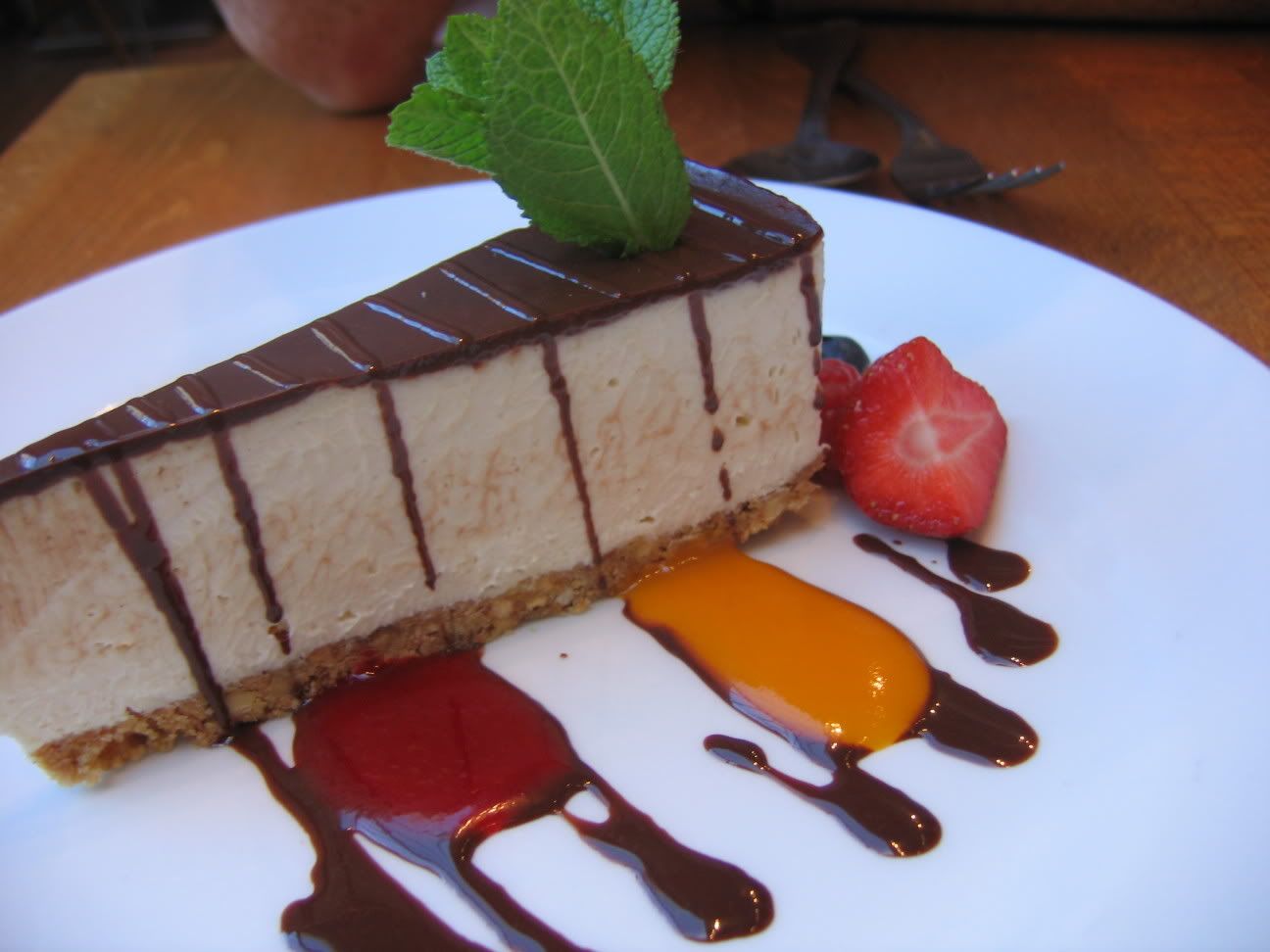 What can I say? It was exquisite.

We encountered this cute fella on the way out and gave him a gentle pat: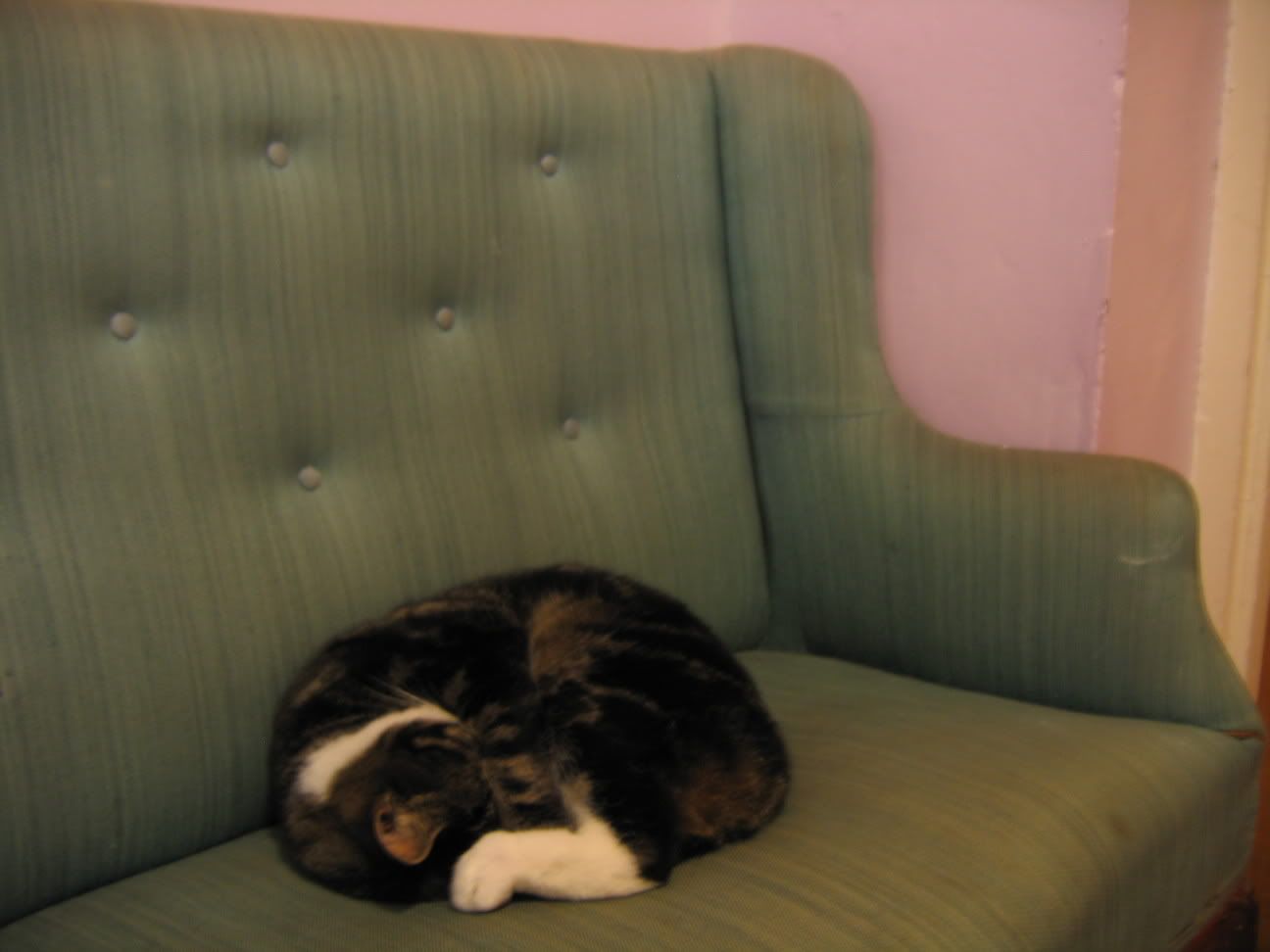 As the sky darkened we strolled along the Thames, then returned to our hostel thoroughly satisfied. At the day's end I had a new pair of shoes temporarily charged to someone else's credit card and the lingering taste of chocolate cheesecake in my mouth: what more could a girl ask for?

The answer is black snot. On the first afternoon in London, I overheard another pedestrian and (seemingly) new London resident discussing how the air pollution caused all her nasal secretions to be tainted sooty black. I fell victim on this, my third evening in the city. Ergh.