Monday 15/5: Venezia
We stumbled out of the train station tired from lack of real sleep and weighed down with all our bags, but even in that state, Venezia is a pretty spectacular city.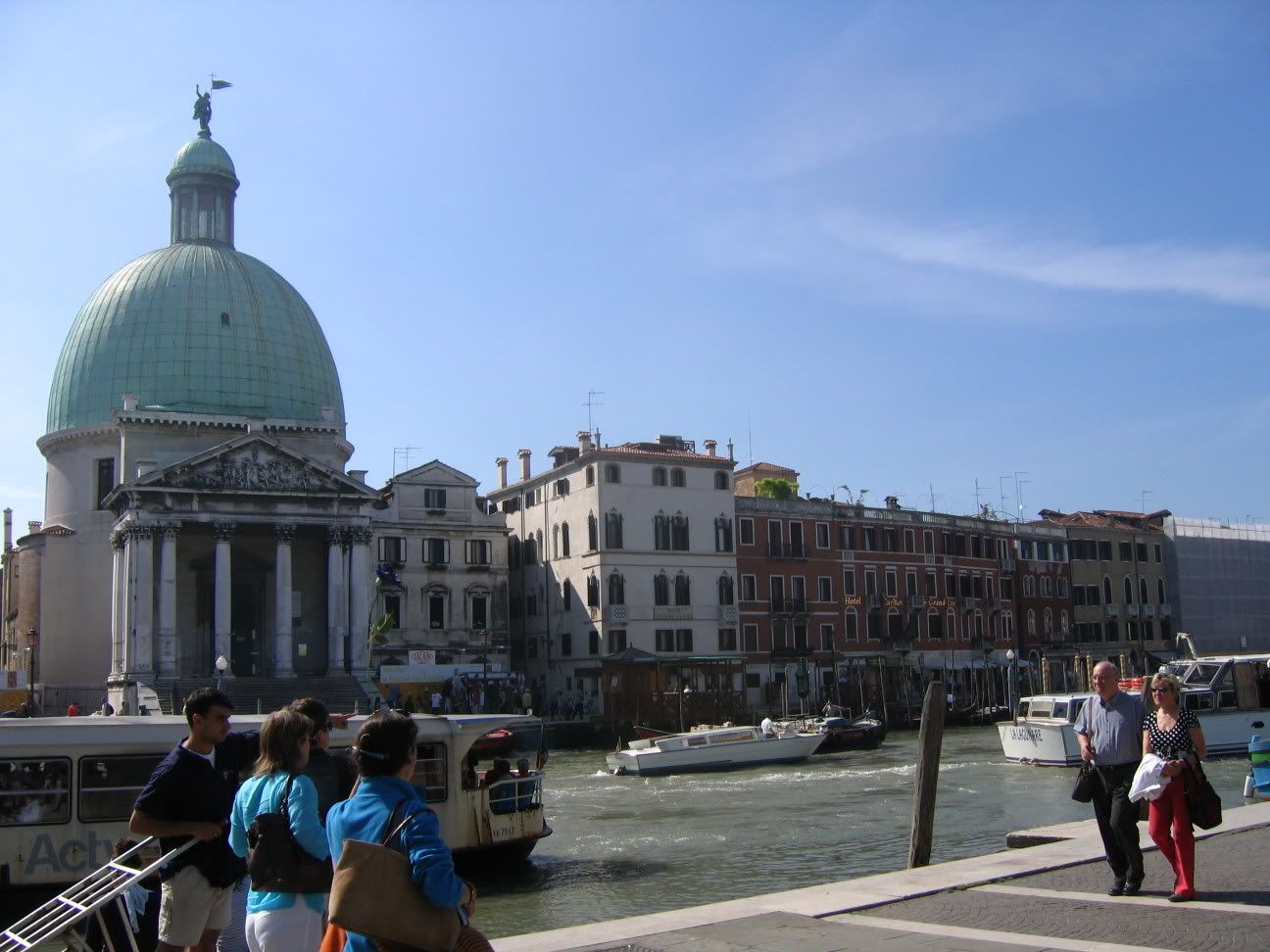 It's also a freaking maze. We had a reasonably clear map showing how to get from the station to the hotel – all of about 250 metres. And we struggled. It turns out that the wide streets marked on the map were actually alleyways barely wide enough for three people to walk side by side. Anyway, after 20 minutes of wandering around laden down like packhorses, we eventually figured out where we were and checked into our hotel. As it was still only 10:30 in the morning, we couldn't run straight upstairs to the shower and the bed and instead dumped our bags in the luggage room and headed out to explore, looking wistfully at the clean linen and comfortable sitting room as we left.
Having already realised that following a map in Venice was going to be problematic, we decided to just wander aimlessly through the alleys and over the canals and see what we stumbled across. After exhausting ourselves on galleries and old churches in Paris, there was nothing that we had to see during our stay and so we just followed our instincts and explored.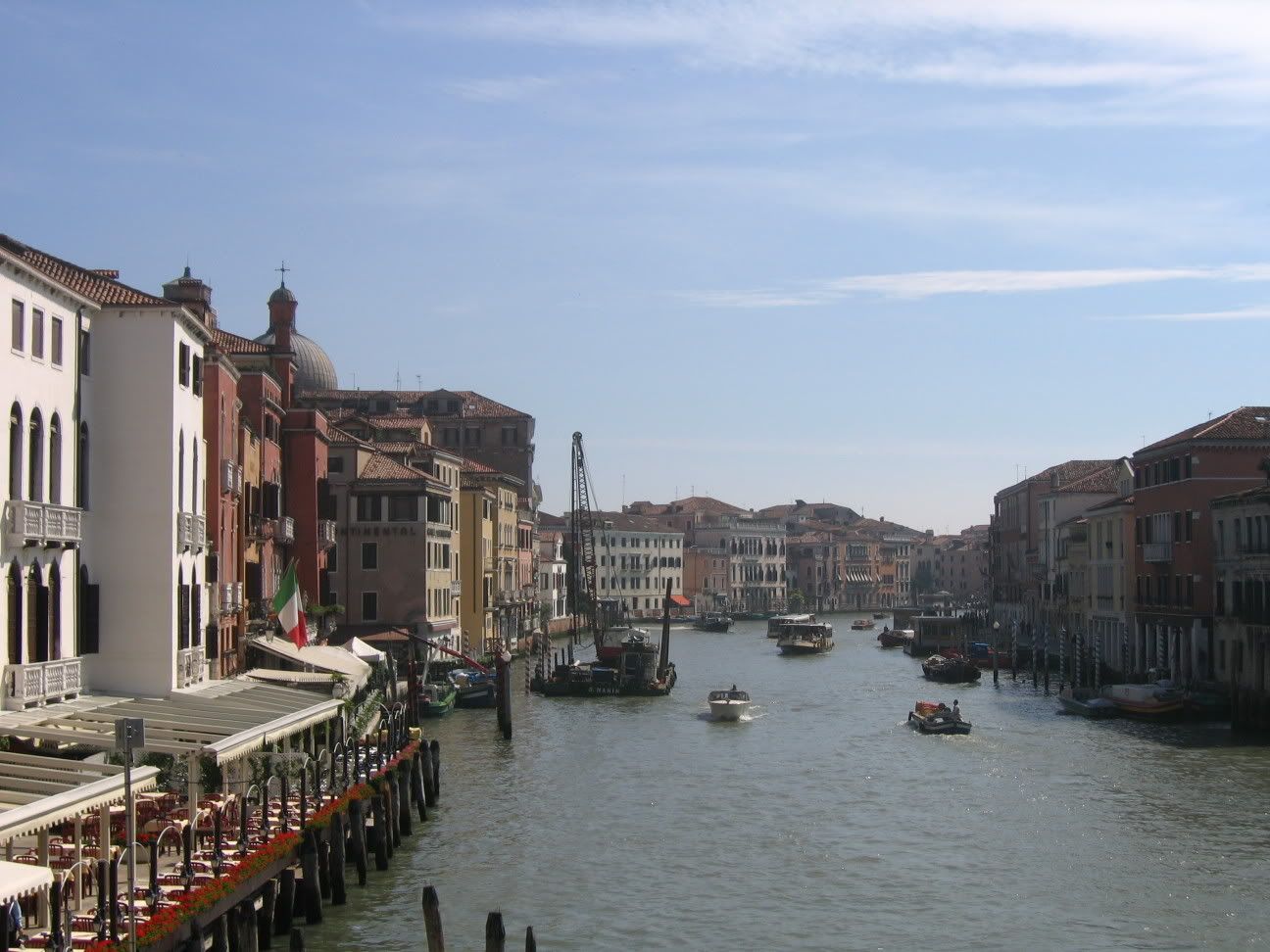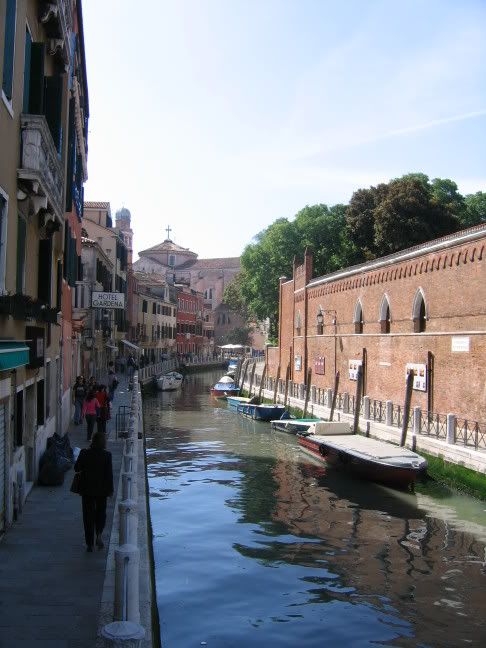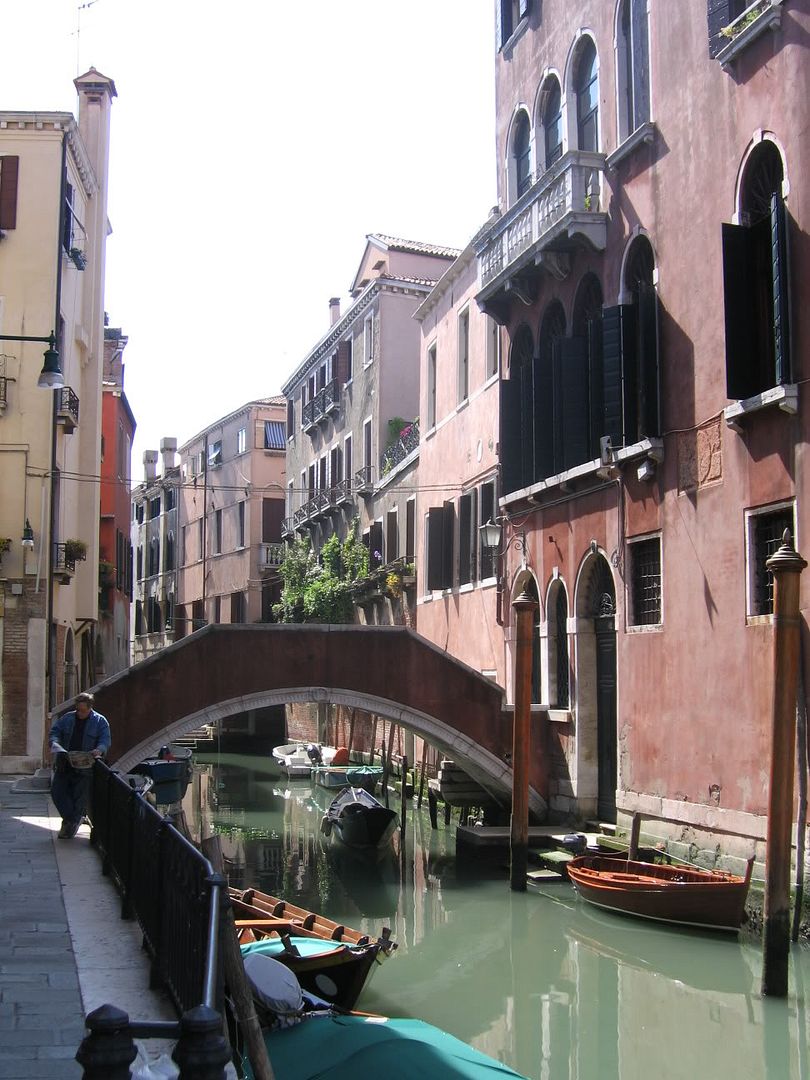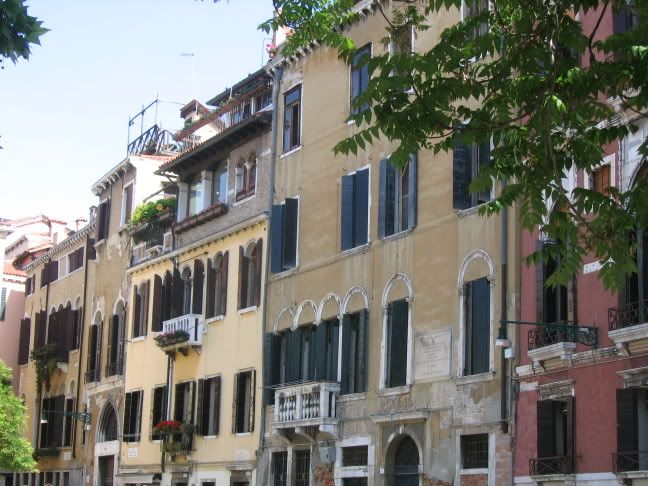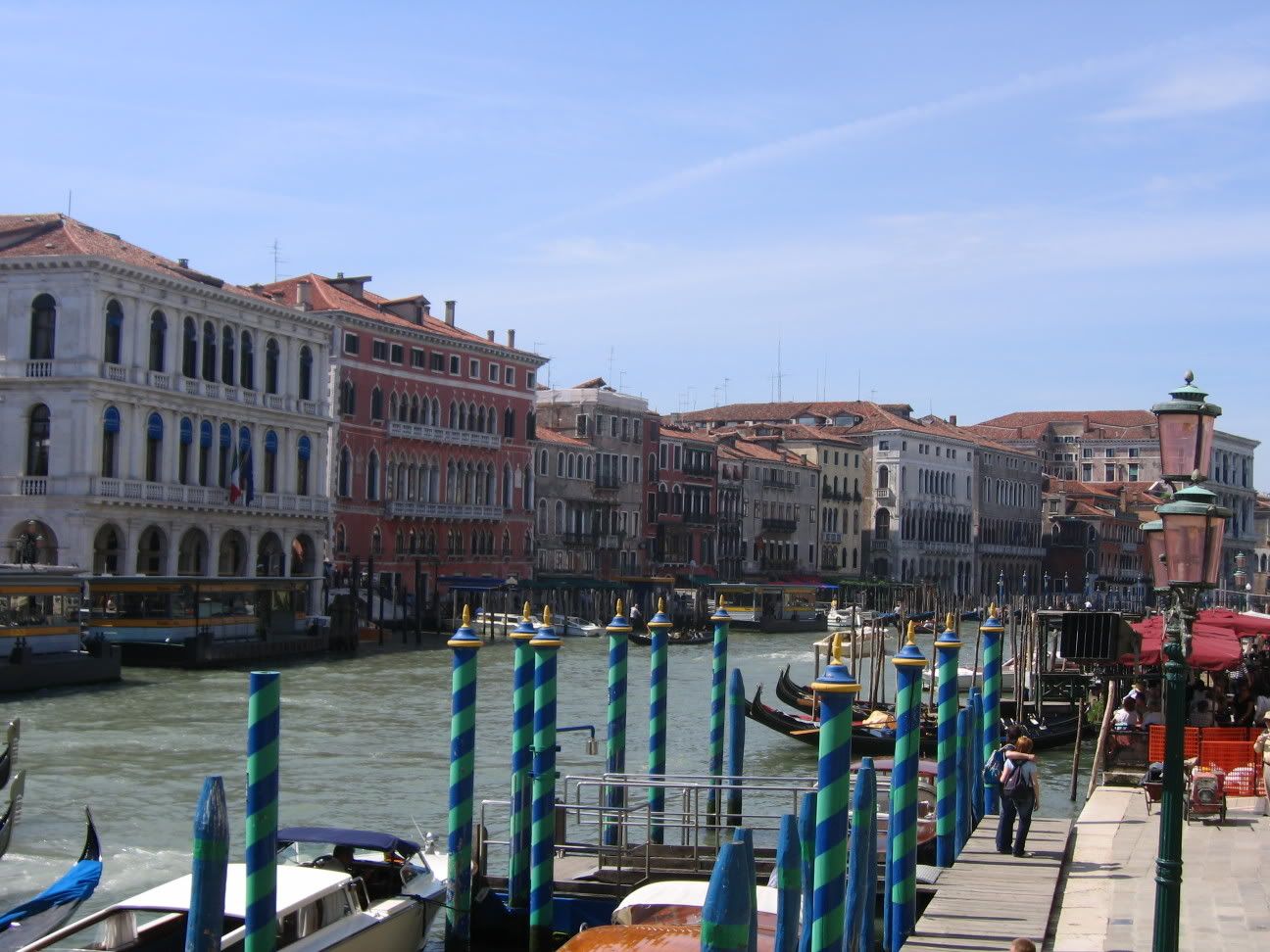 We eventually found our way to St. Mark's Square – the key tourist mustering point in the city. The Basilica looked very impressive from the outside and is supposedly even more impressive from within, but the lines to get in were too long and our enthusiasm was too meagre.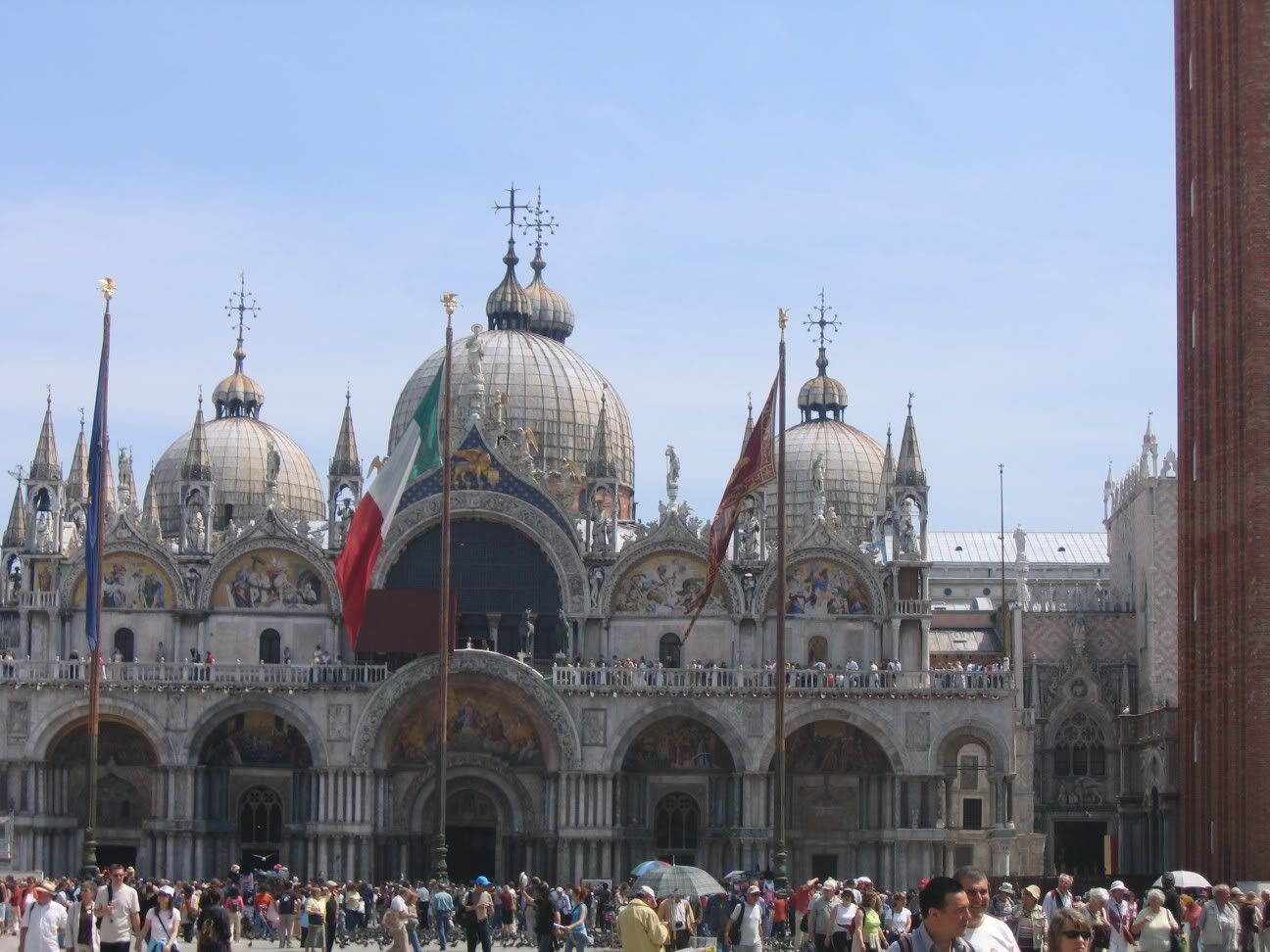 We quickly rechristened the square – Pigeon Town. It seems that the native rats of the sky have become quite a tourist attraction. You can buy some feed for a few euros and stand with your arms out while flea-infested vermin peck about at you. Good times. (There's a crouching woman in the photo below, but she's half blocked by the standing man and half swamped by rabid pigeons).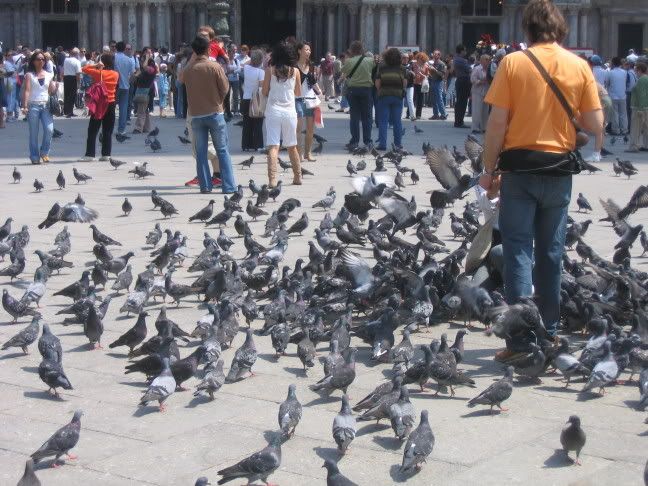 Deciding that St. Mark's Square wasn't really for us we started to head back towards the hotel, intending to get lunch along the way and arrive at around 1ish for check-in, showers and naps. The walking continued to be pretty aimless and the confusion began to set in after we passed the 400th shop selling exactly the same Venetian glass trinkets. In a lot of ways, Venice is basically a giant Italian-themed amusement park. Every block contains an assortment of shops selling the same tourist-targeted pap (glass, masks, prints, maps), an assortment of pizza shops and gelati stands and swarms and swarms of tourists. I'd almost guess that on any given day English would be the most common first language of everyone in the city. Despite all this, it remains a beautiful setting, so you can forgive its flaws (particularly when you, as tourists, embody them).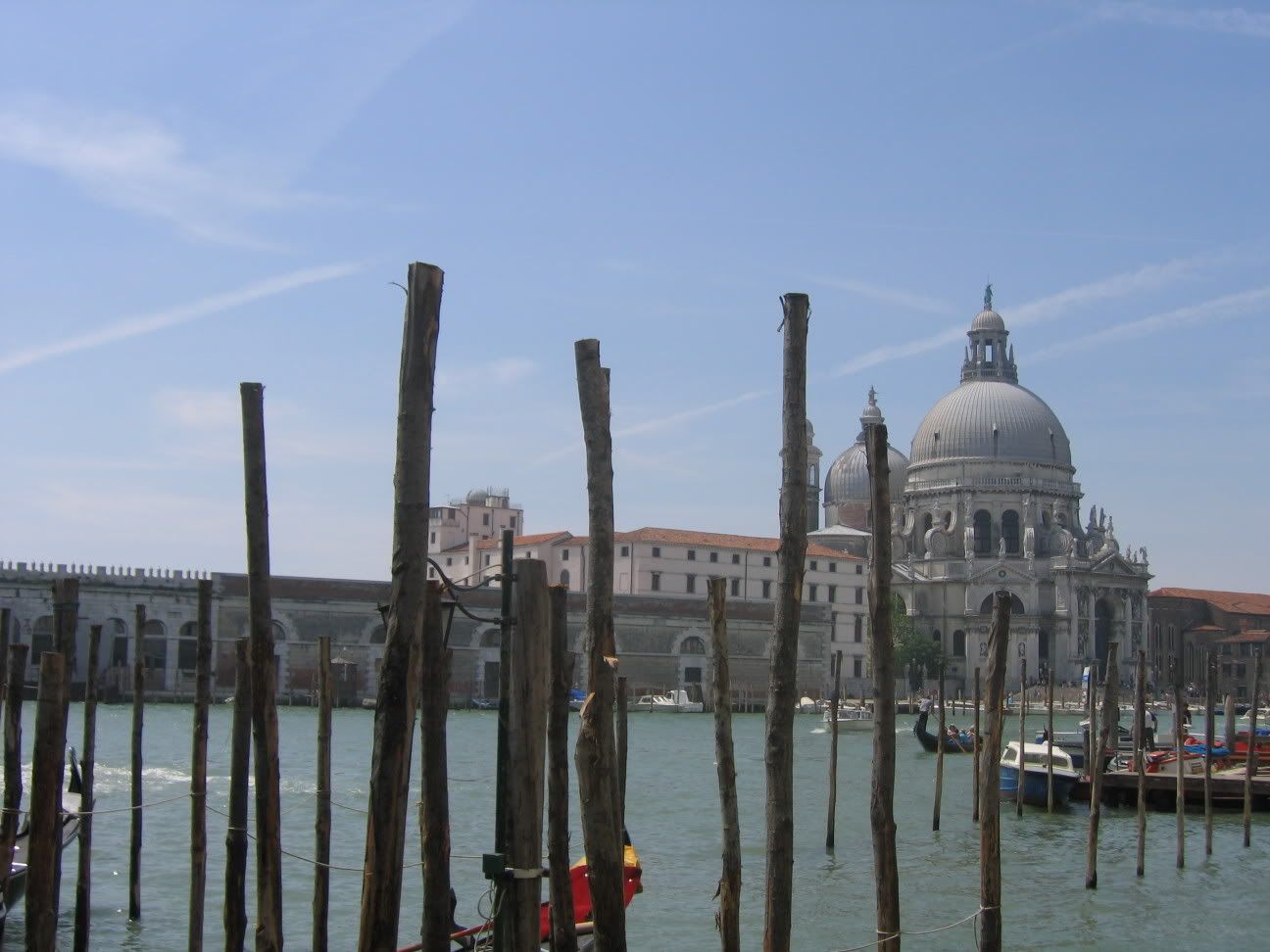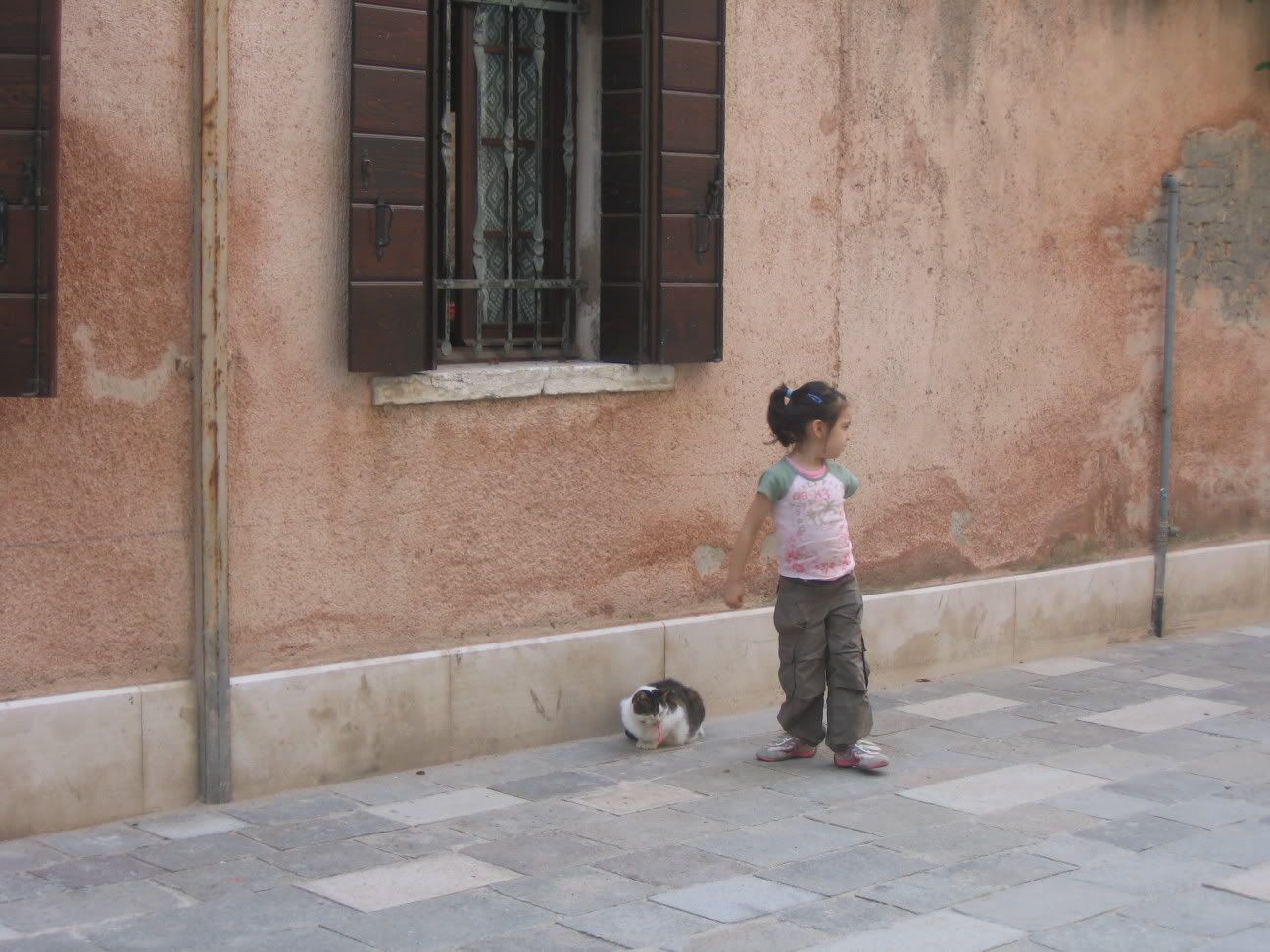 We had the obligatory pizza for lunch and decided it was time to figure out where we were and how we were getting back. The only way to use a map at all in Venice is to: wander around randomly until you stumble upon a square, locate said square on the map (not nearly as easy as I thought it would be), figure out the rough direction of your end-point and try to walk vaguely in that direction without running into dead-ends or canals. It's a struggle. So by 2:30 or so, tired and hot (Venice is the first place we've been where the weather could be said to have gotten 'hot' – 25 degrees anyway), we finally stumbled back into the hotel and dragged ourselves into our room for a rest. Never has a shower felt so good.
Before we knew it, four hours had passed and it was time to head back out for dinner. My list for Venice featured very few options and only one that sounded really delicious. Thankfully, it (La Zucca, which translates as The Pumpkin) was quite close by – it looked like only a 20 minute walk on the map. Ah the map. How I cursed it. After about 40 minutes we finally found the square where La Zucca was (supposedly) located. After another half an hour of lapping the square and poking our heads down sidestreets and alleys like this: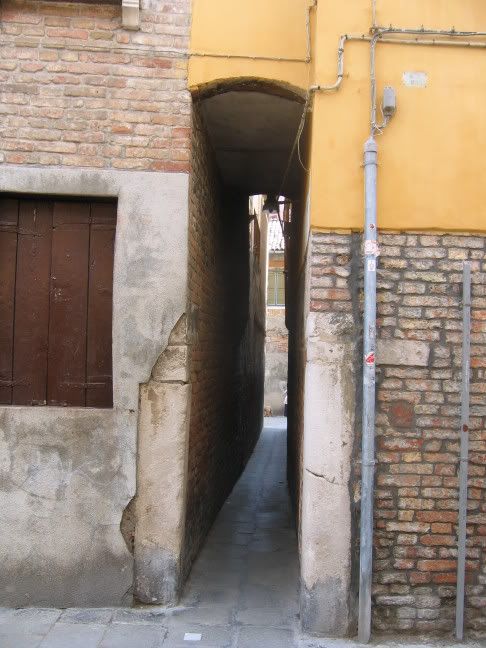 we conceded defeat and stumbled into the nearest trattoria to eat. Between Cindy's creamy tagliatelle and my tortellini, we ate reasonably well, but it felt like food that we could easily have made ourselves and after our high hopes for La Zucca, was pretty disappointing (hence the lack of pictures). Thankfully, wine is cheap here and by the time we left the restaurant for home my spirits were high again.