Sunday, May 14 to Monday, May 15: Paris to Venezia
During his extensive holiday planning, Michael booked us first class tickets on an overnight train from Paris to Venice. It seemed like a more adventurous and scenic option than another cramped plane flight, and we had very comfortable rail experiences in Sweden and Denmark.
Given our previous ordeal of getting from the airport in Paris to our accommodation, we conservatively gave ourselves heaps of time to get to the long-distance train station. Naturally we were more adept at negotiating the subways, and as a consequence we arrived at the station almost two hours before our train was due to depart.
There was some nervousness about validating our tickets and reading the French/Italian signs correctly, but we found our sleeper cabin without any problems and were settled with about 15 minutes before departure. It was moderately spacious, and seemed about 20-30 years old. The bedsheets were frayed (mine was ripped under the pillow) but they were clean and starched. We had a basin with running water, but there was a sign advising us not to drink the water. I had eaten a packet of pistachios during the wait at the station and was looking for a plastic bag or bin. All I could see was this: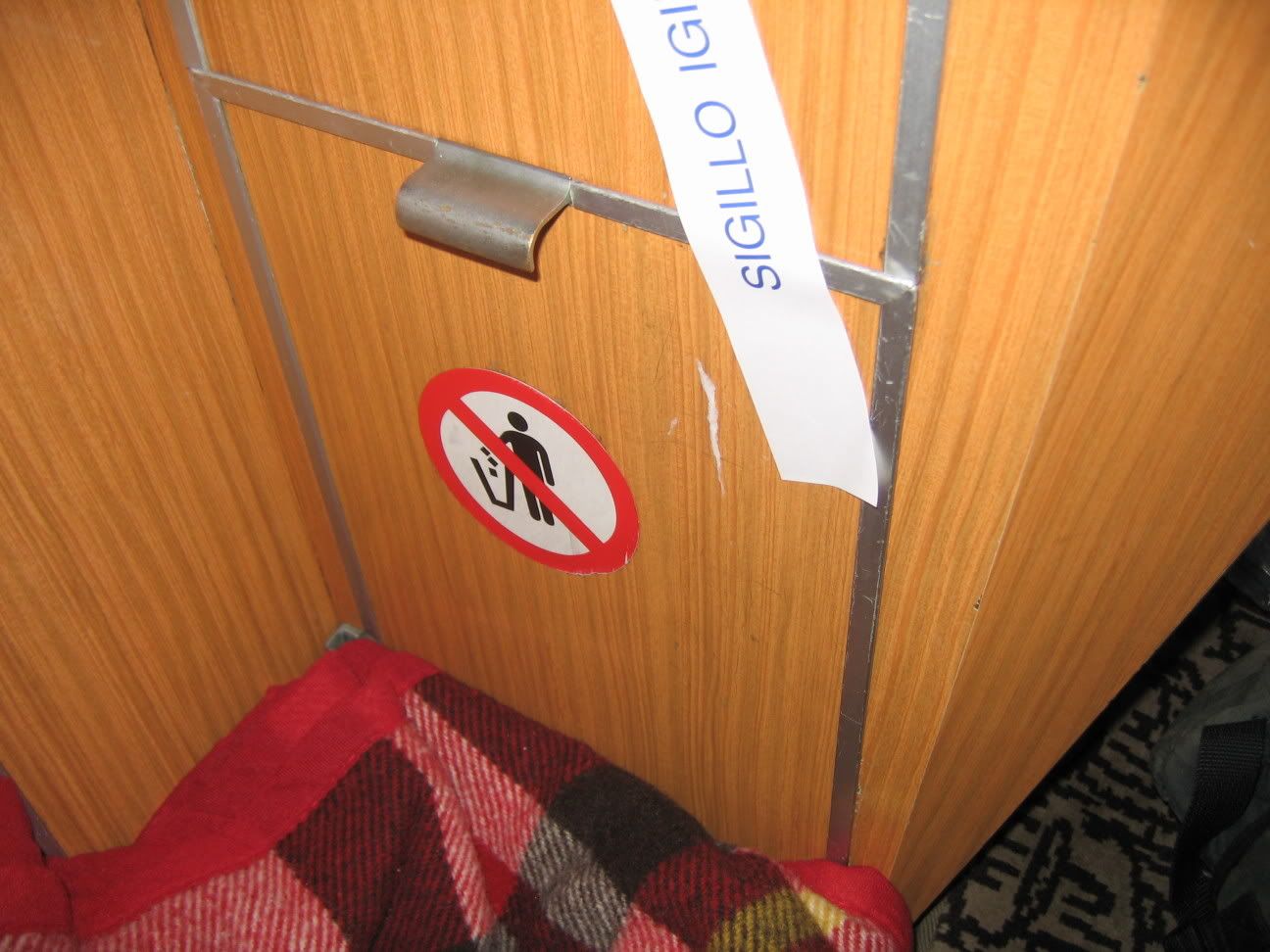 The only thing that looked like a bin was clearly not to be used as a bin. It turned out to be a chamber pot: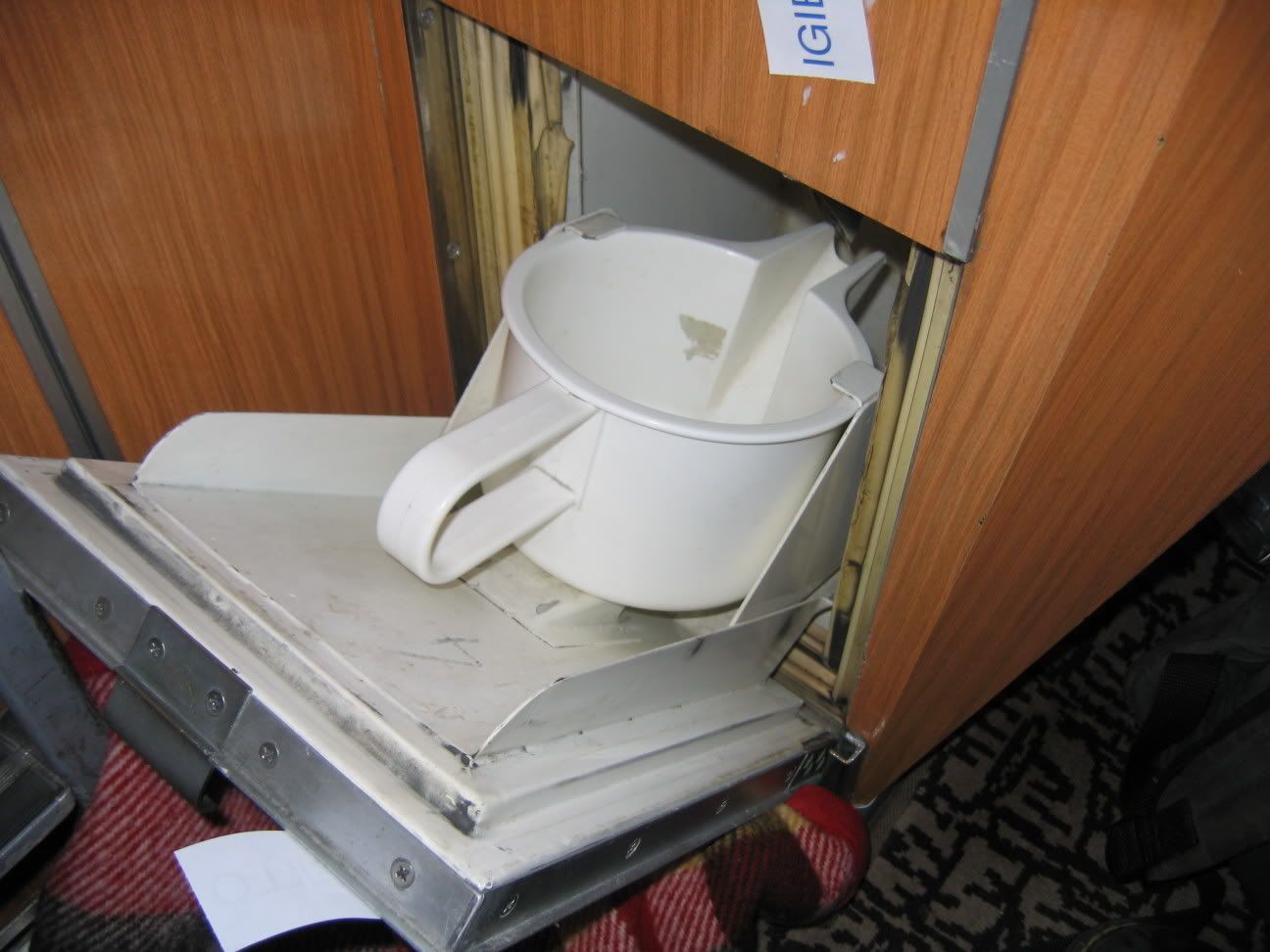 I had a brief moment of panic about the available facilities for the next 10 hours, but confirmed that there was a lit up WC sign at the end of the carriage.
We sorted out how to flip up the beds and transform them into a velvet bench: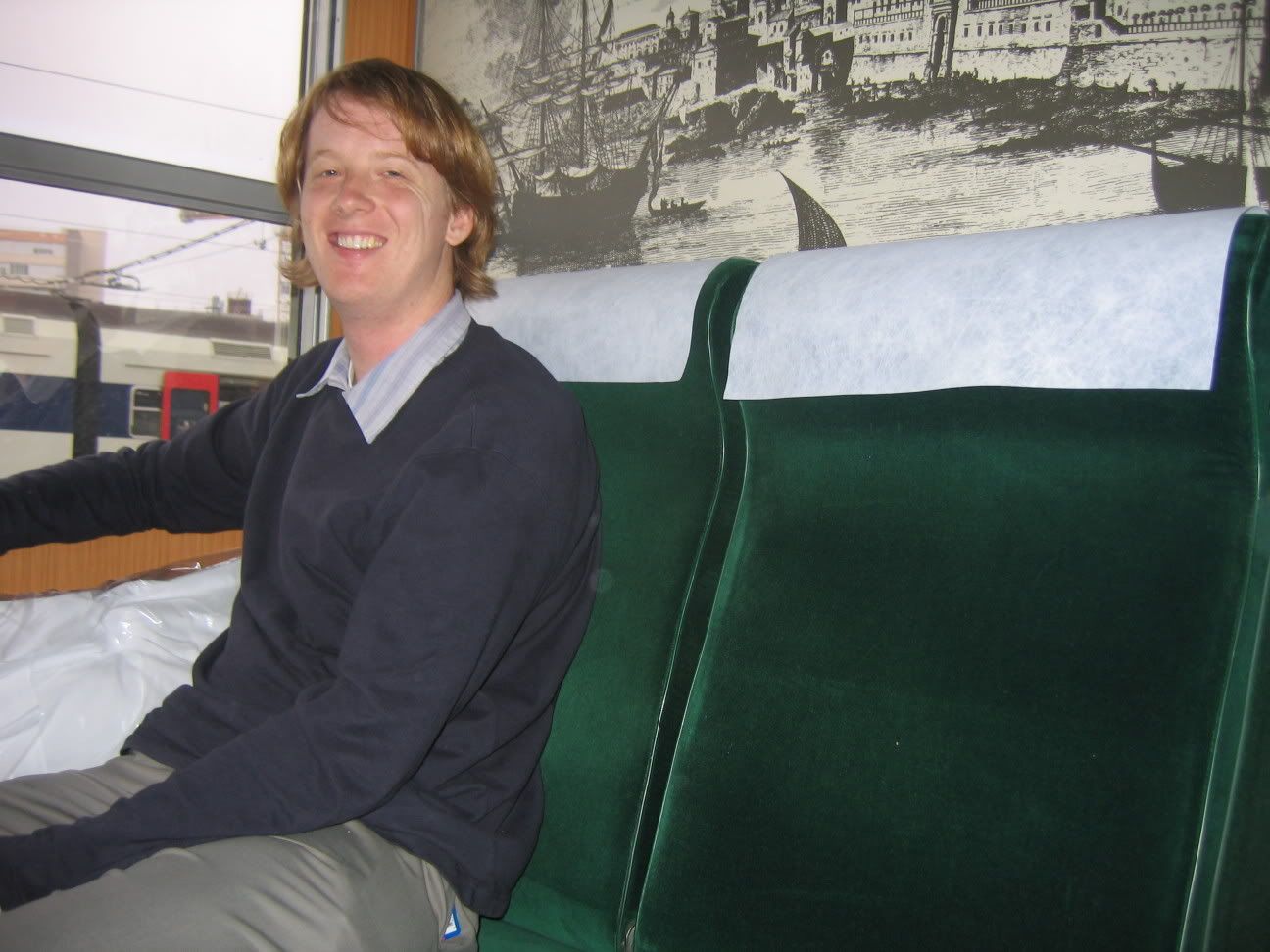 Before the train had even moved, an attendant stopped by and gave us a ticket for dinner at the restaurant, allocating us a table 15 minutes after the train was due to leave at 8:30pm. It wasn't clear to us whether or not dinner was included in the ticket price, but we figured we'd go along and try out the first class food.
The waiter was friendly, a little boisterous and clearly run off his feet. He seated us at a table with a couple in their sixties (they were the demographic dominating the restaurant car). We exchanged smiles and they offered us the menu. It seemed to be a set three-course dinner, with a meat-free entrée and meat-heavy main. We were feeling a bit confused about the whole process, but decided to see what happened, planning vaguely to eat the entrée and then head back to our cabin early. A few minutes later I noticed at the bottom of the menu: 28 euros. Hmm. We would be charged almost $50 each for the set menu. By that time the waiter had opened the wine and we'd eaten the bread sticks, so we didn't feel like we could get up and leave. I hoped we might cut a deal where we'd pay a reduced price to eat just the first course. If not, we'd just put it down as a lesson learned.
The pasta arrived: spaghetti with tomato and basil. Qantas standard. The waiter heaped it onto each plate with a flourish and Michael explained that we were vegetarian. "Vegetarian, no problem!" the waiter confirmed then waltzed on, preventing further discussion. We felt a bit better, but not as if the situation was completely resolved. We ate; Michael had seconds since he knew he'd be skipping the main. Typically for me, I was still finishing my last strands of spaghetti when the waiter brought out the next course. A couple of thin, limp slices of red meat smothered in something gluggy and white. Even if I wasn't vego I wouldn't have been keen on it. I desperately waved my hand 'no' as the waiter began scooping some onto my plate and Michael reminded him that we were vegetarian. "Ah!" He moved on to serve the rest of the carriage, and Michael thought he saw the waiter duck into the snack cart to find something else for us. We had to wait for him if we wanted to pay and leave, anyway.
Eventually the waiter returned with two plates, each holding about half a kilo of cheese, neatly sliced and arranged. Half firm and rich, half watery mozzarella. Our main course was pure, unadulterated cheese. A man across the aisle looked incredibly jealous that we had somehow scored this instead of the meat. The cheese appeared to be quite good quality, but I couldn't munch my way through more than a tenth of it. Michael finished the more digestible mozzarella on his plate, and courteously ate one of the other slices. By this time the other diners had had their plates cleared and the waiter was taking orders for dessert. Gateau or fruit? I thought that I might be able to get through a bit more cheese with a piece of fruit, and rejected the cake. Rejecting cake is a very unusual occurrence in my life, as you probably already know. Unfortunately for me the gateau chosen by the couple sharing our table looked like the highlight of the meal. My pear was juicy and ripe, but it didn't ease the consumption of the cheese and I gave up on it before getting through another slice.
So, we'd had a three-course meal of sorts and we'd have to wear the 28 euro price tag. In a pathetic act of rebellion, I stuffed a second pear in my jacket pocket. Somehow when we lined up to pay, the price was now 30 euros each. We'd been completely ripped off, but no more so that anyone else in that carriage. It was 10pm by the time we got back to our cabin and we weren't expecting a good night's sleep. Our stomachs were full of rich but mediocre quality food. Michael had also consumed half a litre of red wine, while I piked out because of my tendency for motion sickness. The train was rocking quite a bit, so much so that my smuggled pear rolled off the bench and onto the floor, breaking the skin and bruising the flesh. Damn.
Surprisingly we did sleep reasonably well overnight, and had a few hours in the morning to watch the Italian countryside pass by before we would arrive in Venice.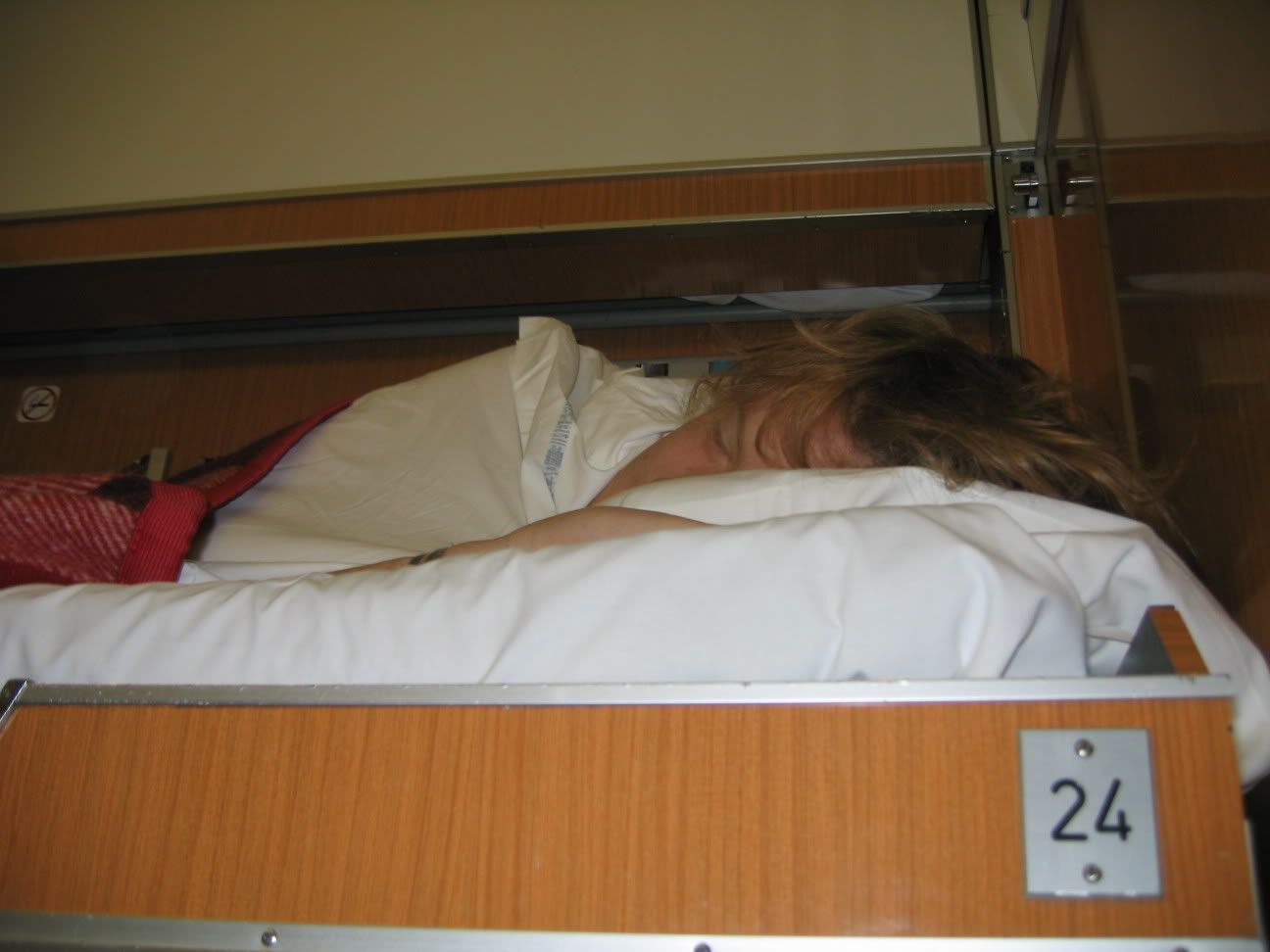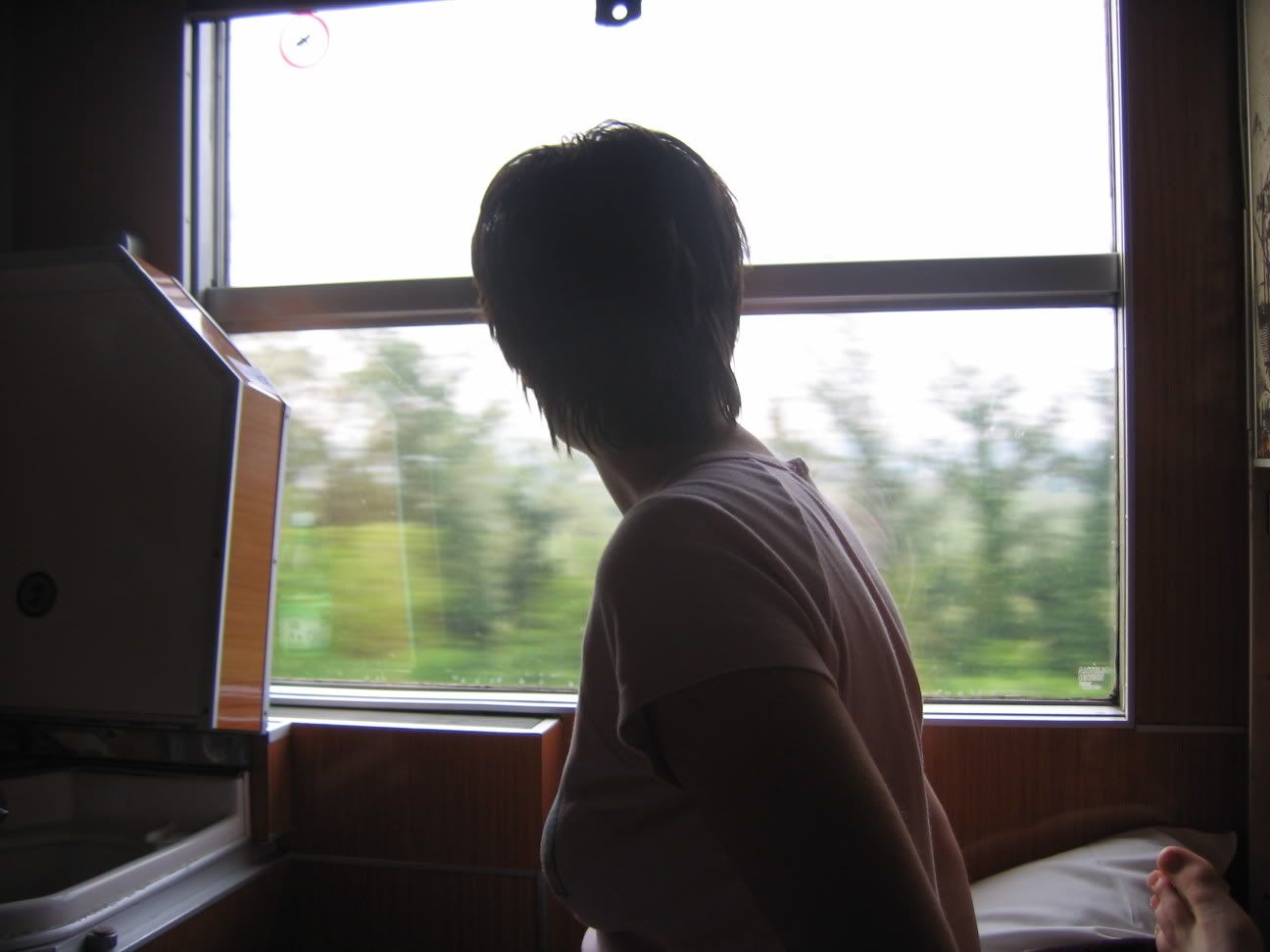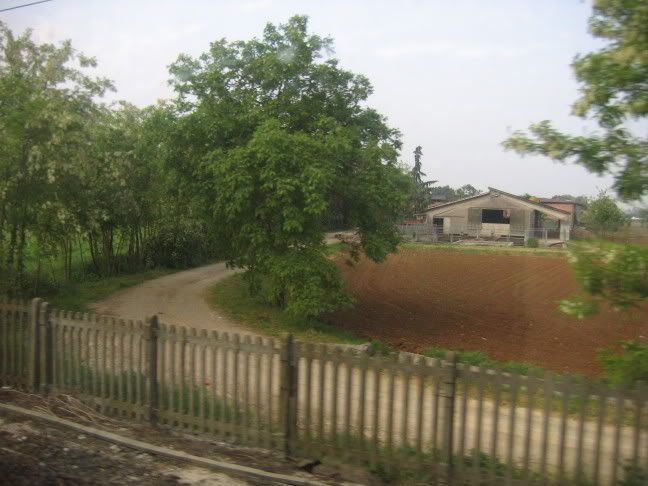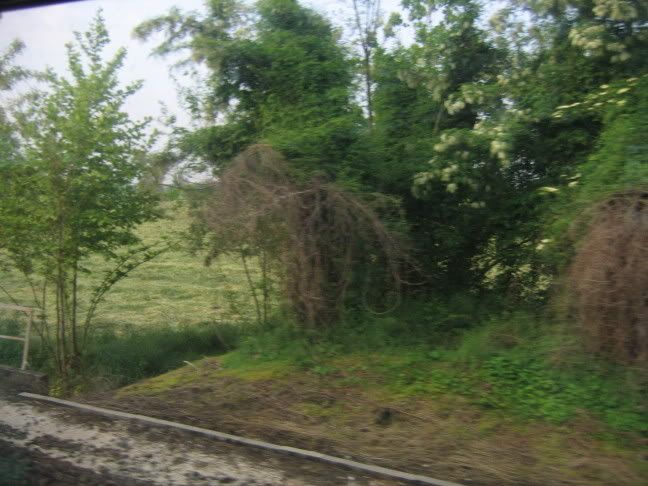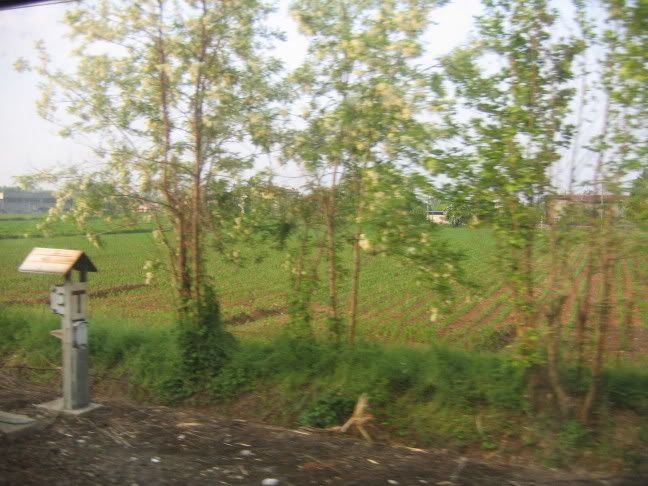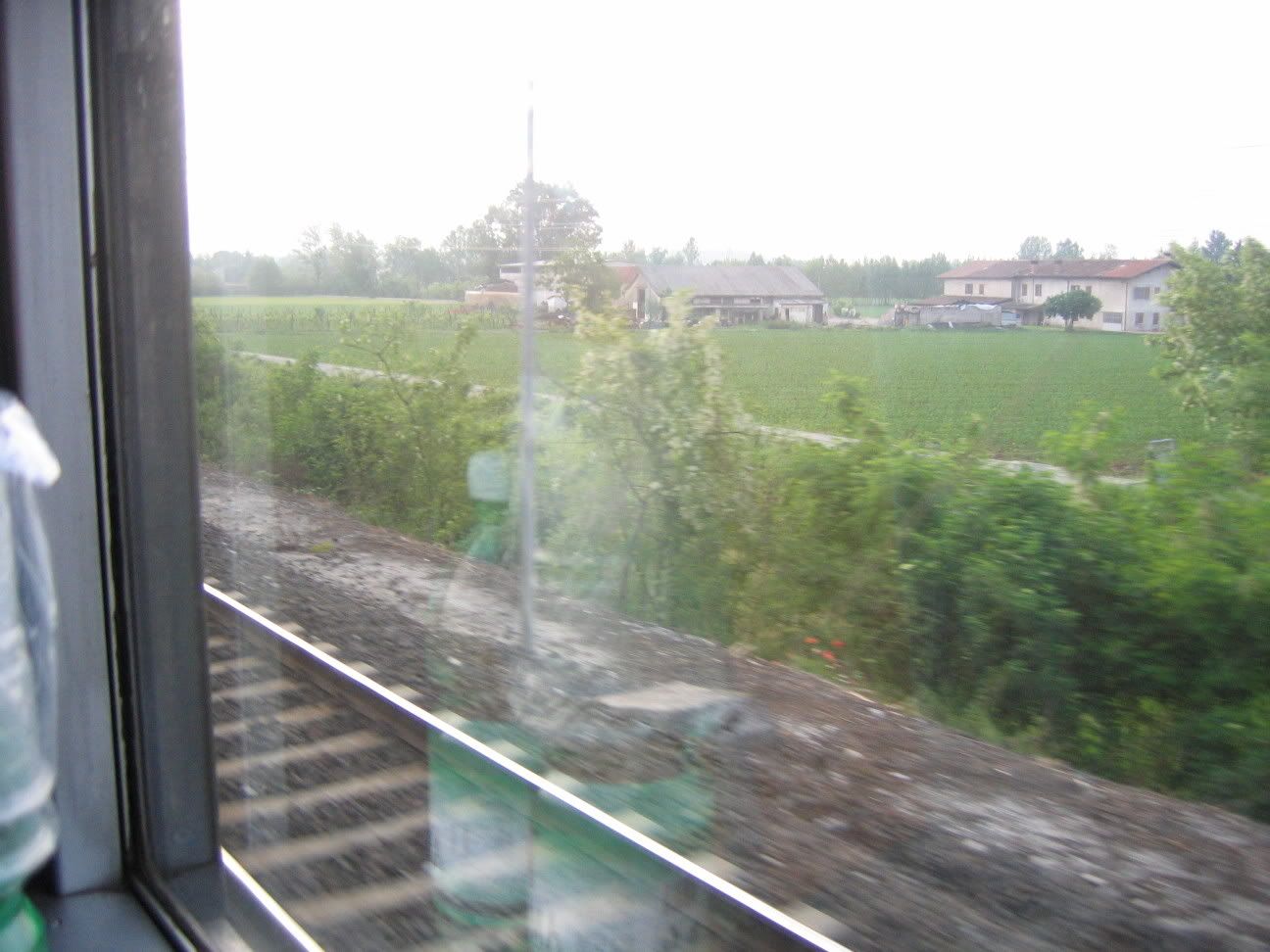 I breakfasted on an apple and paprika Pringles; Michael had a black coffee, packaged pastries and a juice box served by the train attendant.