Saturday, May 13: Paris
During the day we visited
Musée d'Orsay
. After waiting more than an hour in line we reached the security check. My belt (or was it the knife strapped to my ankle?) set off the metal detector but the security guard couldn't have cared less and waved me through. After the wait outside, we allowed ourselves to skip straight to the café to share a lunch plate:
FOOTAGE MISSING
Sorry, I forgot to take the camera. We had crunchy toasted bread topped with roast veges, olive oil and herbs, and a lightly dressed green salad on the side. It was very tasty, but overpriced as museum cafes always are. As an aside, I found that salads always had just the right amount of dressing in Paris: a light flavoursome touch that has the leaves glistening, but not so much that it pooled up in the bottom of the bowl or plate. I was particularly impressed, after repeatedly encountering gluggy puddles of cheap mayonnaise on my lettuce when I was in the US.
Although we were refreshed by the snack we knew we didn't have the time or energy to see everything in the museum. We decided to begin upstairs with the impressionist and post-impressionist paintings. Our enjoyment in seeing paintings by Cézanne, Van Gogh, Manet and Degas (among others) was tempered by the popularity of this floor. We were constantly edging around school groups and other tourists, rarely getting a chance to examine the works up close without feeling pressure to move onto the next one quite quickly.
After an hour or so we took a break for coffee and a slice of raspberry pie, then worked our way down to the lower floors, also stopping to admire the central area of the museum. In a former life the building was a train station, and it has a high domed ceiling with lovely decorations. Again, sorry about the lack of photos (you can read about the building
here
and see a pretty good picture of it
here
). Over the next hour our enthusiasm waned and eventually we walked back towards the apartment. It rained a little on our way and it was too early for Ian and Anne to have returned from their excursion to the Louvre (we didn't have a key), so we overshot our street by a block to have beer and pomme frites in a pub and watch the passers by.
In the evening Ian and Anne gave us their museum passes to check out the Louvre. We were a little disappointed to find out that it was closed, but this turned out to be a blessing in disguise. With a bit of extra time and lightness of feet, we pushed on to vegetarian restaurant that would otherwise have been a little too distant. Le Potager du Marais is not only vegetarian, but has a focus on organic produce, and we managed to grab the last unreserved table for two. The space is very narrow, with all of the indoor tables arranged in a line with a parallel line of chairs on one side and a long cushioned bench along the wall. The waiters carefully pull out each individual table to seat the customer opting for the bench.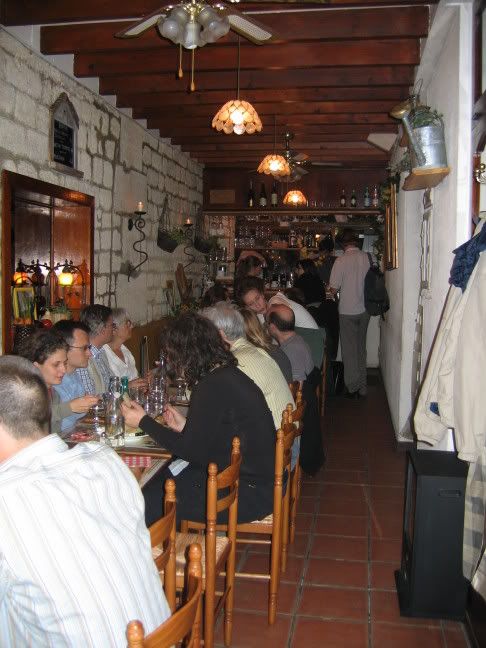 The beer and chips we consumed earlier meant that we skipped the entrees, but they had a mouth-watering list of dips on offer. The selection of main courses was equally appetising. I chose the mushroom pie: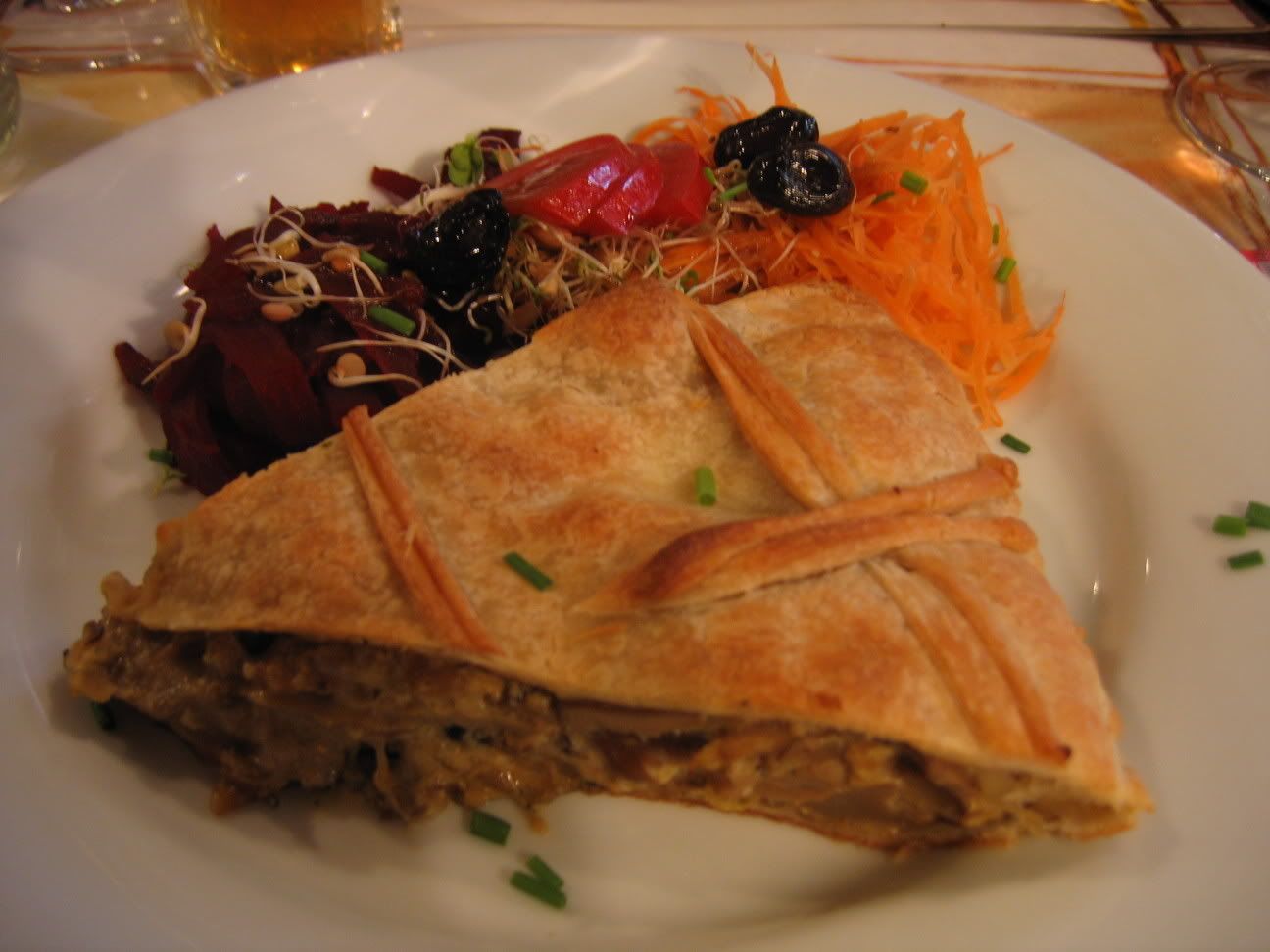 I couldn't believe it was vegan! The fleshy oyster mushrooms were coated in a creamy, cheesy-tasting sauce and flavoured with fresh chives. The pastry tasted as if it contained wholemeal flour yet it was light, crunchy and deliciously browned. This was easily the best main meal of the holiday thus far for me.
Michael order the vege burger with mushroom sauce: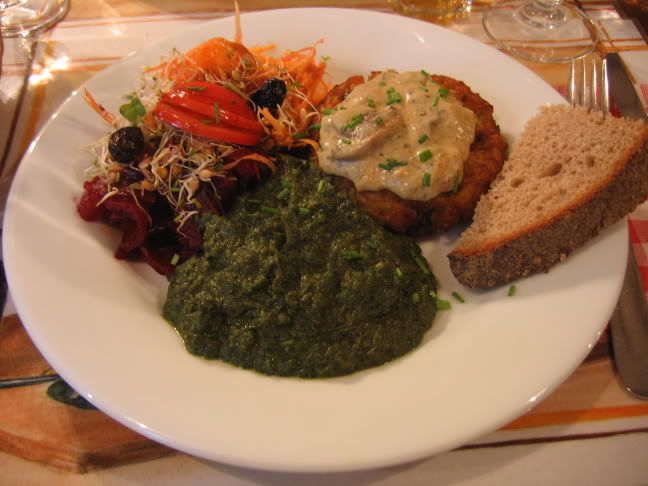 I snuck a couple of bites and it was also excellent. The vege patty had a perfect crispy fried shell but was soft inside. The mushroom sauce was comparable to the filling of my pie, and the spinach was a surprisingly complementary side.
After dinner walked back towards the apartment, through the Latin quarter. It's a pretty tourist-heavy area with lots of restaurants and shops selling souvenirs. There are also plenty of stalls where you can buy crepes!
Michael chose Grand Marnier with sugar: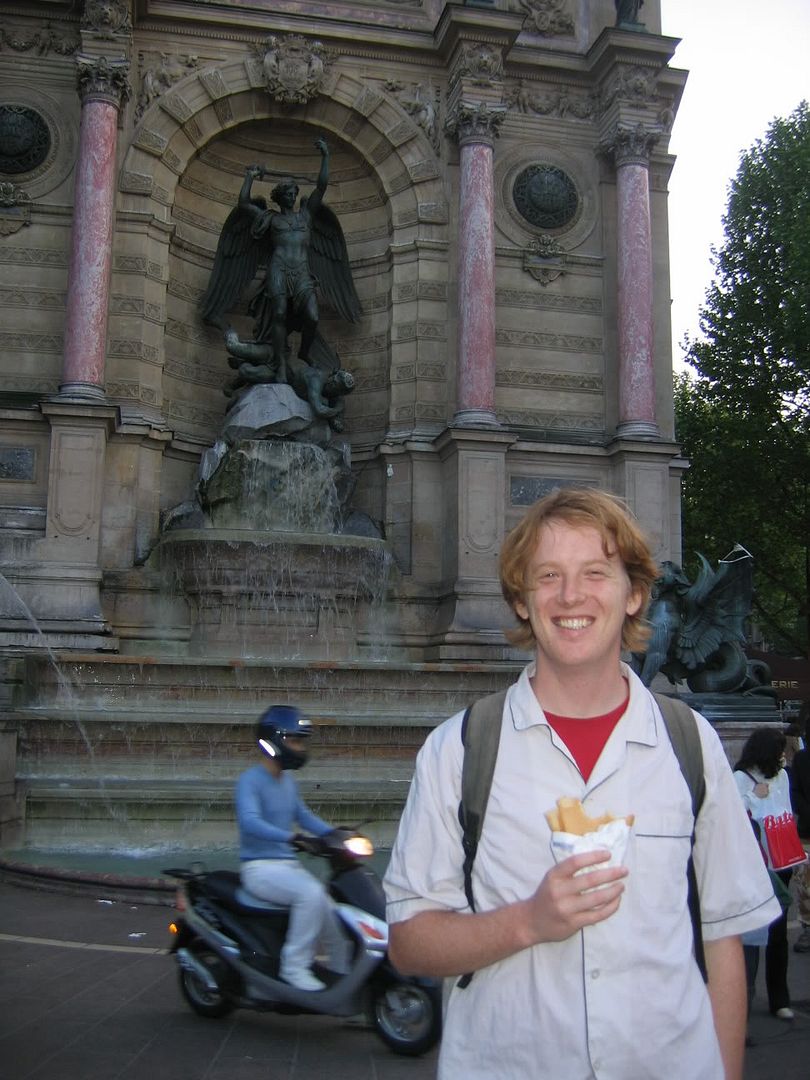 I opted for Nutella: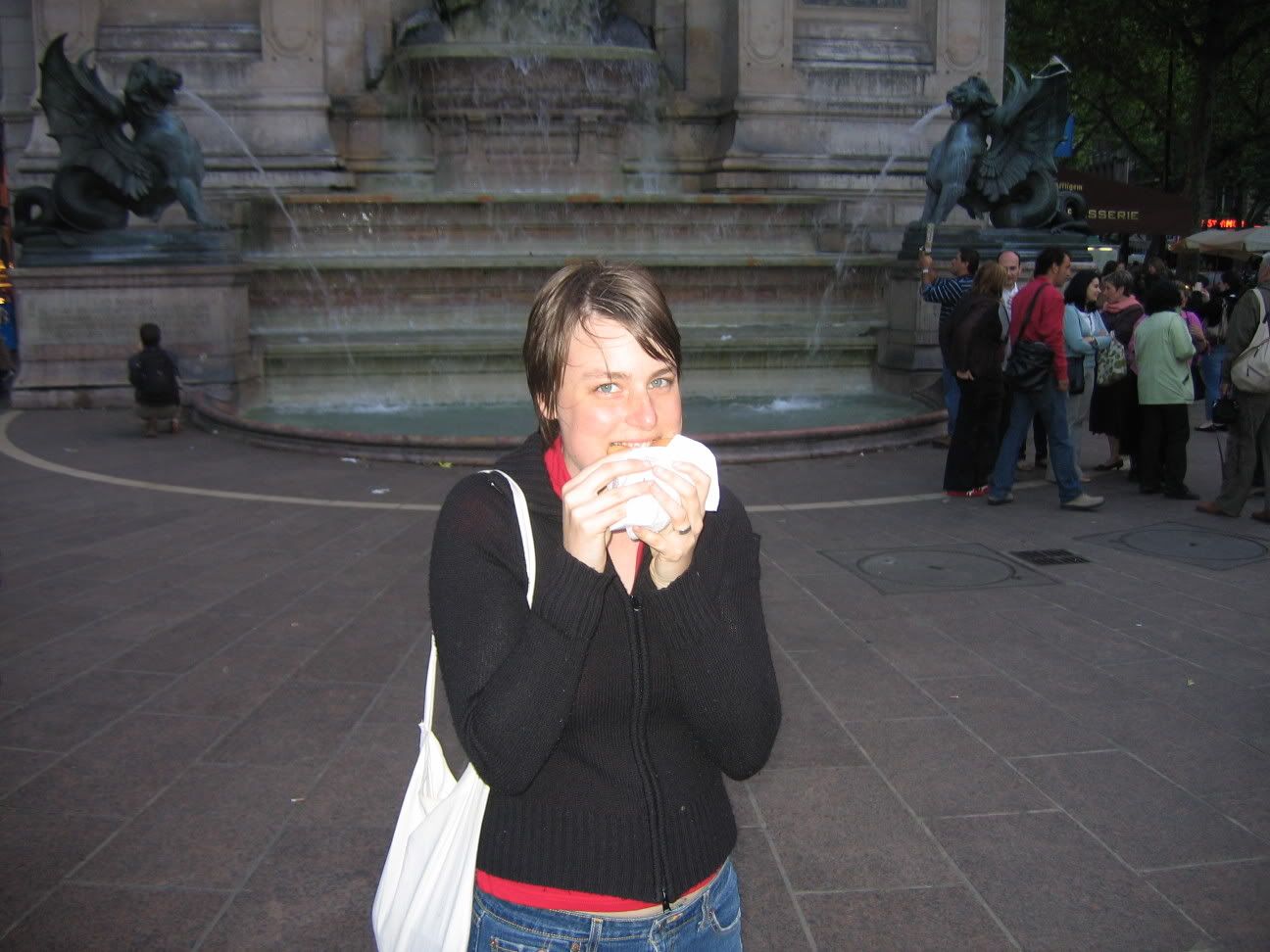 It was so rich. I should have just stolen a couple of bites of Michael's and not ordered my own.