Tuesday, May 16: Venezia
This was our one full day in Venice. It began at 7:15am when the church bells first clanged outside our window. Then the day paused and resumed at 8:15 when the bells clanged a second time and we decided to get going. A pleasant breakfast downstairs was included in the price of our hotel room, so we took advantage of that before braving the busy streets at about 10am.
During the trip, Michael has made almost all the bookings, tends to take charge of the maps and negotiating transport, and likes to plan each outing a day ahead. It's been one sweet ride for me, as the only tasks I've been left with have been taking most of the photos and reminding him when it's time for ice cream. Still, I particularly enjoyed the random layout and lack of must-see landmarks in Venice so that we could both, for the most part, just wander about without Michael furrowing his brow over a map or hassling me about which sight I wanted to visit tomorrow.
Nevertheless, our meals on the previous day had been somewhat uninspiring (hence the lack of photos) and our first task in the morning was to locate La Zucca for dinner. A bit of internet research in the hotel had yielded a map that corresponded with neither the detailed map of the city we had nor our visits to the actual square. A restaurant review commented that the best approach was simply to visit the square and wander around the side streets. We made another lengthy attempt at this, methodically visiting every alley we encountered and turning up nothing. Well, almost nothing: there was one restaurant that was positioned similarly to a photograph displayed on La Zucca's website, but its name was different and the menu was far from vegetarian-friendly. Hot and a bit annoyed at having failed, Michael suggested that we head back to that restaurant and ask for directions. I noticed a couple of chairs on the other side of a small canal, hinting at another café. La Zucca! Dinner was set. I jokingly suggested that we retrace our steps back to the hotel, taking photographs of our surroundings every 5 metres, to ensure we could find our way back in the evening.
We did actually retrace our steps almost back to the hotel, as it was located close to a ferry terminal, and we wanted to take a trip along the grand canal. It was a little bumpy and crowded. Michael took charge of the camera: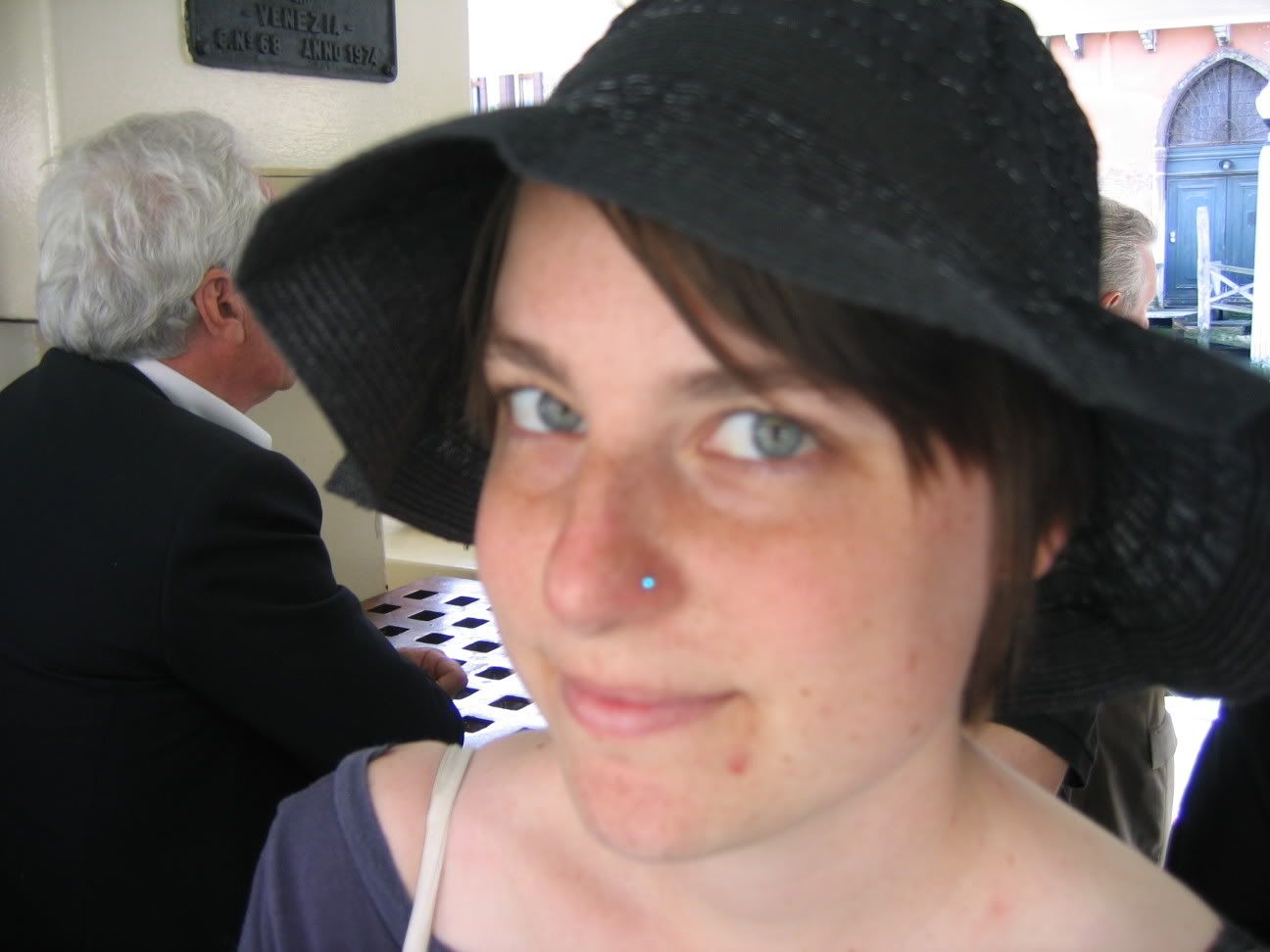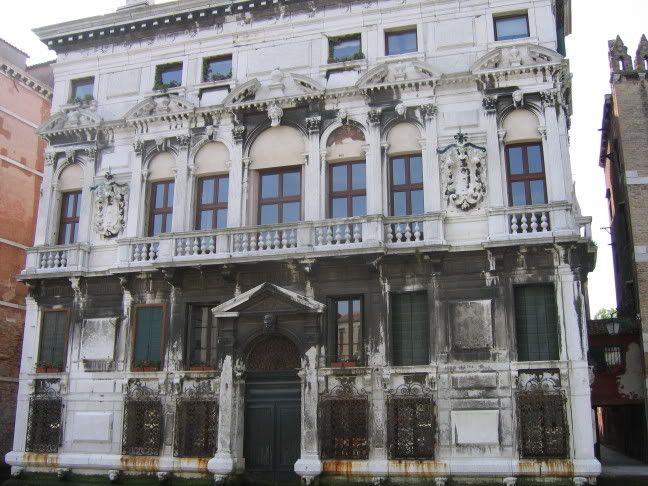 We noticed a market and restaurants at Rialto, and agreed to walk through on our way back towards the hotel: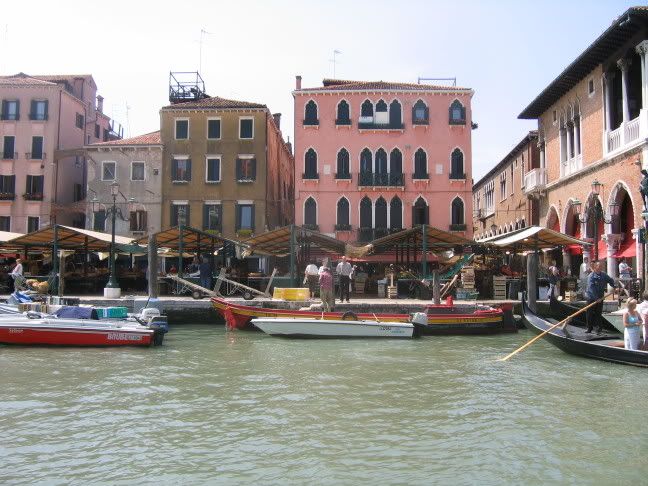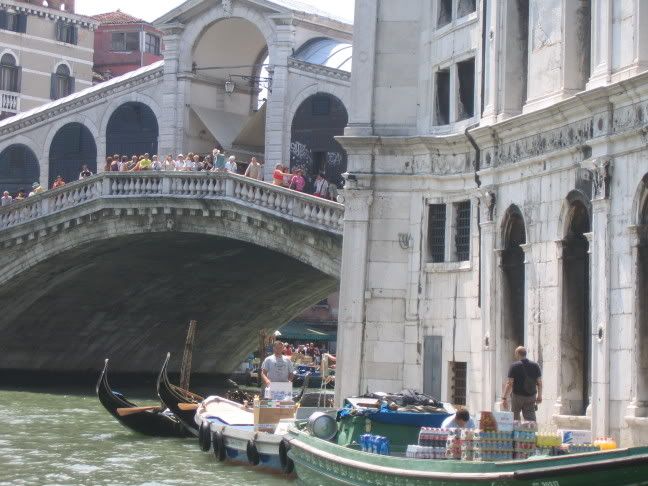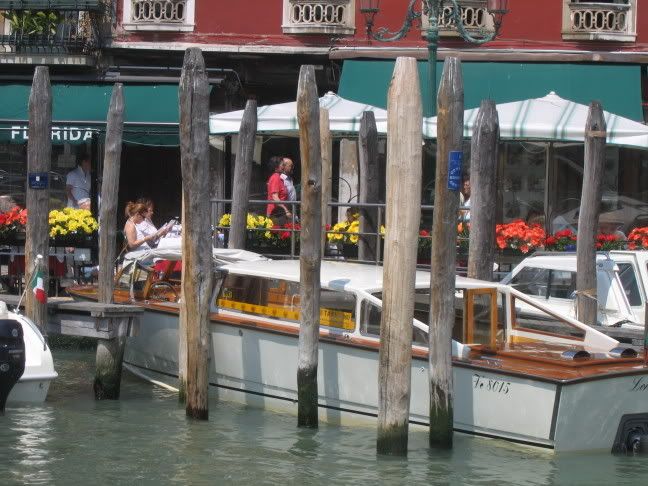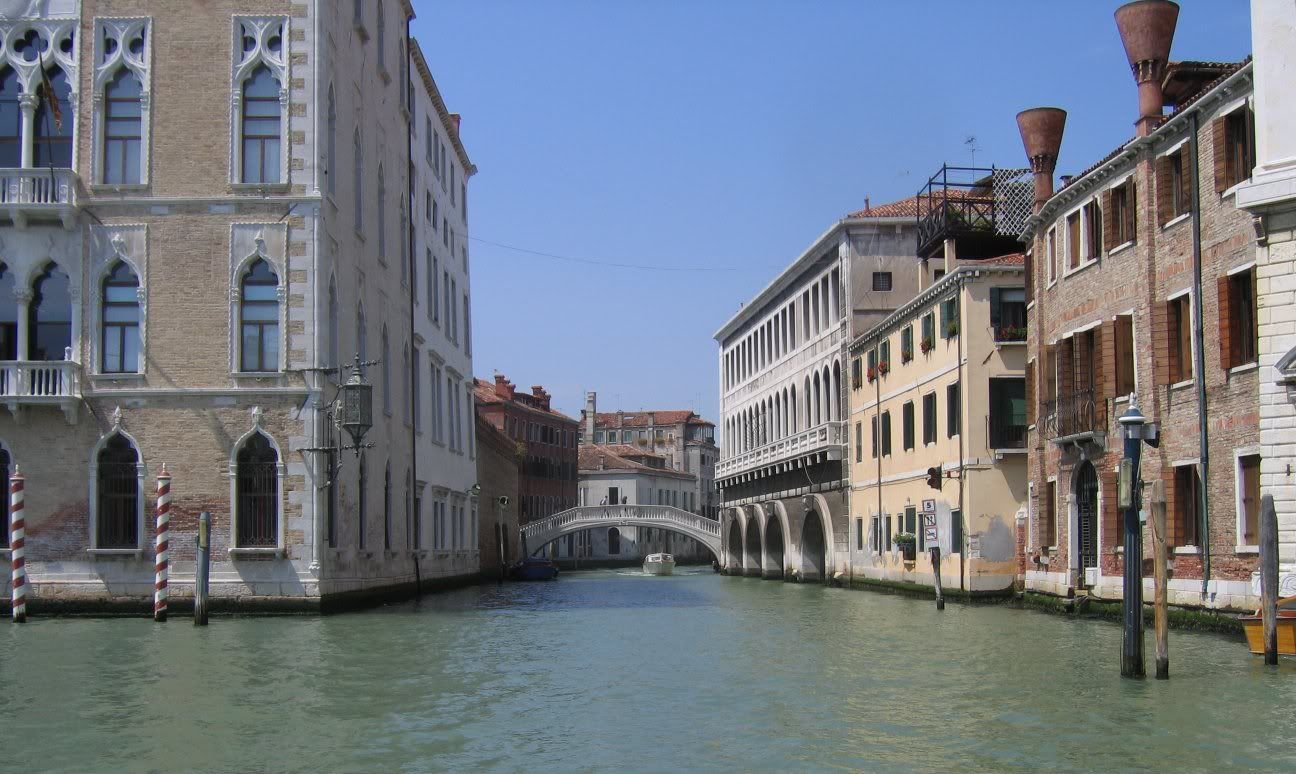 Of course the walk back was packed with tourists and more repetitive souvenir shops, and we were keen to find some quieter alleys whenever we could. But first we needed gelato: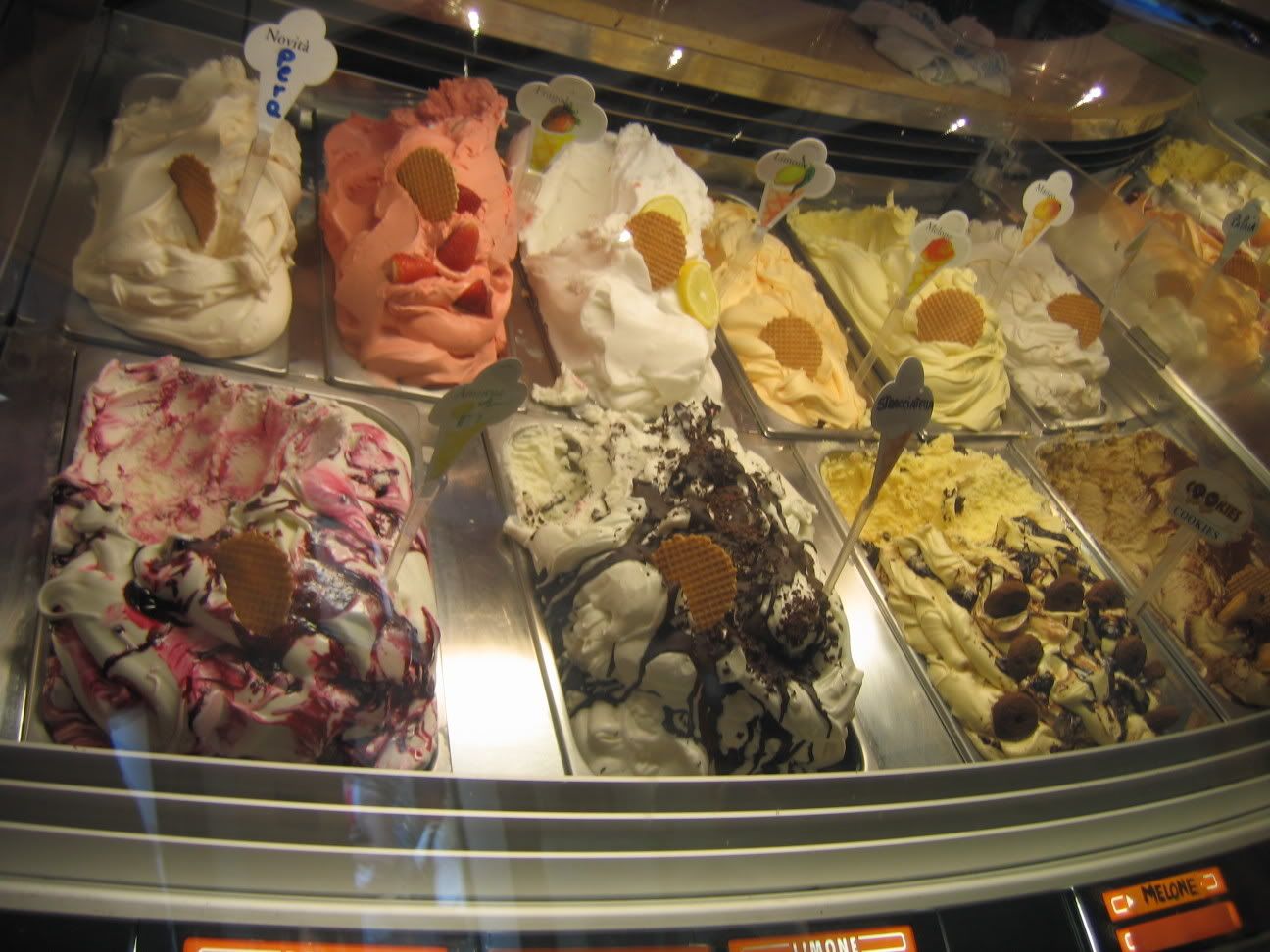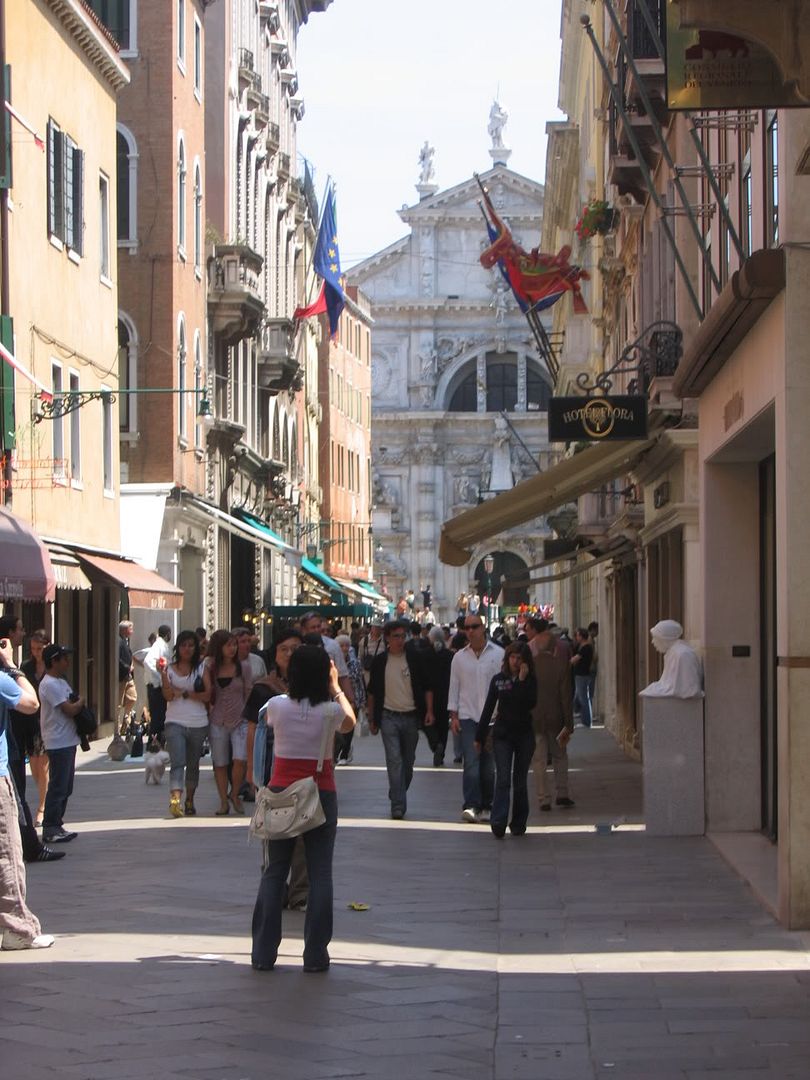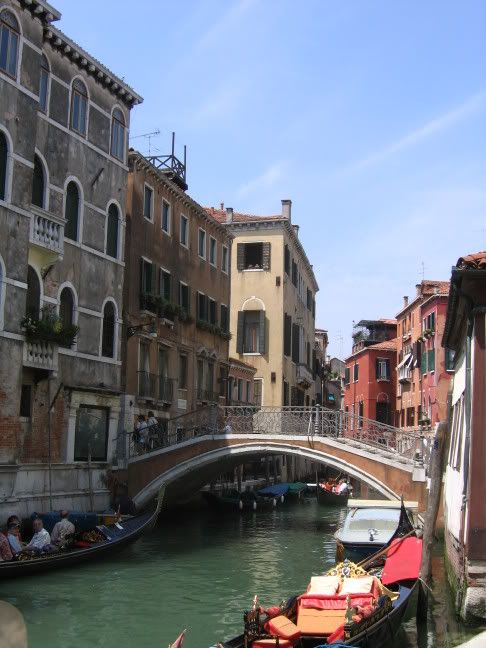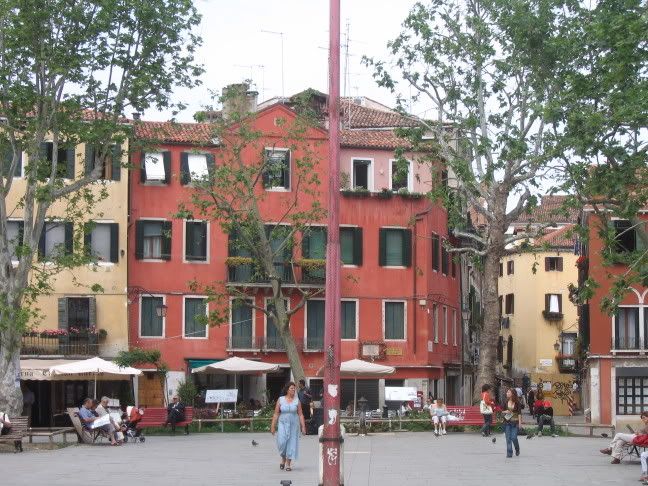 We ate lunch at a slightly expensive but excellent restaurant by the grand canal: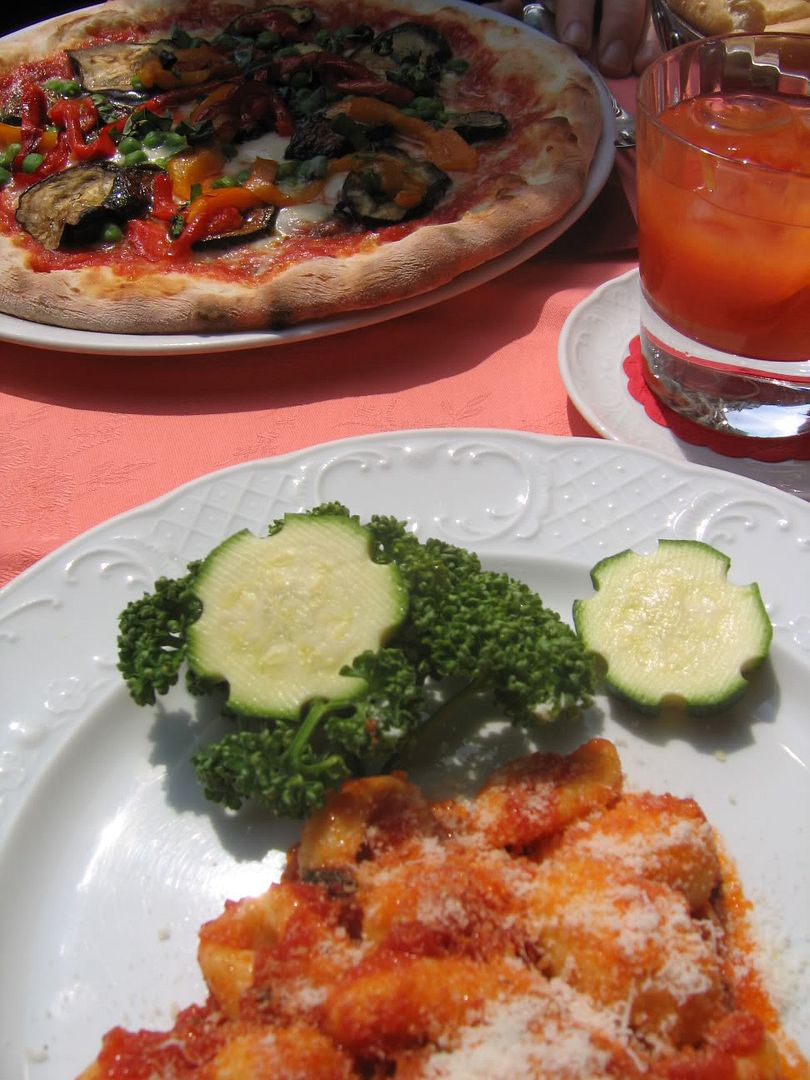 I had super-cold freshly squeezed orange juice and gnocchi with tomato puree. The best gnocchi I've ever eaten (not that I'm a connoisseur): they were light and not gluey, the sauce was tangy, and the ground parmesan cheese added some texture. Since the shadow of Michael's head interfered with that shot of his pizza, here's another one: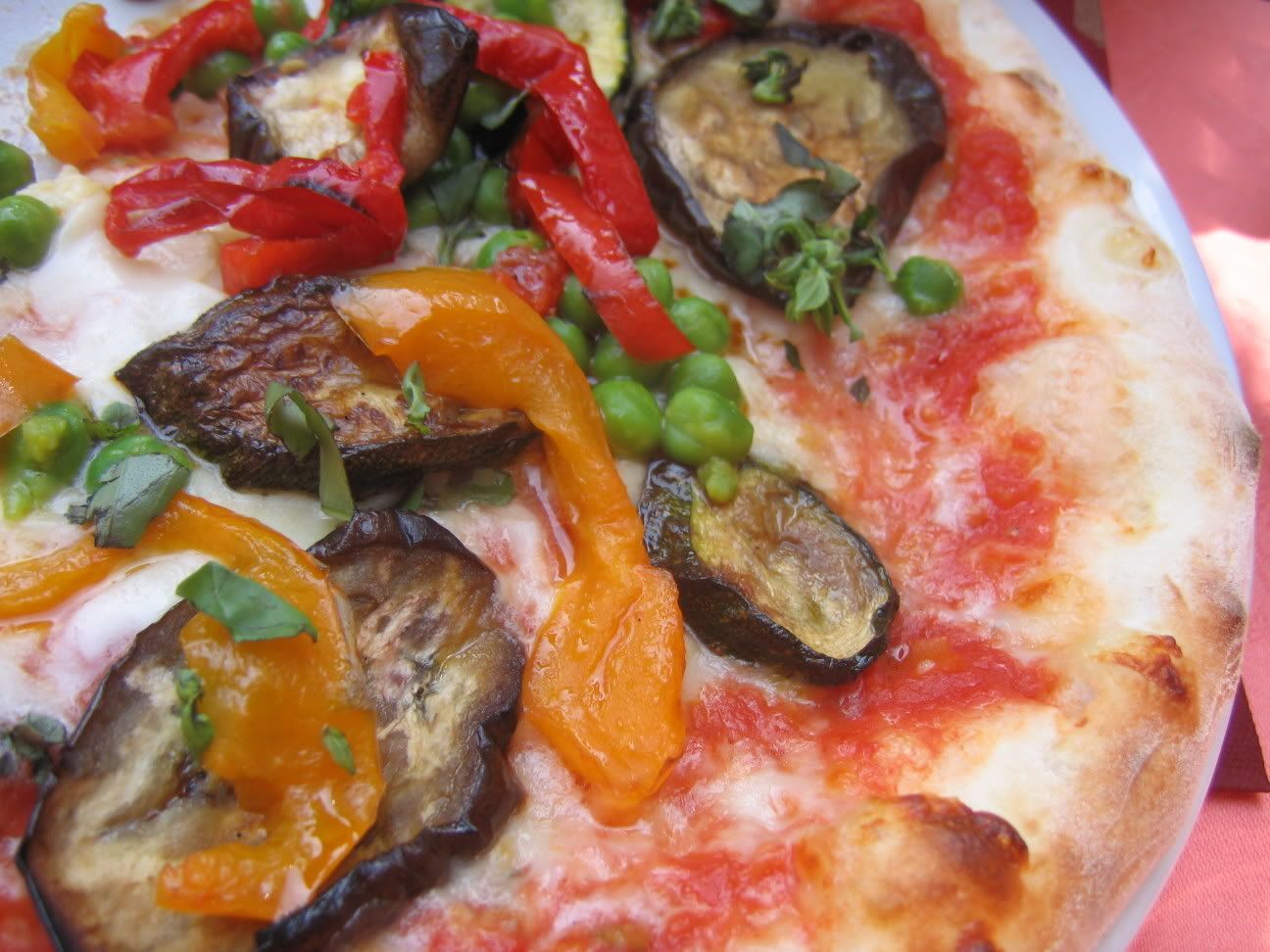 He cut me a generous slice and it was great: the base was light and crunchy and there wasn't too much cheese.
We had a couple of hours break in the hotel during the afternoon and I lapped up some Italian MTV. We set out again for a walk at about 5:30pm, stopping for a beer, before eventually making our way to La Zucca.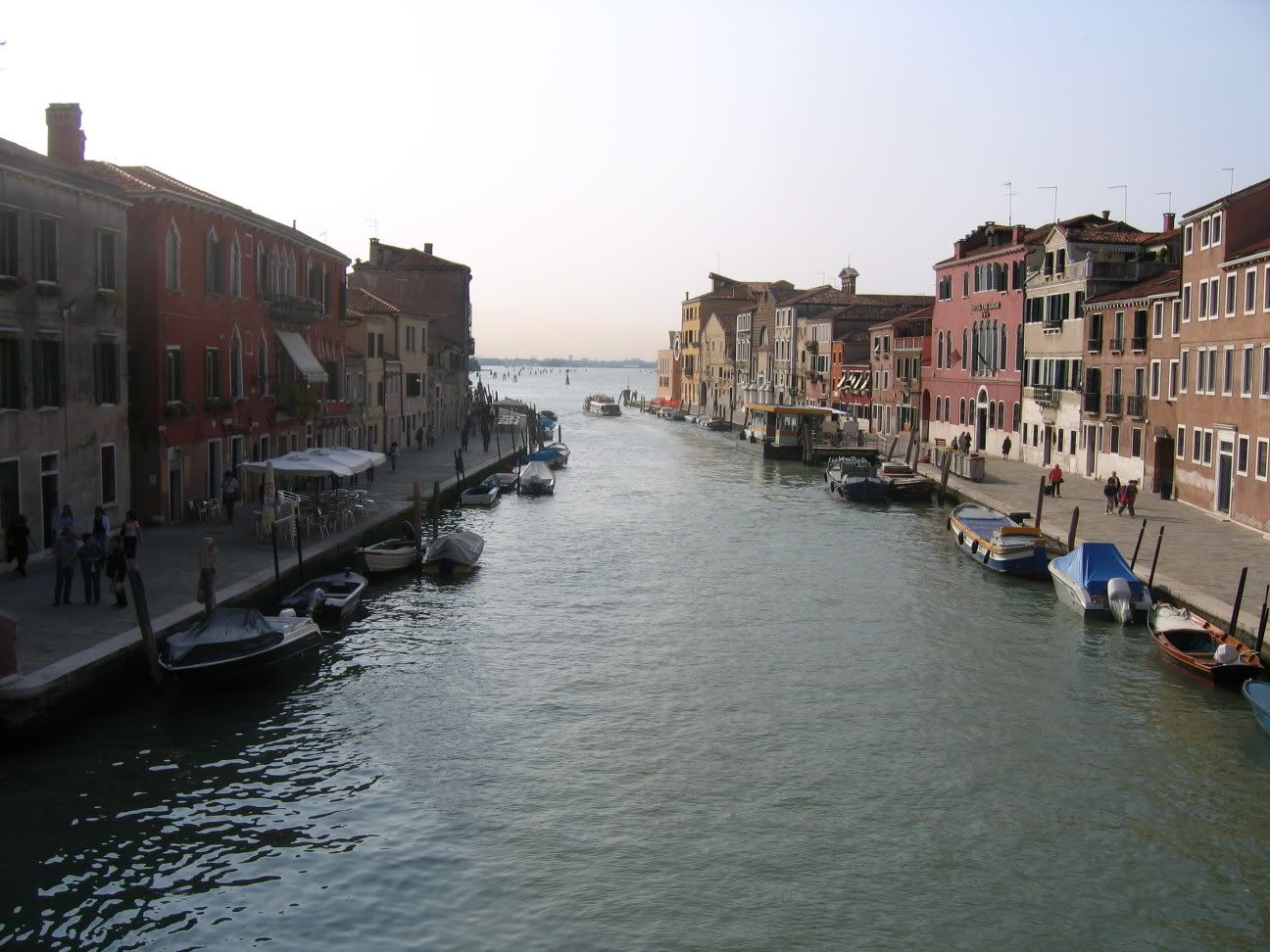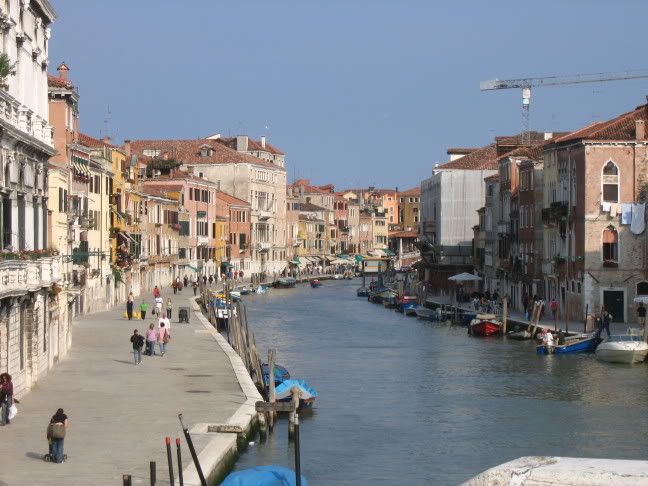 La Zucca appeared to be quite busy, but we were able to get a table inside that was reserved for another group in an hour and a half. The menu was completely in Italian, but we guessed our way through it. It turned out that the man running the restaurant grew up in Canada, so his translation of a couple of options and recommendation of a side dish were very helpful.
I ordered an asparagus flan: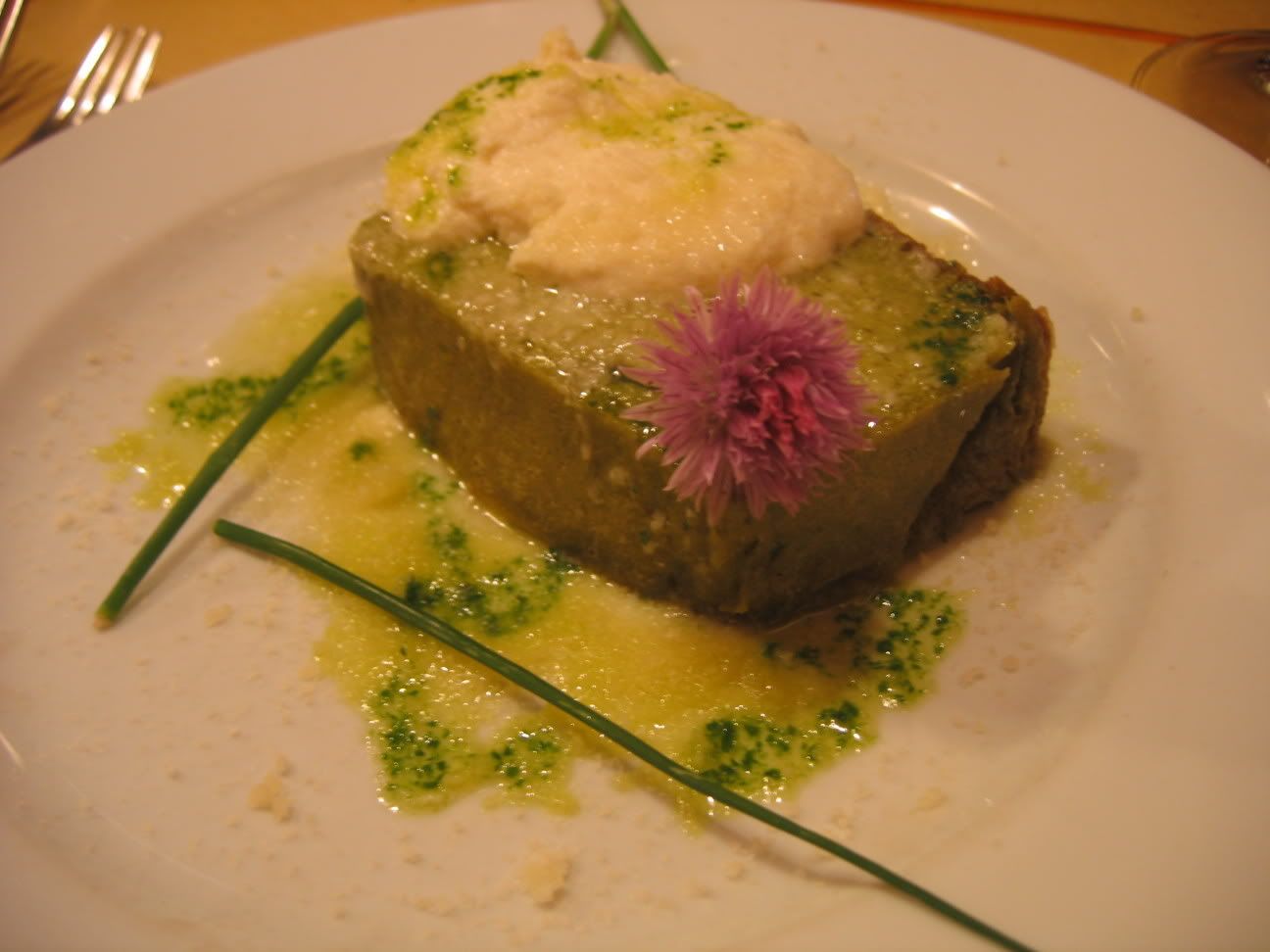 The fresh asparagus flavour was fantastic, and perfectly matched by the cheese sauce (parmesan and maybe also ricotta). The recommended side dish was a gratin of potato and zucchini: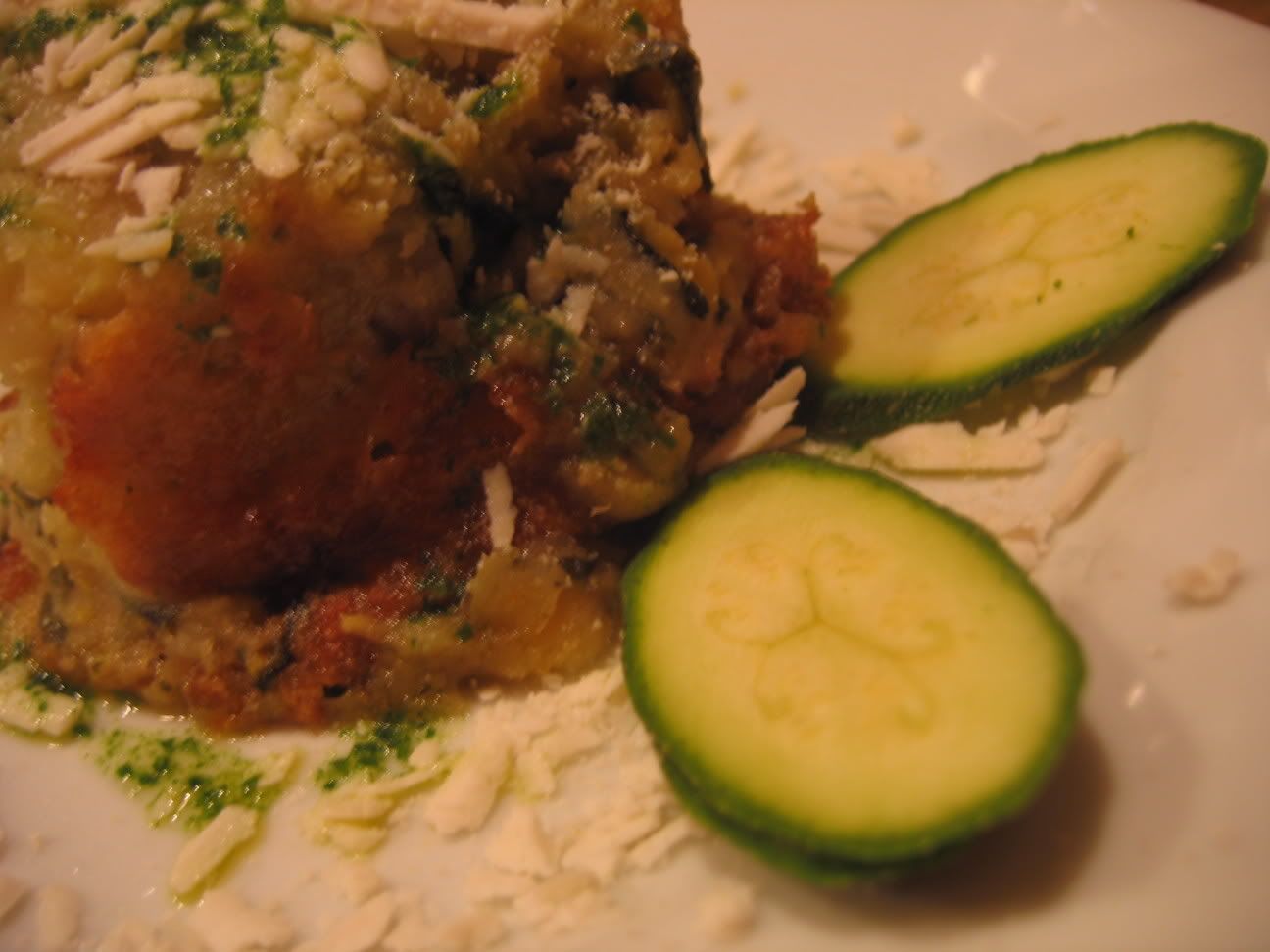 Soft inside, with a bit of a crust: just the texture I like. Delicious, but I was struggling with the rich cheesiness by the end. Michael's vegetarian plate with rice turned out to be a sampler of the side dishes: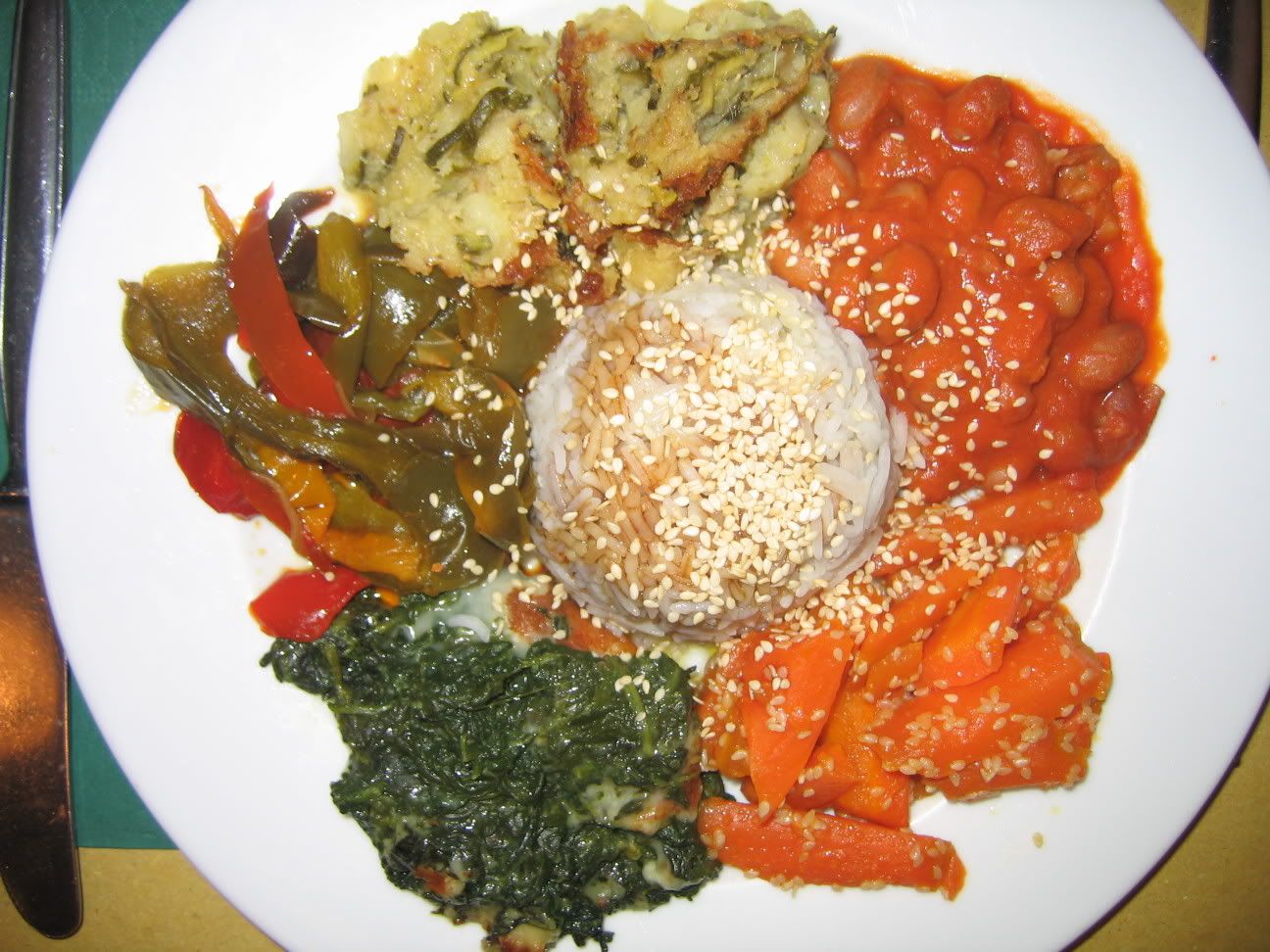 Clockwise from the top: more of the gratin, beans in a spiced tomato sauce, carrots with soy and sesame, spinach, and roast capsicum. Good stuff. By the time we had finished our mains there was less than half an hour until the next party were due to claim their table, so we decided to skip coffee and head home.