Tuesday, May 23: Zürich to London
Melissa departed for her train commute to Basel at about the same time as we needed to head to the airport: 6:30am. We had just enough time to grab some breakfast between checking in and getting to our boarding gate, and just enough leftover Swiss francs to buy another sampler of Sprüngli chocolate. (The Sprüngli stand was directly opposite our gate, REALLY.) Almost before we knew it we were in London negotiating the tube. We had a friendly and distinctly Aussie reception at our hostel, where we stored our bags, and then ventured back out to explore the area, at least until our room was available.
Our hostel was located just north of Kensington Gardens, and so we walked eastwards along the northern edge, resting at the fountains and then continuing along Hyde Park to Oxford St.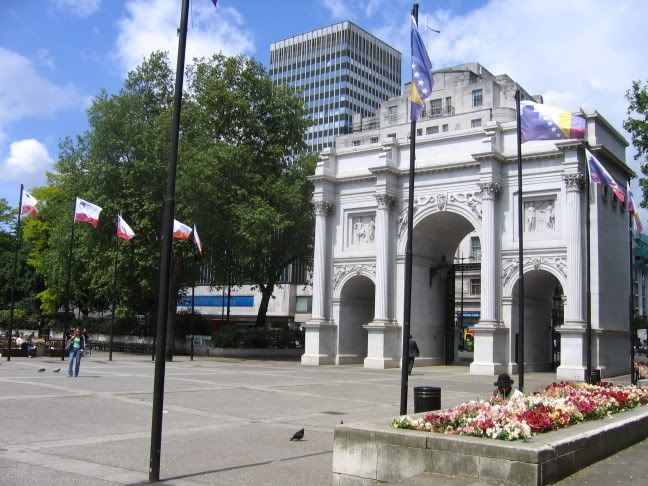 The grey weather we first saw from the train had transformed to a blue sky and warm sun, but the wind was still as cold as any we'd encounter during a Brissy winter.

Oxford St is a long and busy strip of shops, particularly department stores. The highlight for me was seeing the imaginative window displays at Selfridges. Myer and DJs should really lift their game!

We had lunch at a trendy new burger café along a side street. We were pretty shocked at the prices (£7 ~ $17 for a burger, then extra for chips and sauce) but soon worked out that all food in London would be expensive and if we didn't want to heat up baked beans on toast in the hostel for every meal, we'd have to put up with it. This café had three different tempting vege burgers on the menu and crisp, non-greasy chips: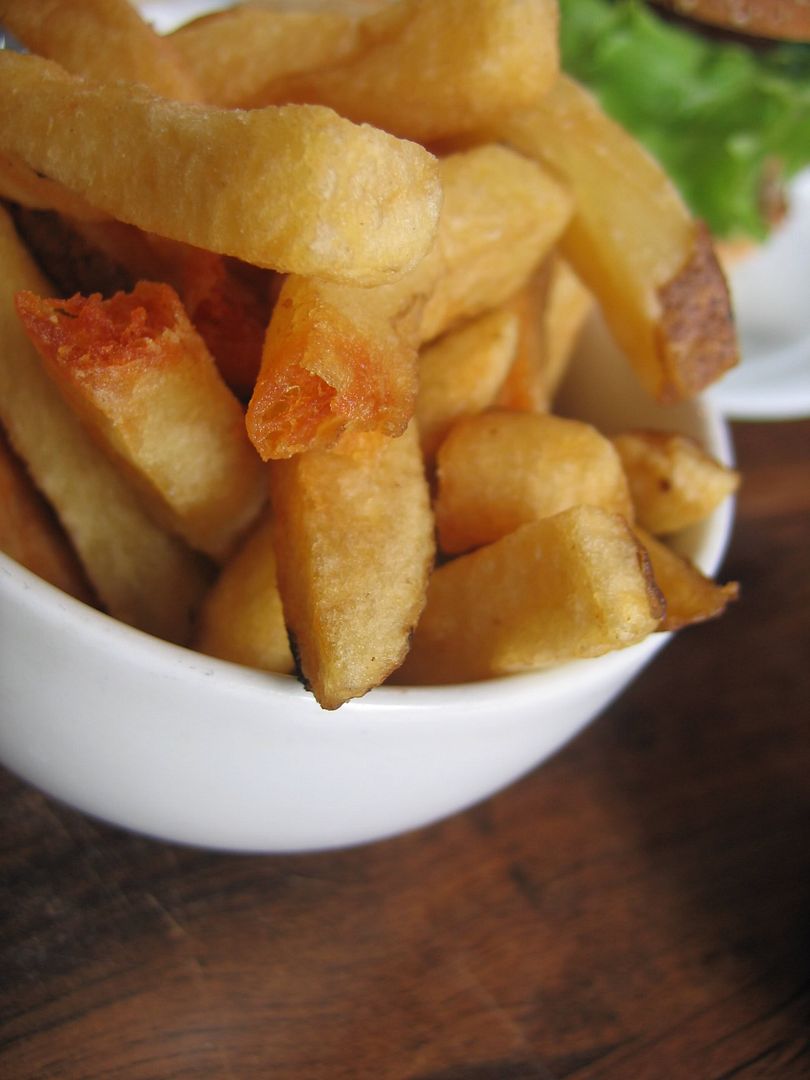 Michael ordered the standard. The patty was the most reasonable meatless replacement for a beef burger that I've ever encountered, and it was topped with tomato relish and fresh salad. I ordered 'the Goatee': roast veges, goat's cheese, pesto and mayo on a light but nutty bun. It was quite a mouthful:




The waiter commented afterwards that it was the biggest goatee he'd ever seen. A burger and chips could probably never justify that price tag, but the home-made condiments and fresh ingredients were top-notch.

In the afternoon we checked into the hostel and rested for a few hours, then went out for more exploration before dinner. We bypassed our previous path via the tube, emerging at Oxford Circus and taking a walk along Regent St and the edges of Soho. Lots of very exclusive and expensive clothing stores. We tired of that quite quickly, returned north along New Bond St back to Oxford St and beyond to Marylebone High St (it's all very Monopoly, isn't it?). This area was also quite affluent, but had more pubs, restaurants and small businesses.




Just as the now-grey sky began to rain, we ducked into our restaurant of choice, Rasa. The small chain of Rasa restaurants around London have a reputation for excellent vegetarian Indian food, and we were pleased to see a few unfamiliar dishes on the menu.

To start, we shared Mysore Bonda :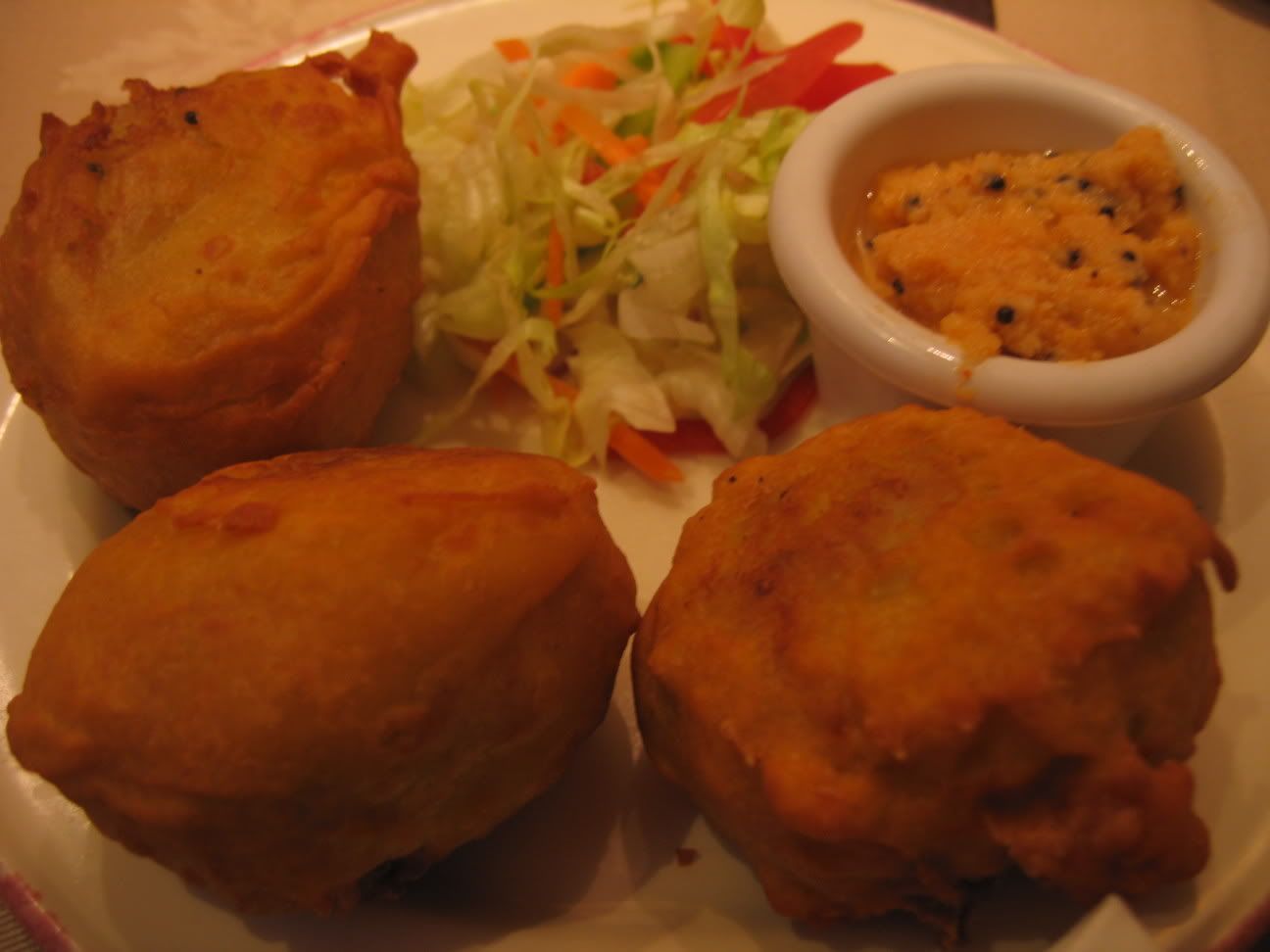 "The tea time snack in Kerala, but delicious at any time. Potato balls laced with fresh ginger, curry leaves, coriander and black mustard seeds, dipped and fried in chickpea flour batter and crisply fried. Served with a moist, creamy coconut chutney. " They were indeed crisply fried, but not greasy, and surprisingly spicy.

For the main meal, I couldn't resist a dosa! This is a huge pancake with a hidden spiced vege filling and a variety of sides for extra flavour.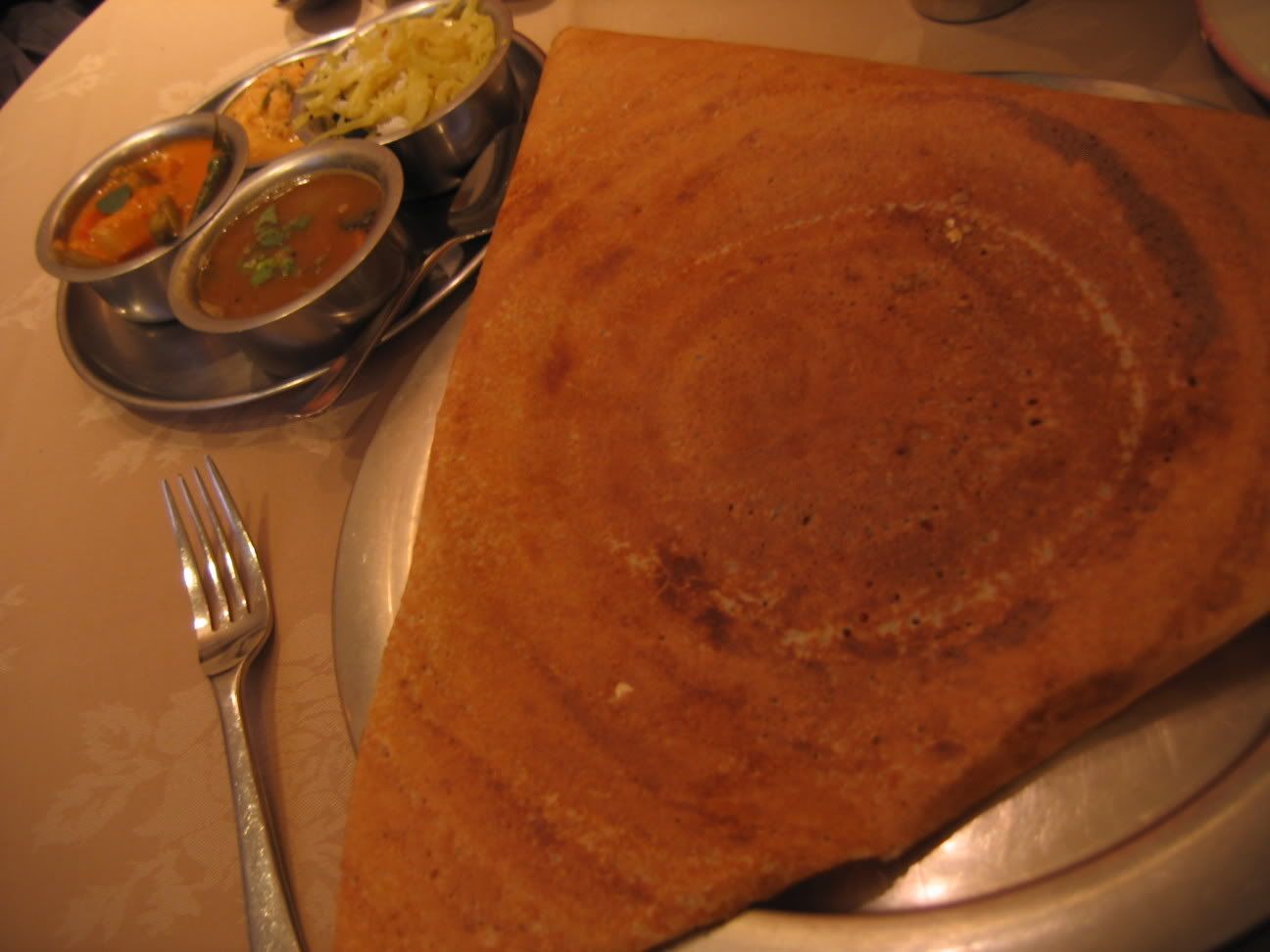 "Nair Dosa: A speciality dosa from Kerala, usually eaten during festivals and celebrations. A rice and black gram flour pancake filled with a mixture of potatoes, beetroot, carrot, onions and ginger. Served with sambar and fresh coconut chutney. " I probably got through about half of it, with Michael eating another quarter. He ordered Beet Cheera Pachadi with paratha: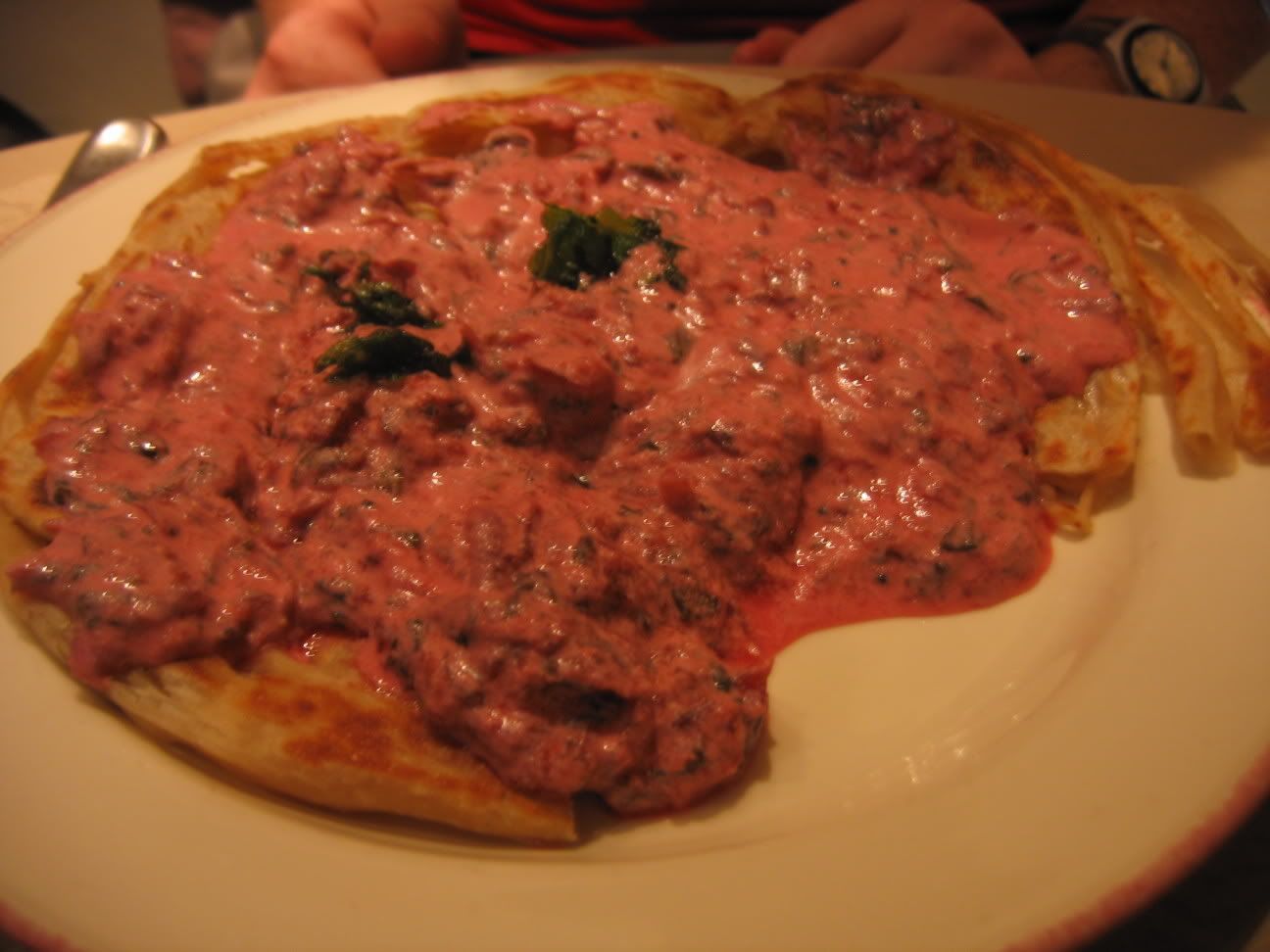 "An amazingly vibrant dish, traditionally only served at wedding feasts. Fresh beetroot and spinach are blended together in a yoghurt sauce with roasted coconut, mustard seeds and curry leaves - a must for the adventurous." It looked and tasted much better than that picture suggests. We'll be hunting down a recipe in the hope of reproducing it at home. We also sampled the mango lassi, which had a delicate flavour that probably came from fresh green cardamom pods. It satisfied my dessert urges!