Thursday 18/5: Firenze
Our one and only full day in Florence started slowly. The hostel we stayed at was spacious and we had a large, clean private bathroom, but it seemed that their predominant target market was American college students who liked to sit in the courtyard all night drinking and talking about America ("No way! You're at Eastern? My brother went to Eastern" etc). Until 3 or 4 in the morning. Since sleeping is pretty much my best skill, it didn't bother me too much, but combined with some annoying mozzies, it meant that Cindy didn't fall asleep until the birds had started singing and needed some catchup rest in the morning. So we missed out on the hostel provided breakfast (which finished at 9:30) and headed out find something for ourselves. Opting for one savoury (cheese and tomato foccacia), one sweet (gooey chocolate croissant) and two coffees, we were finally ready to face the day at about 11:30. Florence was the stop on our trip that I had done the least preparation for. In fact, apart from booking the hostel and figuring out our trains in and out, I'd done nothing at all. The Florence book was borrowed out of the Brisbane library during my last minute panic. So armed with our A4 map, we decided just to wander around past the Uffizi art gallery and down to the river.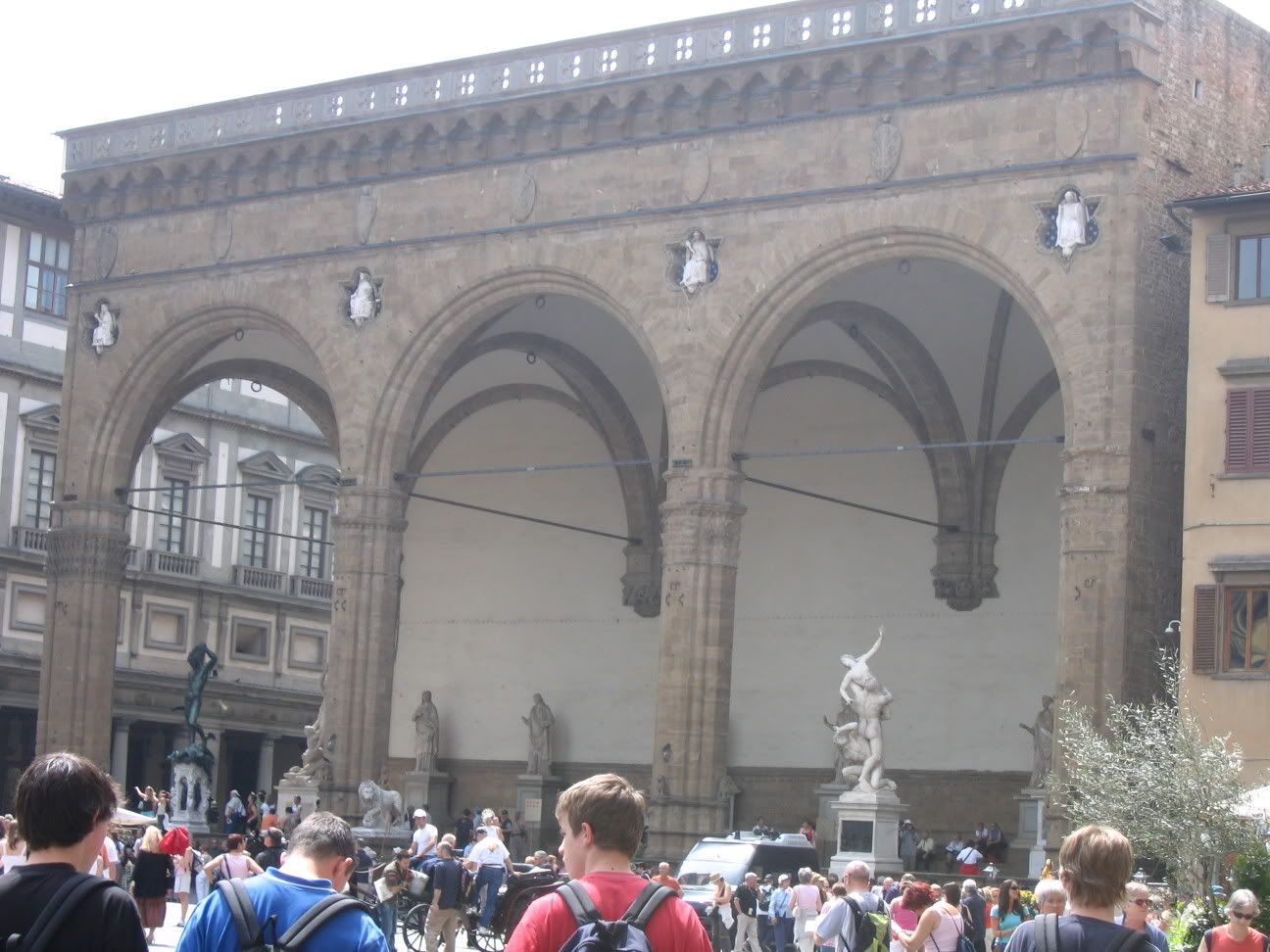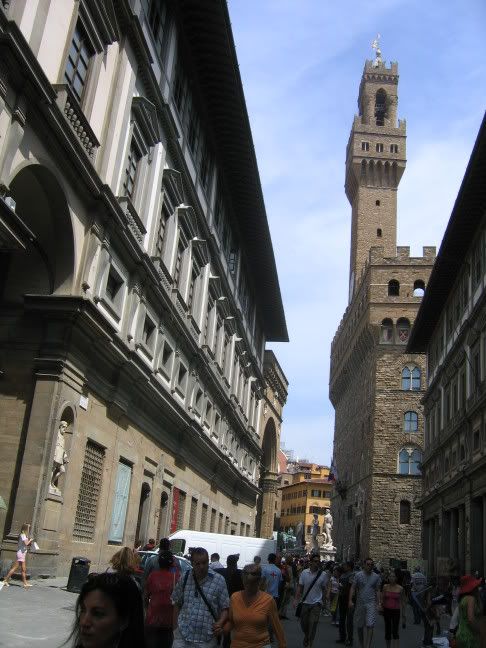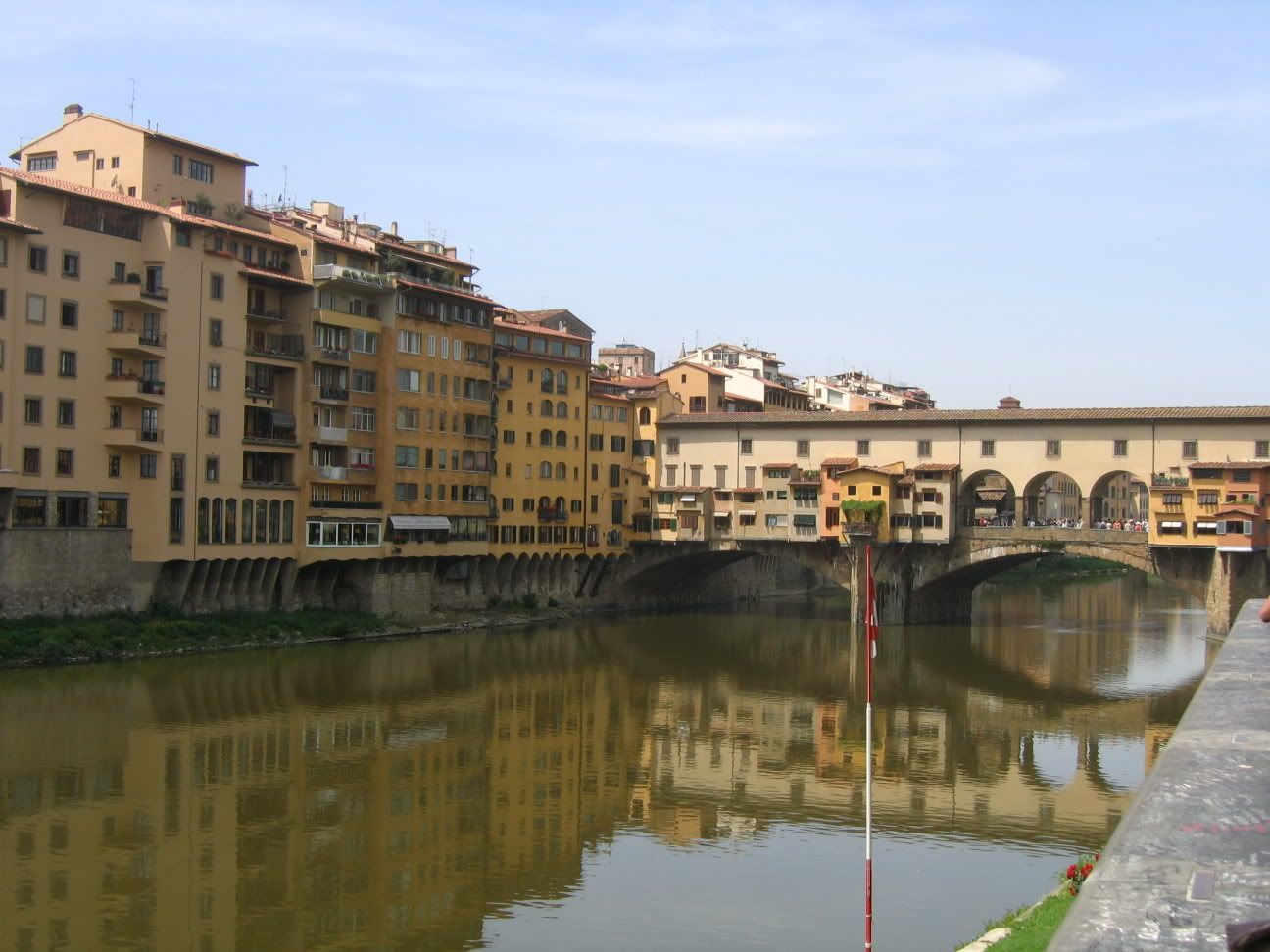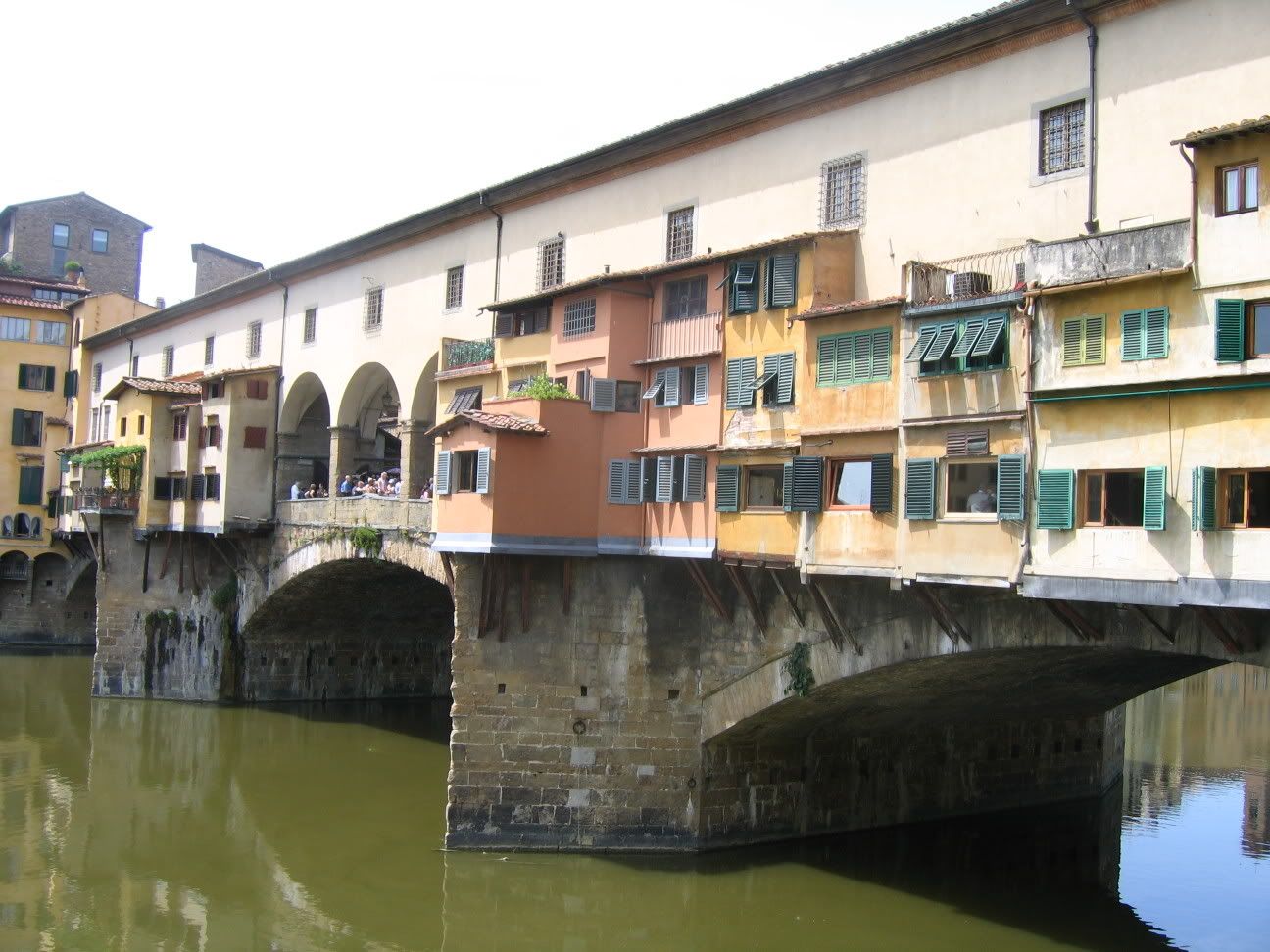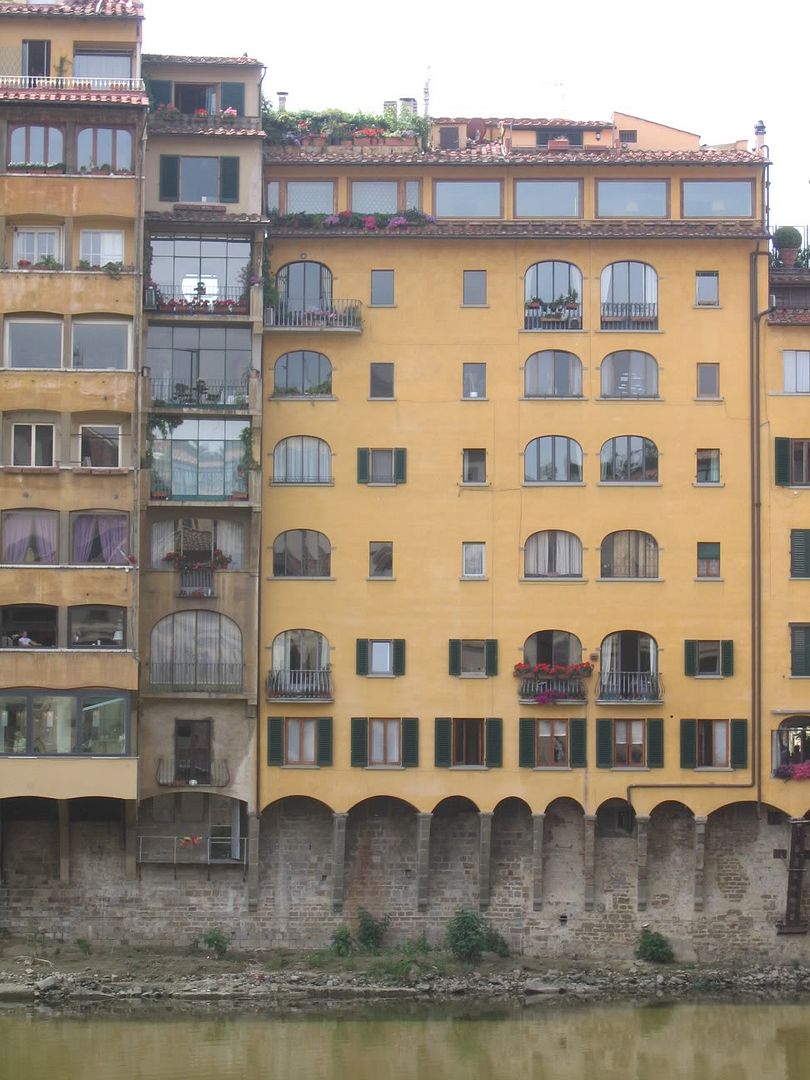 Like most of the central parts of Florence, this area was crammed wall to wall with tourists.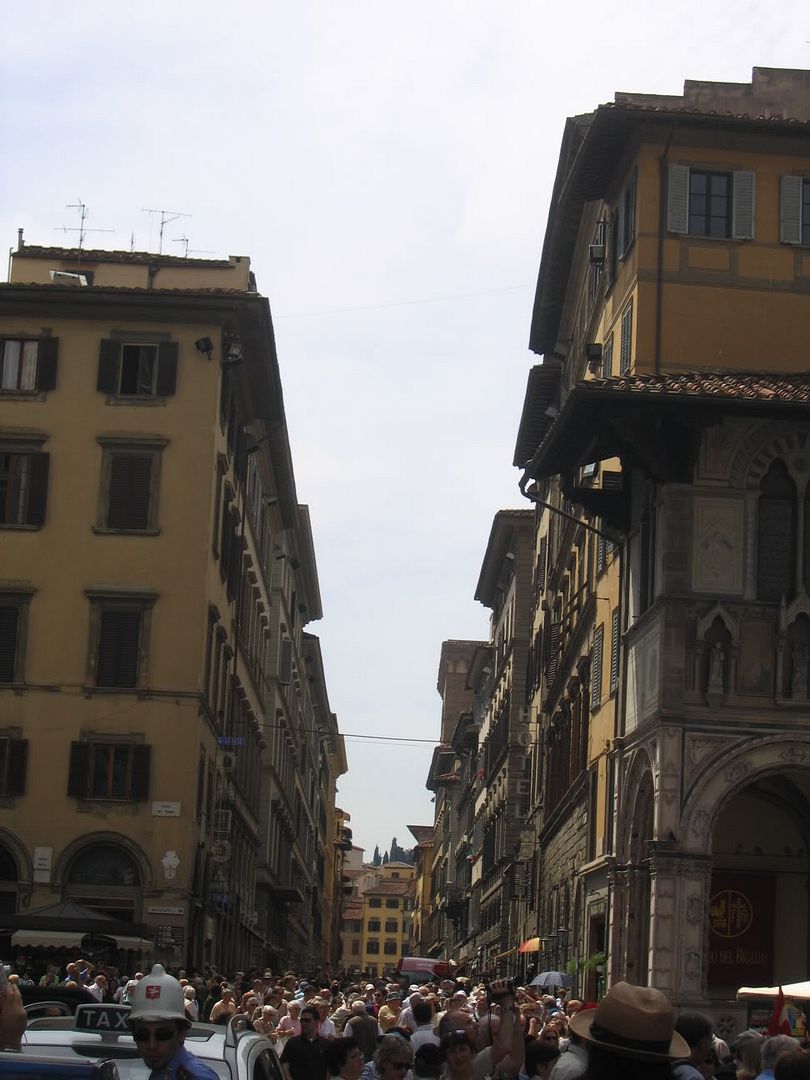 Even more annoying were the ubiquitous and repetitive stalls selling repetitive souvenirs. I'm still not sure how many people can make a living selling 'Ciao Bella' t-shirts in the same street. Seems like there were about 40 trying. Scattered throughout the legit stalls, were small squads of counterfeit goods pedlars, with collapsible cardboard stalls (for a quick getaway) loaded up with Louis Vuitton handbags and Dolce & Gabbana sunglasses. In the end, Cindy and I decided that we'll have to come back to Italy and visit cities or towns that are a bit more off the beaten track – as it was, between Venice and Florence it felt a bit like we'd spent five days in Italy World ™. Of course, as with Venice, there were bits of Florence that compensated for some of the crassness.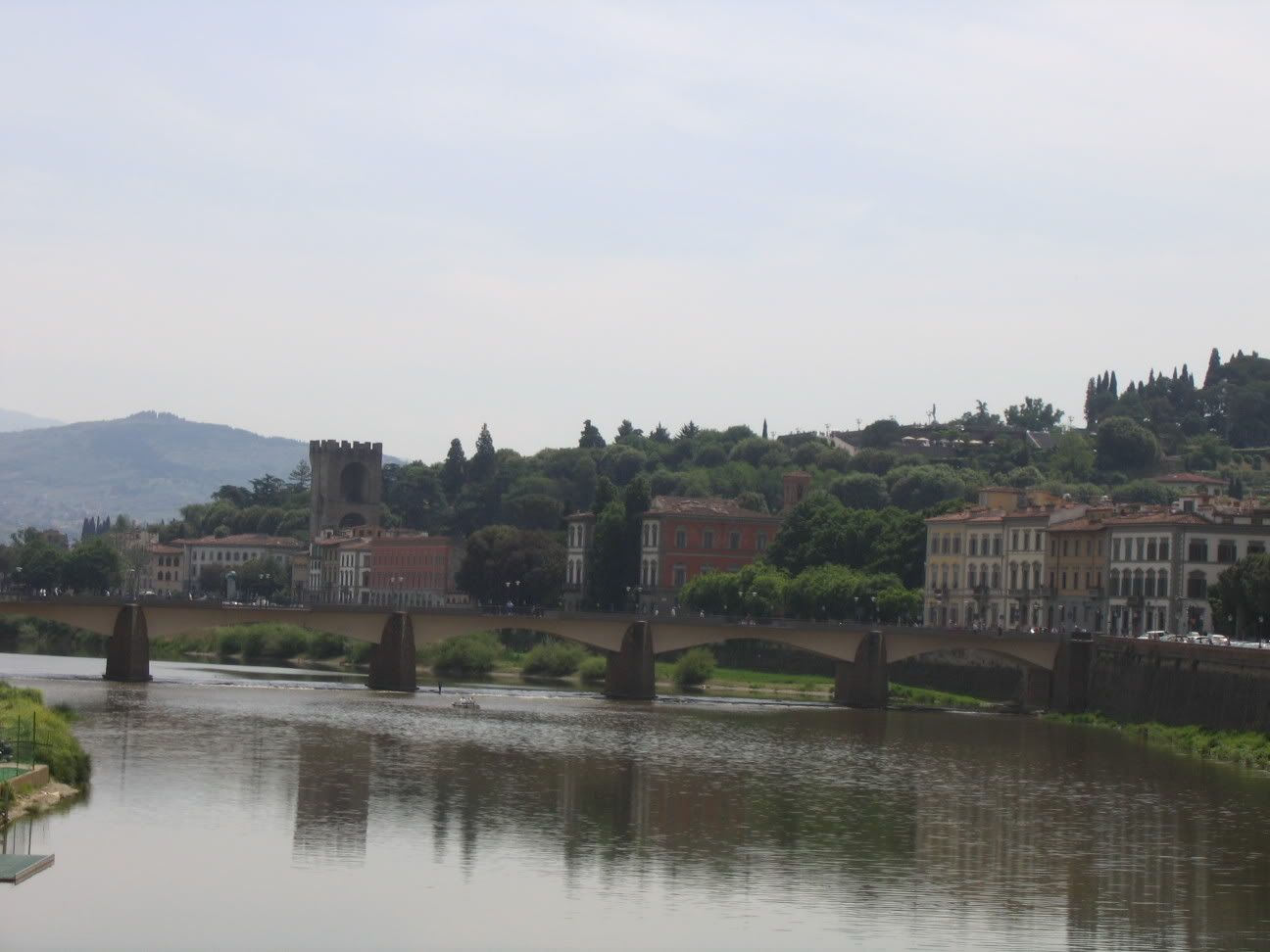 Not to mention the hilarious 3-wheeled 'trucks'. They made everything worthwhile.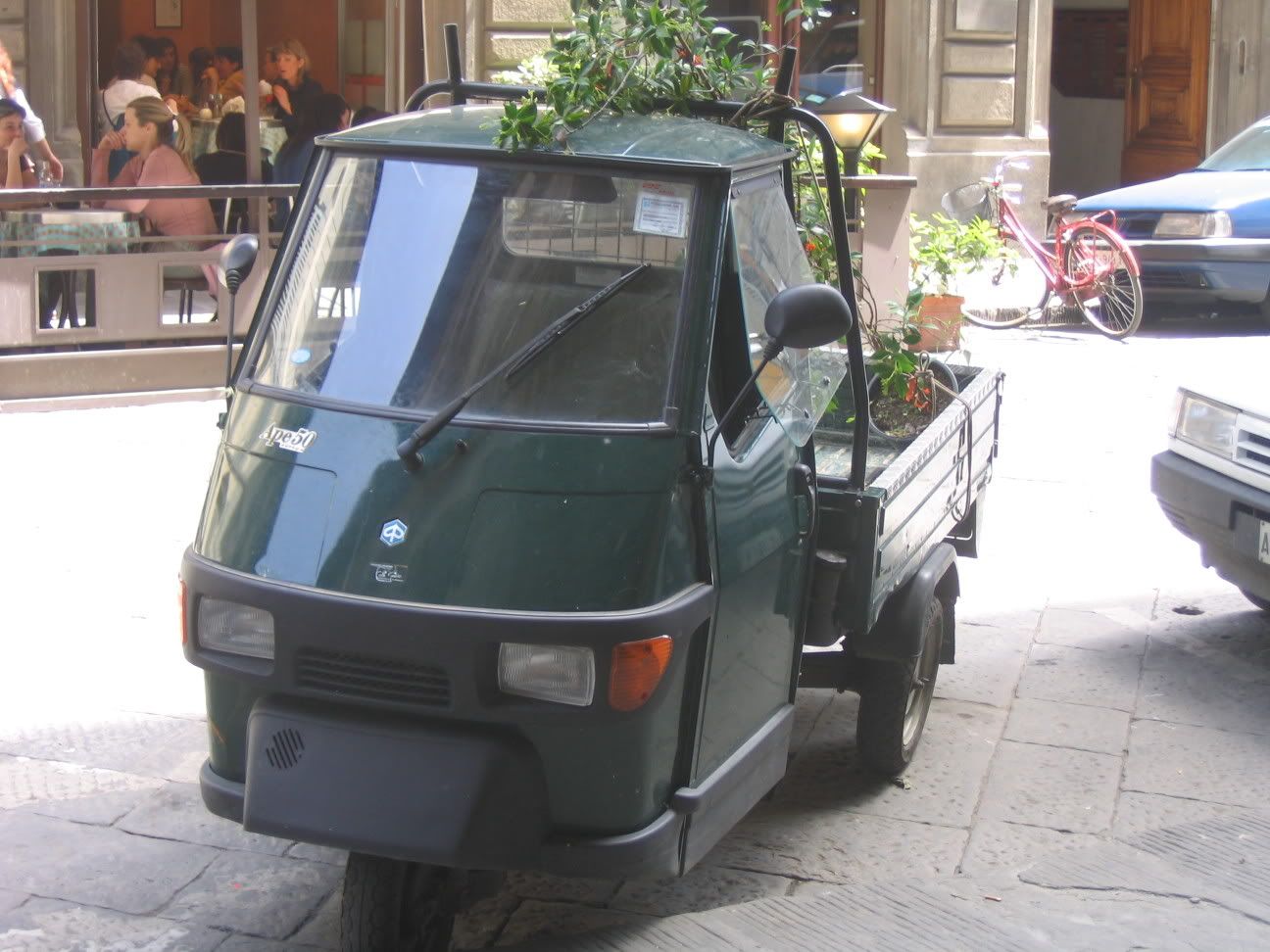 After a few hours on our feet, we headed back towards The Duomo to hunt down some chips and (impressively sized) beers. This sustenance gave us enough energy for some more exploration, but eventually the lack of sleep caught up with us and we headed back to the hostel for some rest. After a few lazy hours we complemented our earlier 'lunch' with some crackers and dip on the back deck overlooking the hostel's garden. When not full of loud, drunk people, it was really quite pretty.
Dinner in the evening was at Ristorante il Vegetariano (I think: 'The Vegetarian Restaurant' – but my Italian doesn't measure up to my tremendous French, so who knows really?). The restaurant was 'self-service', which basically means you order what you want, pay and then go and collect it from a different counter. It seemed they had most of the mains simmering in giant pots out the back awaiting orders, as they were ready within a couple of minutes. After easily polishing off a primi plati and a secondi plati the night before, we decided to try again. Cindy ordered a pesto pasta followed by a zucchini soufflé, while I went for some sort of risotto (I couldn't decide what all the vegetable ingredients were: mushrooms were definitely involved, some olives and possibly zucchini or eggplant as well), followed by a seitan goulash. Unfortunately, the serving sizes were much more generous, and while I somehow made my way through everything, Cindy had a sizeable piece of soufflé leftover at the end. The food was simple, but very tasty – especially our 'starters'. Unfortunately the cute little courtyard we were seated in didn't provide sufficient light for any decent food photos.